So our older daughter has turned 12 last weekend… to celebrate her birthday we went to piece her ears at our local Chapter XIII tattoo and piercing shop but the day would not be complete without some homemade cake and presents.
I've been making this triple layer chocolate cake for years… including for our own wedding when I was assembling the cake on the morning, minutes before heading to the town hall.
The only thing I have changed here are the almonds that are on the inside rather than on the outside, the cream has addition of blue and green colouring (for minty shade) and I have skipped the coffee. Instead I have topped it with all of her favorite things: macarons, pretzels, marshmallows, Polish raspberry jaffa cakes, wafer fans, chocolate wafer sticks and of course sweet & salty popcorn!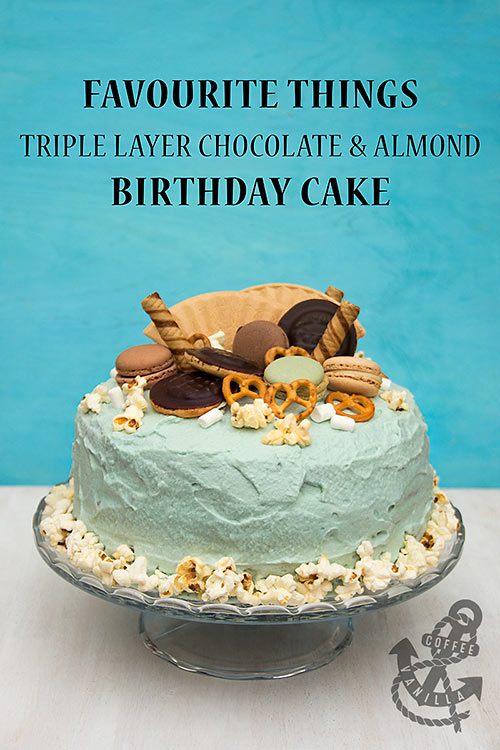 INGREDIENTS
for the chocolate layers
2 cups plain flour
2½ cups golden caster sugar
¾ cup unsweetened cocoa powder
2 tsp baking soda
1 tsp salt
¾ cup vegetable oil, neutral one that does not have strong taste or smell, like canola or Carotino oil, or even cooking olive oil, not the extra virgin one
1 cup soured cream
1½ cups water
2 tbs white vinegar, I used rice vinegar or white wine vinegar
½ tbs vanilla extract
2 eggs
2 – 3 tbs unsalted butter to butter the tins
150 g almond flakes (toasted)
for the cream layers

900 ml whipping cream
food colouring (we used blue and green to get this mint green shade)
for decoration
all favourite things: macarons, popcorn, pretzels etc.
EQUIPMENT
3 round 9" (22,8 cm) non stick cake tins
spatula
food processor or hand mixer to make whipping cream
cake stand or disposable cake base
3 circles (9" – 22,8 cm) from baking paper
whisk
more baking paper
cling film
spatula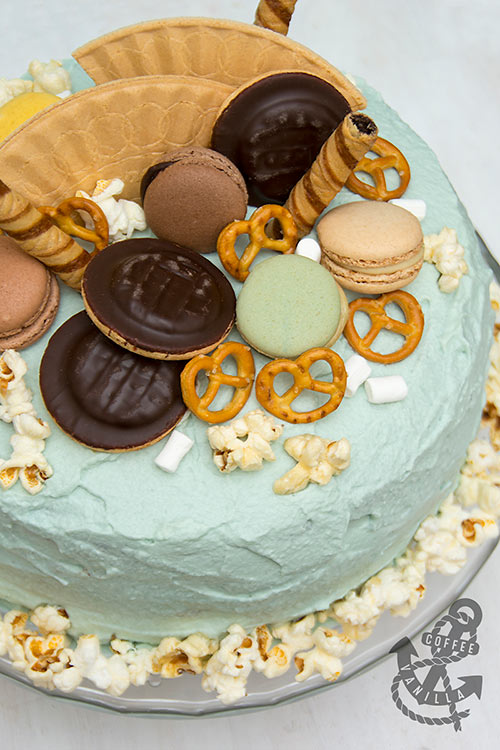 METHOD
For the chocolate layers butter all 3 tins with unsalted butter, place on the bottom of the tins baking paper circles and also butter them. Preheat oven to 170°C (338°F).
In meantime combine together flour, sugar, cocoa, baking soda, salt and mix together with the whisk. Add also oil, eggs, water and soured cream, whisk until well blended. Add vanilla extract and vinegar. Pour batter into 3 baking tins, about 2 cups to each. If you don't have 3 baking tins you can divide mixture and bake one at the time. Layers should bake for about 30 minutes. Let them cool down a little bit before removing from the tins and peeling of the paper circles.
When chocolate layers are completely cooled down, place them for at least 1 hour in the fridge or even better overnight. Separate them with baking paper so they won't stick together, cover with cling film so they won't dry out.
To assemble the cake prepare whipped cream by whipping it in food processor with some food colouring and sugar, until thick. Divide cream into 4 even portions. Place first chocolate layer on the stand or cake base, spread on the top of it with spatula 1 portion of the whipped cream and third of the almond flakes, repeat the same with the next 2 chocolate layers. The last portion of cream use to cover sides of the cake.
Top with decorations.
Makes about 16 portions.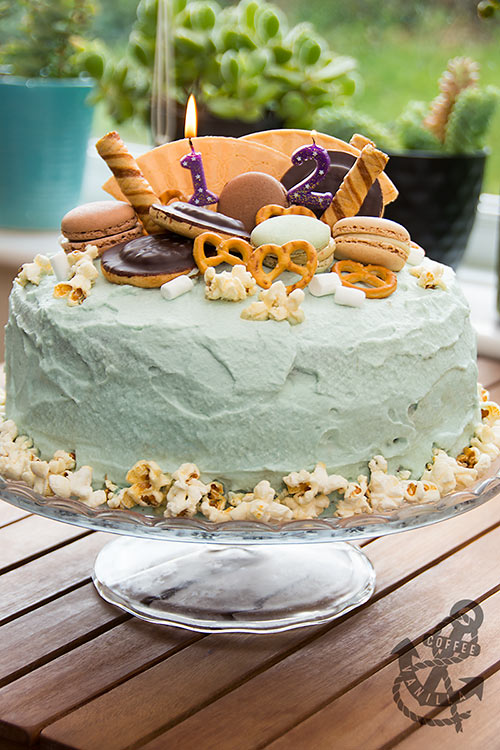 Happy Birthday Marissa!!! 💖
NOTES
As this is the cake we are making since 2009 for almost any special occasion I'm adding this to the Inheritance Recipes link-up that we co-host together with Solange of Pebble Soup. July Inheritance Recipes is hosted by Solange, please come and join us, share your inherited recipes!