INGREDIENTS
for the cupcakes
2 large or 3 smaller eggs
½ cup golden caster sugar
½ bar unsalted butter – 125g (melted and cooled down)
1½ cup plain flour
1½ tsp baking powder
zest from 1 unwaxed lemon
seeds from 1 vanilla pod – optional
for the glaze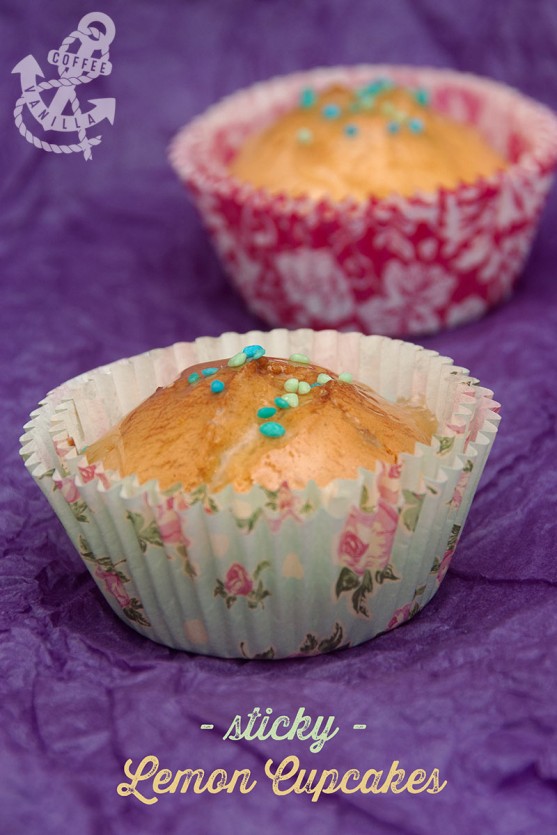 EQUIPMENT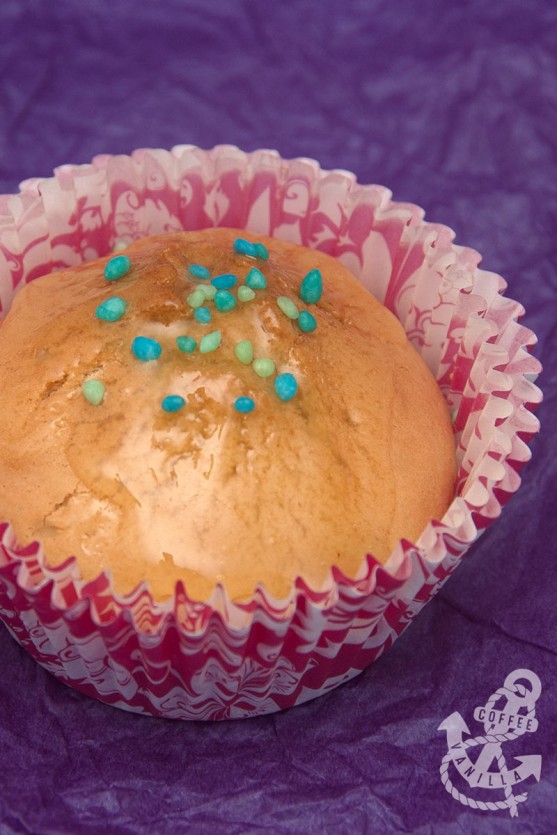 METHOD
Preheat oven to 180°C (356°F).
Line the baking tray(s)  with muffin cases.
Whisk eggs and sugar until fluffy, slowly fold in flour, baking powder, optionally vanilla seeds and melted butter and mix well.
Add lemon zest and stir one more time, manually, with a spoon. Do not use the whisk as lemon zest will just stick to it.
Scoop out mixture into muffin cases (fill them half way only) and bake in the oven for about 20-25 minutes or until golden brown.
Remove from oven, leave aside to cool down.
In meantime prepare the glaze placing lemon juice and sugar in a small saucepan.
Heat over low fire until sugar is melted and the glaze in bubbling.
Use silicone brush to glaze the cupcakes.
Top each cupcake with some sprinkles before the glaze is set.
Enjoy.
Makes 16-18 cupcakes.
NOTES
Add a bit of milk or water if the cupcake dough is too sticky to share to the paper cases.
Sticky lemon cupcakes can be easily stored for a day or two in airtight container in the fridge.
Looking for more lemon treats? Here are couple of ideas: Easy Moist Lemon Cake from Tinned Tomatoes, Lemon Yoghurt Cupcakes from Blue Kitchen Bakes, Total Greek Yogurt Mini Lemon Cakes from Fuss Free Flavours, Courgette, thyme and lemon drizzle cake from Feeding Boys and a Firefighter, (No Bake) Mini Lemon Ricotta Cheesecakes from Kavey Eats, Easy Iced Lime Cake from Fab Food 4 All, Parsnip, Lemon and Poppy Seed Muffins with Lemon Drizzle from Veggie Desserts, Lemon and poppy seed cupcakes from Maison Cupcake or Courgette Lemon & Lavender Cupcakes from How to Cook Good Food.
DISCLOSURE: This post contain some affiliated links.