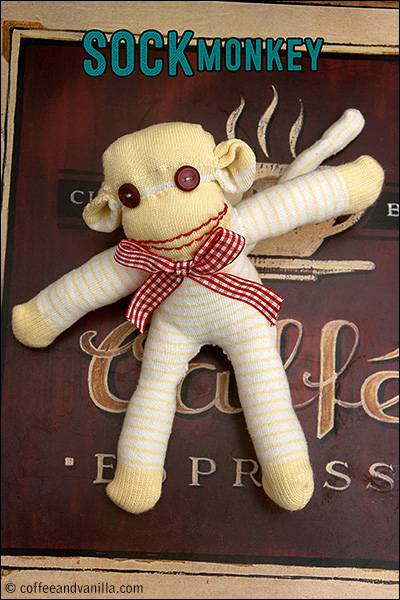 This is not a very original but quite useful DIY gift idea, especially with Christmas just round the corner or simply craft for long, rainy autumn evenings and great way to recycle all those spare or too small socks.
A while ago my older daughter got for her birthday sock monkey set (from Tiger store I think) and successfully made her monkey which turned out so good that the little one was constantly jealous. I must admit I don't really like sewing… I prefer crochet and all kind of paper crafts but I had no other choice but try to make another sock monkey for her – step by step pictures below. It took me about an hour without the sewing machine so it will probably take much less time someone with proper equipment and better sewing skills.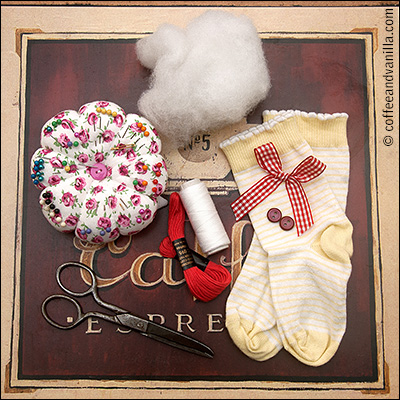 MATERIALS
2 socks, not necessarily from the same set (the newer the better)
2 buttons or beads for eyes
soft toy filling or leftover bits and pieces of yarn (I always collect them while crocheting and then use them to stuff things but this time used proper polyester fluff I had on hand)
sewing thread
embroidery floss (for mouth)
piece of ribbon (for bow) – optional
EQUIPMENT
pins and needles
scissors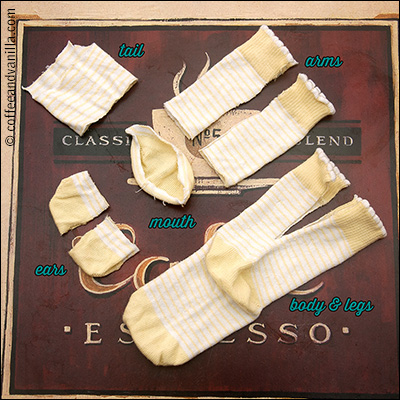 METHOD
1. First cut the socks, one will be for the body and legs, second one for all the other bits: arms, mouth (from the heel), ears (from the toes) and tail from leftover piece.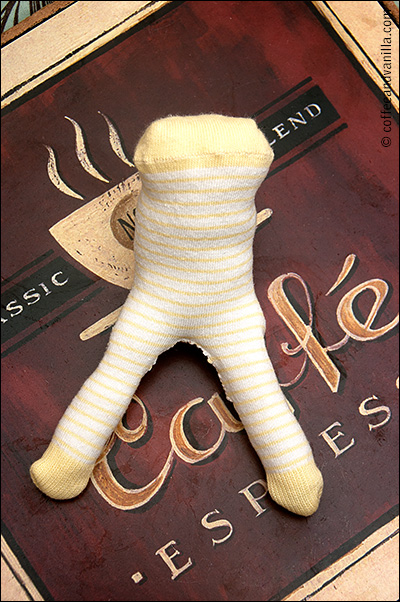 2. Turn the sock inside out and sew starting on the toes, but do not go all the way up to leave space for turning it back.
3. Do the same with the other leg.
4. Turn the sock back to correct side and stuff with the filling and sew it up.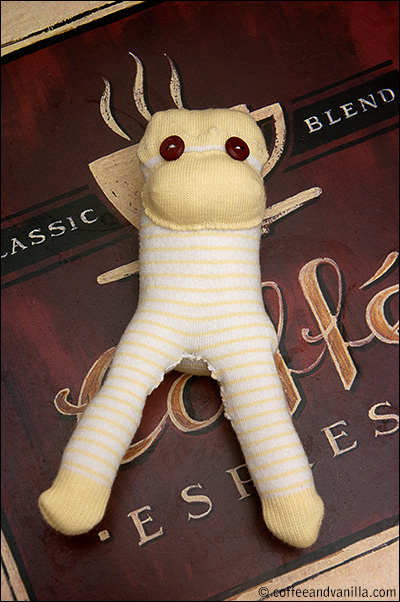 5. Sew mouth onto the body, stuffing it with a bit of fluff as well.
6. Add buttons or beads for the eyes.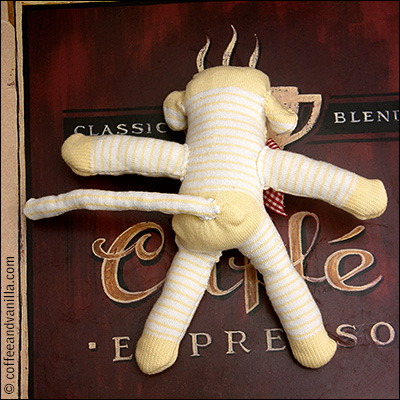 7. Do the same with the bits for arms, ears and the tail.
8.  Attach them to the body.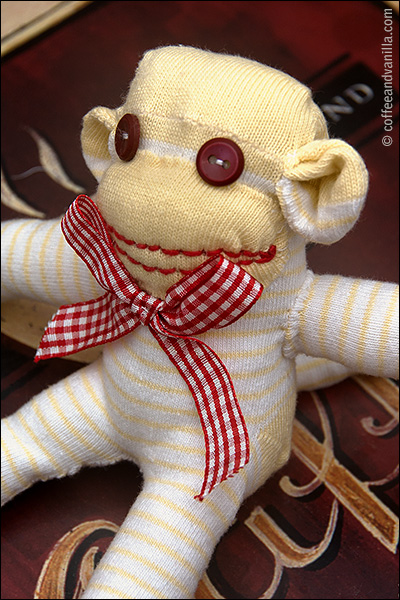 9. Finish off by making monkey's mouth with embroidery floss.
10. Optionally attach also a bow.
NOTES
Above Blueberry and her little sister Yellowberry – family portrait with the stripey blue monkey from the gift set and our DIY yellow monkey.