[adapted from recipe by my sister Jola]
INGREDIENTS
8 cups of water
4 cups of coconut milk (from tin or freshly squeezed coconut milk from 2 coconuts)
5 vegetable or chicken cubes (10g each, for instance Kallo Organic)
3 courgettes / zucchinis (coarsely sliced)
3 – 4 carrots / sliced
4 handfuls of spinach leaves – 2 bunches of fresh spinach, stems discarded (washed, drained, chopped)
2 corn cobs or 1 – 1½ cup frozen corn
1 tbs ground cinnamon
3 – 4 pinches Cayenne pepper
2 tsp ground nutmeg
1 tbs ground ginger
2 x 400 g tins of haricot beans in brine (drained)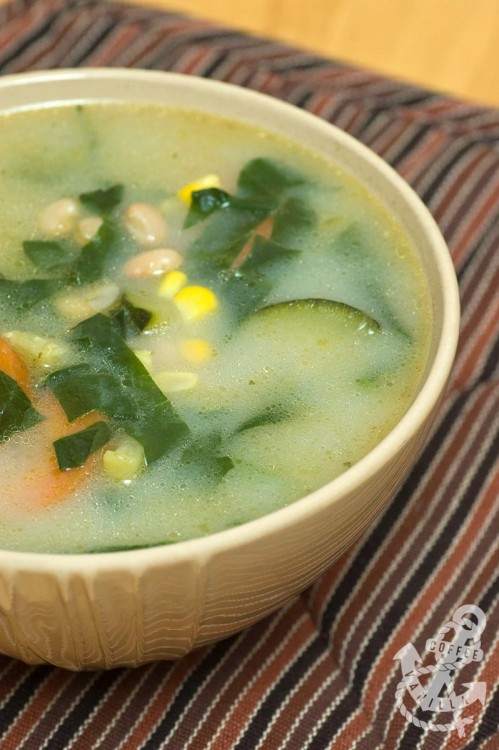 METHOD
Place water, coconut milk, and cubes in a large pot and bring to boil.
Reduce fire, add carrots, zucchinis, corn cobs and spices.
Cook until vegetables are ready.
Remove corn from the pot, cut of kernels from the cobs and place them back in the soup.
Add also spinach and cook only until witted.
Stir in also beans and share to the plates.
Makes 6 – 8 servings.
NOTES
You may also use coconut milk in powder, just add 12 cups (3 litres) of water to make the soup, instead of 8 cups (2 litres). Stir in coconut milk powder to taste.
Soup can be also made with chicken wings or legs, cook them first with cubes only, when soft start adding the rest of ingredients.
Instead of tinned beans you may use cooked beans, butter beans, white or red kidney beans can replace haricot beans.
Spinach leaves can be replaced with chard or sorrel.
Optionally serve with rice on a side or mashed potatoes.
Optionally add few dashes of regular milk or single cream to make it more milky.
Experiment, use other vegetables and leaves… the soup will still taste good.