INGREDIENTS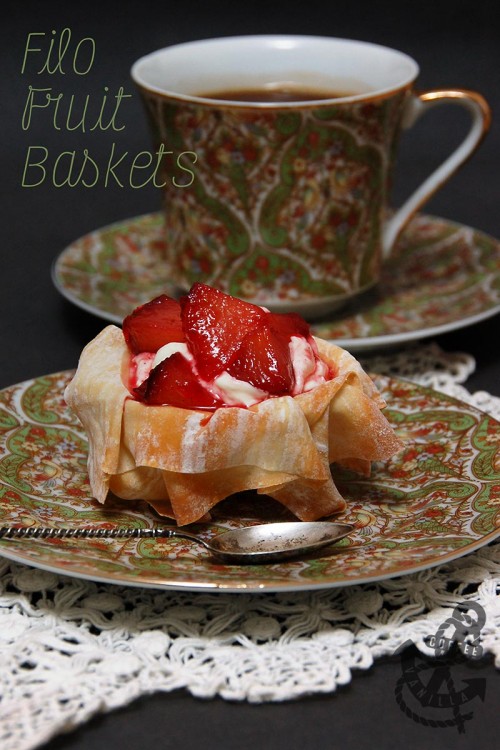 EQUIPMENT
scone / muffin tray or silicone muffin cases and plain baking tray
pastry brush
electric whisk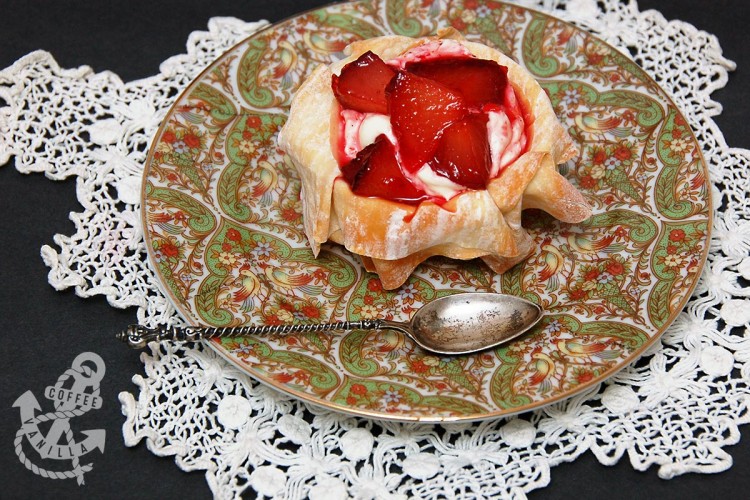 METHOD
In a small saucepan sauté plums together with cinnamon and vanilla sugar until soft and juices have thick sauce consistence. Leave aside to cool down.
Spread and cut filo pastry into square pieces.
I did cut all sheets into half and then into 4 to get 8 squares. I separated each of 6 layer pieces in half getting 16 squares – 3 layers each.
Place the squares on brushed with oil trays.
Brush also the pastry.
Bake in the oven preheated to 190°C (374°F) for about 15 minutes or until pastry is starting to look golden brown.
Leave to cool down completely.
In meantime whip the cream with caster sugar.
Once everything is cooled down assemble the baskets sharing whipped cream into the baskets, top it with fruit and syrup and serve immediately.
Makes 16 fruit baskets.
NOTES
Some other sour fruits or even fresh berries can be used instead of plums.
Whipped cream can be substituted with ice cream.
If you are making those baskets for children's party you may add some food colouring to the cream.
Filo baskets can be prepared even day or two in advance and stored in air tight container, cream and fruits can be made day before and stored in the fridge.
More plum recipes to try: Plum crumble with port wine by Michelle of Greedy Gourmet, Roasted plums with ice cream by Jeanne of Cook Sister, Gluten free plum cake by Sarah of Maison Cupcake or Italian plum focaccia with cottage cheese by Rosa of Rosa's Yummy Yums.