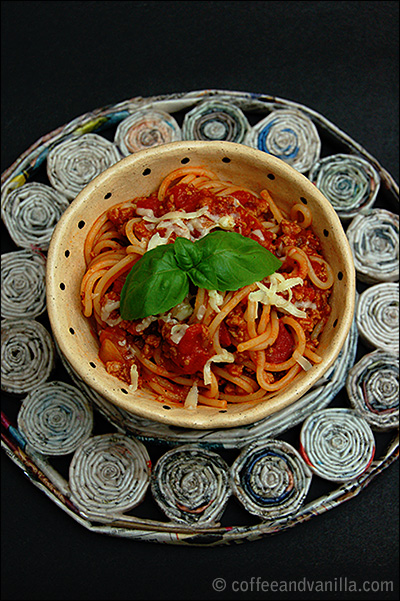 INGREDIENTS
400-500 g mincemeat (I used minced turkey)
1 large onion (finely diced)
couple of garlic cloves (crushed) or 2 tsp garlic powder
1 tbs dried oregano
1 tsp dried basil
3 tbs olive oil
½ tsp chilli flakes
400 g tin of chopped tomatoes
half a tube of tomato purée (about 100 g)
½ cup boiling water
2 vegetable cubes
1 tsp of liquid smoke
1 tsp molasses sugar / soft dark brown sugar or to taste
handful of fresh basil leaves (chopped)
grated cheese (preferably Parmigiano-Reggiano / Parmesan)
500 g dried spaghetti pasta
some extra virgin olive oil to serve if using lean mince like turkey – optional
METHOD
On the bottom of large pot fry mince and onions with olive oil, add also garlic if using fresh.
Once onions are starting to get brown add the rest of herbs: oregano, dried basil, chilli flakes and fry some more.
In meantime dissolve cubes in boiling water to make stock.
Reduce fire, add stock, chopped tomatoes and tomato purée to the pot, cook until most of the liquid has evaporated.
In separate pot cook pasta in lots of water, drain and leave aside.
Remove sauce from fire, add liquid smoke and stir well.
Transfer pasta to the pot with sauce, add also optionally some extra virgin olive oil, mix everything together.
Share spaghetti to the plates, top with fresh basil, cheese and freshly cracked pepper.
Enjoy while still warm.
Makes 4-6 servings.