[Recipe is sponsored by Volkswagen.]
Our kids have this fascination with cars, so instead of the usual autumnal themed veggie tarts today we're topping our pastries with Beetles!
Children will love them and they are so quick and easy to prepare, especially if you are using frozen veggies and ready made puff pastry. They will make great midweek meal.
Our girls gave those veggie tarts 10 out of 10 and cleared the plates within minutes.
If you are looking for more VW inspired recipes, take a look at Food Bloggers for Volkswagen Pinterest board.
INGREDIENTS
500 g ready puff pastry, if frozen – defrosted
250 g chestnut mushrooms (washed and chopped)
500 g mixed frozen veggies
1 cup of grated cheese
1 tbs unsalted butter
1 tbs cooking olive oil
1 tsp mixed herbs
sea salt – to taste
freshly ground black peppercorns – to taste
a bit of flour to dust working surface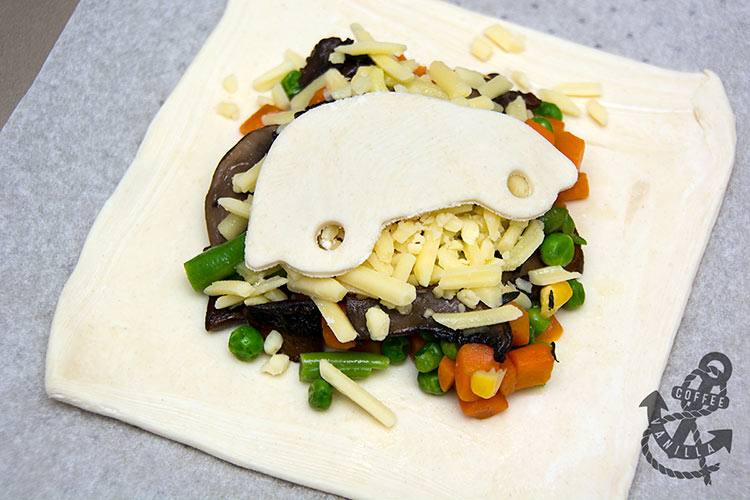 EQUIPMENT
large baking tray lined with baking paper
rolling pin (or wine bottle)
frying pan
cookie cutter (we used a car shaped one)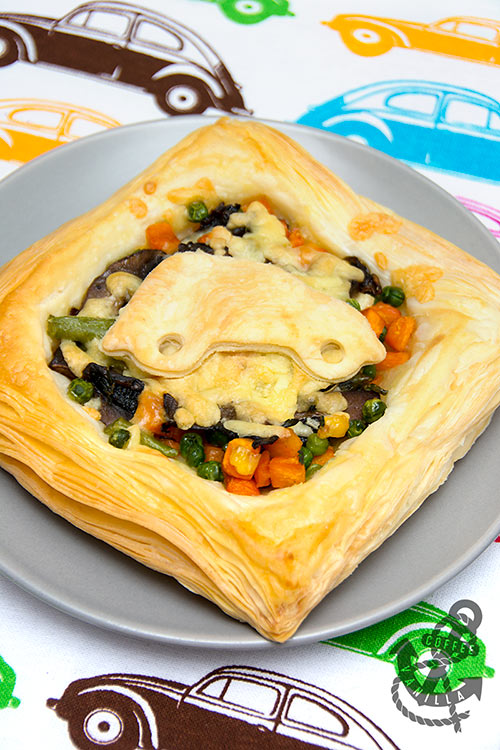 METHOD
First prepare the mushrooms: wash, chop and fry them on butter until browned, leave aside.
Add olive oil to the frying pan and stir fry frozen vegetables until ready.
Combine with mushrooms, season to taste with salt and pepper.
Cut of a bit of the pastry, evenly on each of the sides to keep the block square.
Use the dough to create shapes that will decorate top of the tarts.
Share the rest of the dough into 4 squares.
Roll out each square and top with quarter of the veggie mixture and quarter of the cheese.
Decorate with dough shapes and bake in the oven preheated to 200°C  (392°F) until golden.
Share to the plates and enjoy immediately with a cup of tea.
Makes 4 large veggie tarts.
TIPS
For smaller, snack size tarts, share the dough into 9 instead of 4 squares.
NOTES
For more puff pastry recipes, take a look at our Pumpkin Spice Puff Pastry Swirls or Ella's Quick Apple (& Apricot) Pies.
DISCLOSURE: This post has been sponsored by Volkswagen. All opinions expressed here are our own and we retained full editorial control.