INGREDIENTS
for the custard cream
6 cups / 1½ litre of whole milk
125 g / ½ bar of unsalted butter
1½ cup caster sugar
5 packets of vanilla sugar (5 g each) or even better some home-made vanilla sugar
4-6 whole eggs (4 large, 6 if small)
4-6 egg yolks
8 tbs plain flour
8 tbs potato flour
for the base / layers
25 petit beurre biscuits (1 large packet)
50 salted crackers (2 large packets)
for the glaze
half a bar of unsalted butter (125 g)
3 tbs unsweetened cocoa powder
5 tbs golden caster sugar
1 tbs or a little bit more milk or water
EQUIPMENT
1 large baking tray
large piece of baking paper, to cover the bottom of the tray and the sides
manual whisk
large jug or bowl
large pot to prepare cream
spatula
silicone brush for the glaze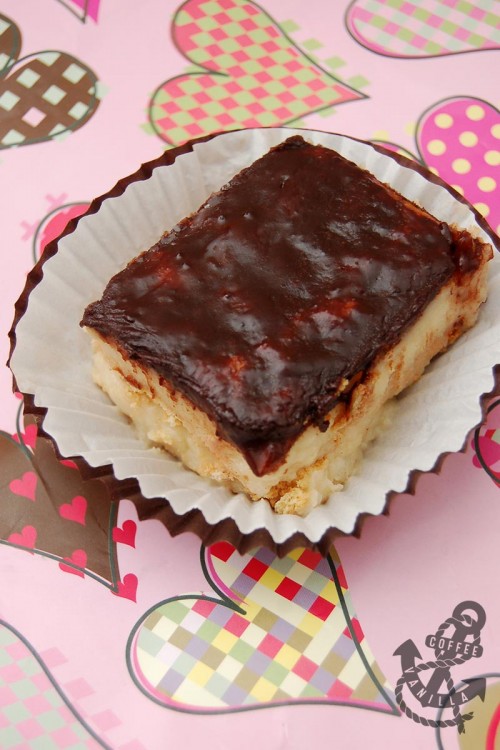 METHOD
Line the tray with baking paper and as many crackers as you can. I managed to fit 5 rows of 5, 25 all together on the bottom of the tray.
To prepare the cream boil 4 cups of the milk with vanilla & caster sugars, coconut milk powder and butter.
In a jug combine eggs, egg yolks, flour and left over 2 cups of milk whisking everything until well combined.
Gradually fold in egg mixture into pot with milk, continue boiling and stirring with a whisk until cream is smooth and starting to get thick.
Carefully transfer half of the cream onto the cracker base and spread evenly.
Top with about 25 petit beurre biscuits.
Cover everything with the rest of custard cream.
Top again with crackers.
To prepare the glaze combine in the pot sugar, butter, cocoa powder and milk and stir constantly.
As soon as  the glaze is all melted and smooth pour it over the crackers, use the bush to cover all the areas.
Place ready cake in the fridge for couple of hours or even overnight.
Slice with a knife following the lines in between the crackers.
Make about 25 small portions.
NOTES
More no-bake cake recipes: Raffaello – Almond & Coconut Cream No Bake Cake & Napoleonka / Kremówka – Polish Custard Cream Pie.