[Inspired by sponge puddings from Asda's Magazine.]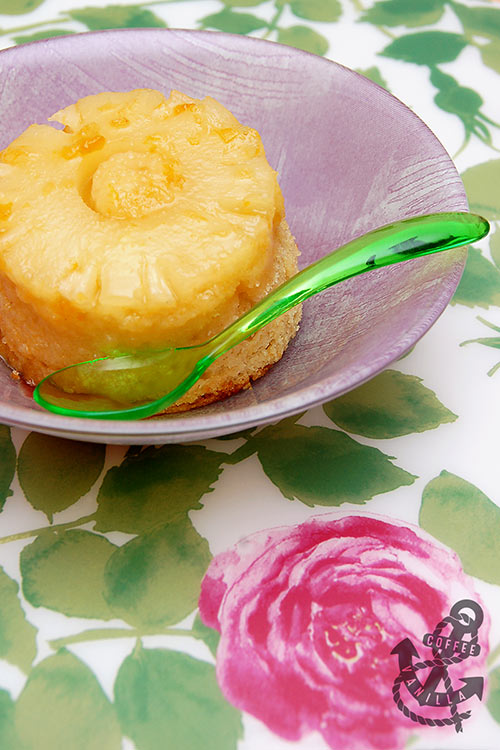 INGREDIENTS
200 g butter, can be salted one (softened) + some more for greasing the ramekins
200 g / ¾ cup golden caster sugar
1 tbs vanilla sugar or some vanilla extract
200 g / 2 cups self-rising flour or plain flour + 2 tsp baking powder
400 g tin of pineapple (8 slices)
200 g yellow jam (pineapple would be the best, but apricot jam will work fine as well)
2 large / 3 small eggs
about 3 tbs of milk or a bit more
boiling water
vanilla ice cream (to serve) – optional
EQUIPMENT
1 – 2 deep baking trays (large enough to fit 8 ramekins)
8 single ramekin dishes
baking foil
mixer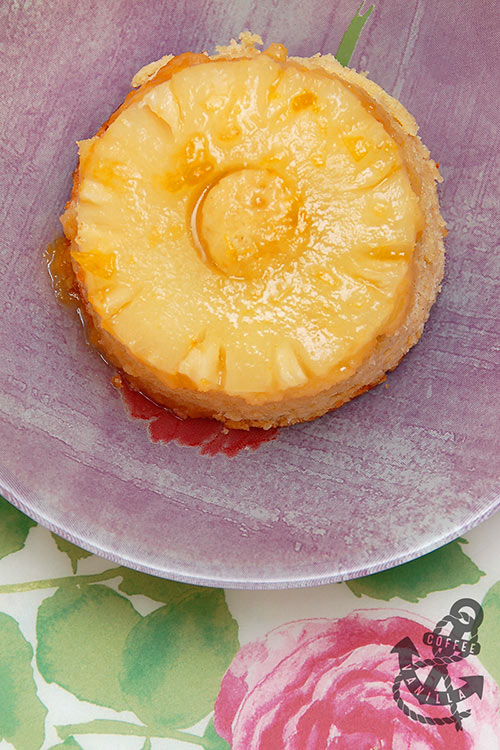 METHOD
Preheat the oven to 190°C (374°F).
Grease the ramekins with butter and arrange on baking trays.
Spread generous tablespoon of jam on the bottom of each ramekin and top with a slice of pineapple.
In meantime combine, using mixer, softened butter, eggs and sugars.
Gradually fold in also flour. Add 3 tbs of milk or more if the mixture seems to be too dry.
Share cake batter to ramekin dishes.
Then fill baking trays halfway with hot water, cover each tray with aluminium foil and place in preheated oven.
After 30 minutes remove the foil tin and bake for another 5-10 minutes, until top of the puddings is golden brown.
Pass the knife around each pudding to make sure it will slide down from the ramekins easily, then turn the dishes upside down over the serving plates.
Serve immediately while still hot with some custard, vanilla ice cream on a side or cooled down with some coffee or tea.
Makes 8 desserts.
NOTES
If you are planning to serve them cold leave in the ramekin dishes till the last moment.
Store wrapped in aluminium foil or cling film in the fridge.