Namaaste Kitchen is a modern Indian grill and bar in Camden Town, just few minutes walk from the tube station and bus stops.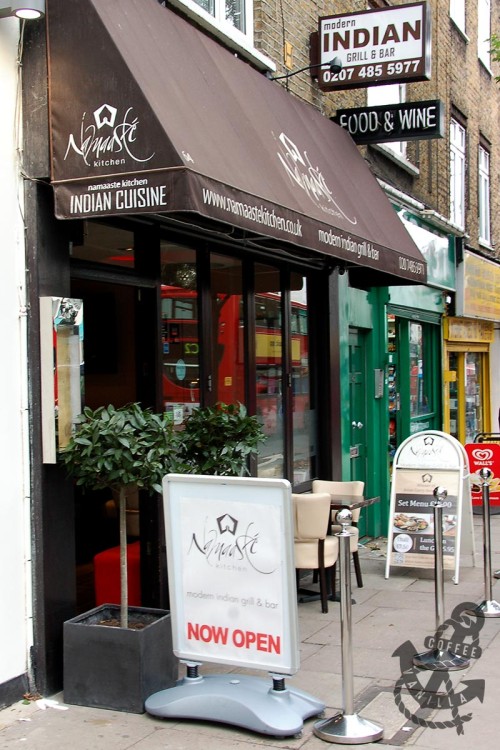 I love all kinds of curries, rotis, naans and everything fragrant and spicy so when Michelle has chosen Namaaste Kitchen for our next meeting venue I could not be more happy!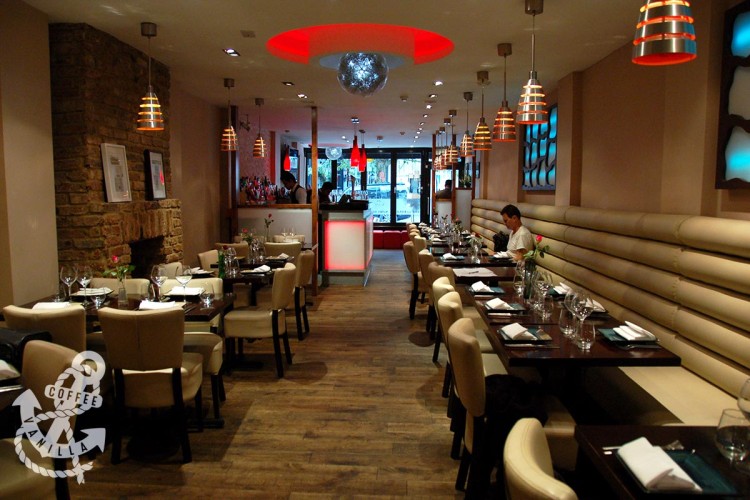 The interior is inviting and spacey with cosy chairs, contemporary look. The lighting is quite bright, good for casual meetings but dimmed enough not  to feel uncomfortable.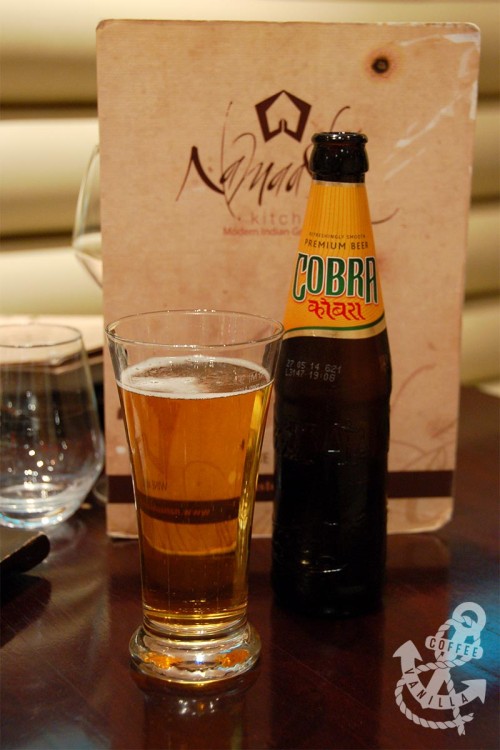 I started with Cobra Beer, which I always wanted to try… it turned out to be nice, light without special bitterns, just the way I like it… almost like Mexican beers.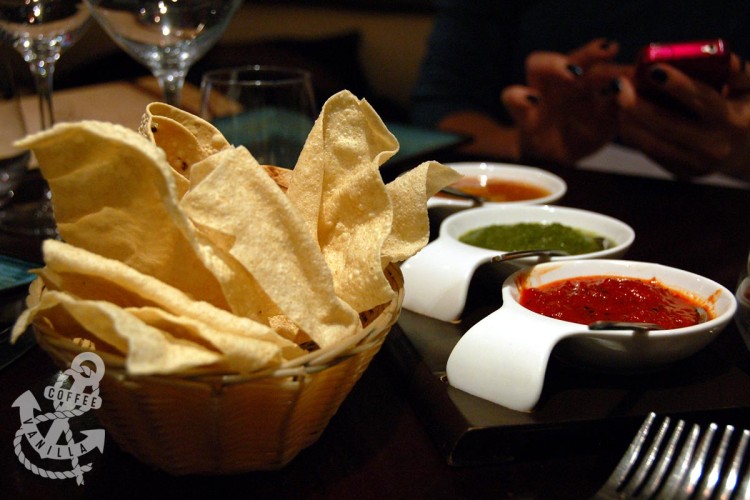 Papadoms & Chutneys (£1.20) were absolutely delicious, all of them but especially the green one… very herby.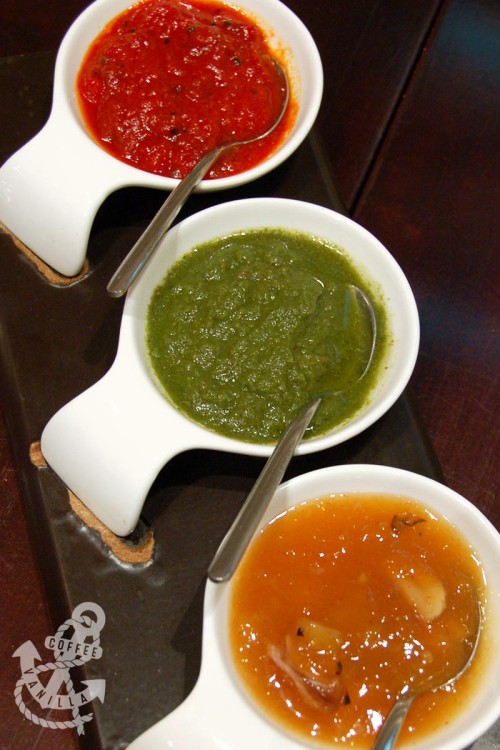 Starter of Tandoori Portobello Mushroom (£4.75) was a surprising and lovely combination of marinated mushroom, figs, cashew nuts, raisins, green chilli & home-made cheese in a curry leaf dressing… perfect (!)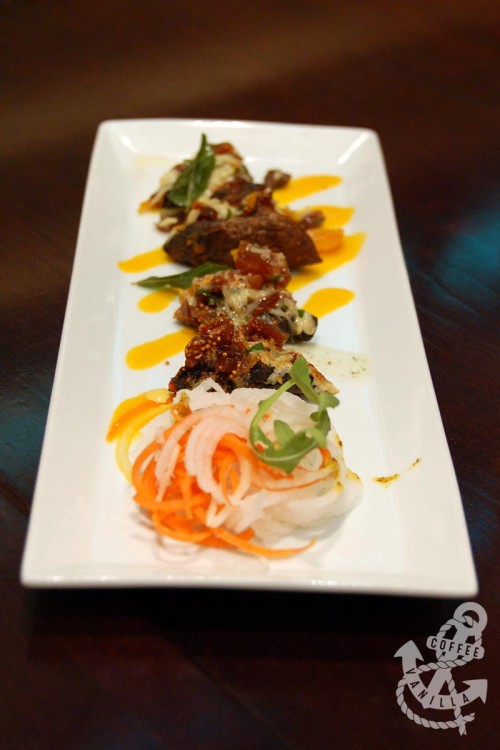 But my favourite starter was Sholay Salmon Tikka (£4.95). I have never tried before salmon prepared this way, it was truly mouthwatering experience (!)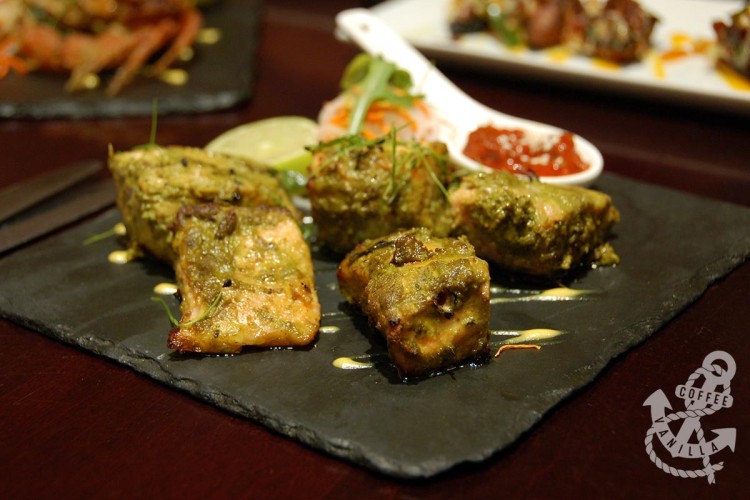 I haven't try Tandoori Aatish-e-Jingha (£5.50) despite the fact it looked very impressive.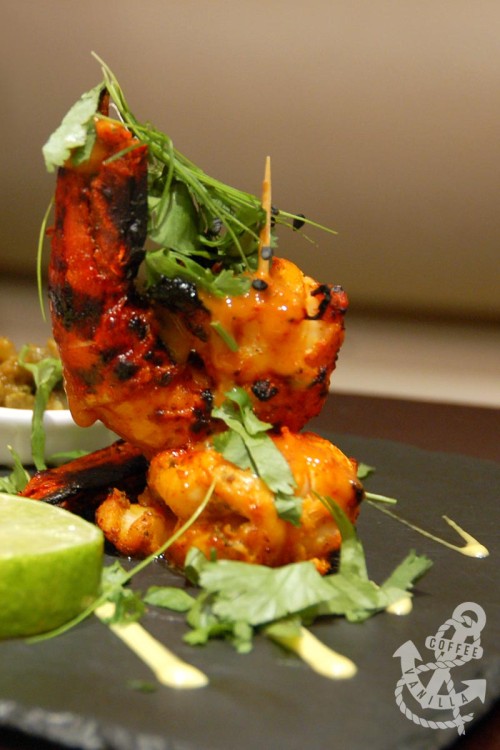 Girls seemed to enjoy a lot also starter of Spicy Soft Shell Crab (£5.95) – crab marinated in green pepper and lemon sauce, coated in semolina butter, deep fried and served with spicy fig and prunes sauce.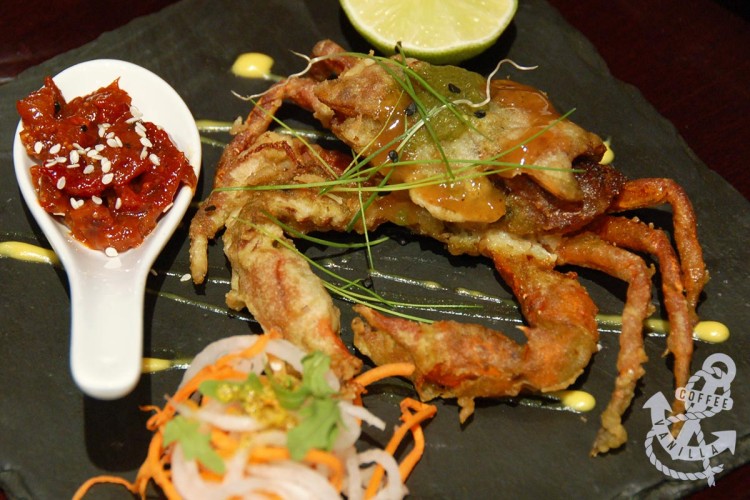 In meanwhile I was munching on Barwan Panir Shaslik (£4.50) . It was one of the best paneers I have ever had.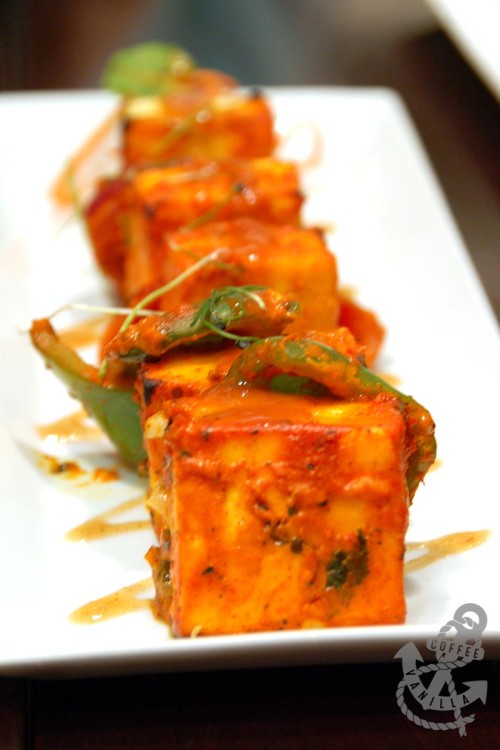 The last starter we have tasted was Coriander Lime Chicken Tikka (£4.50) – beautiful, delicious, tangy, served with some magic red powder that I can't forget…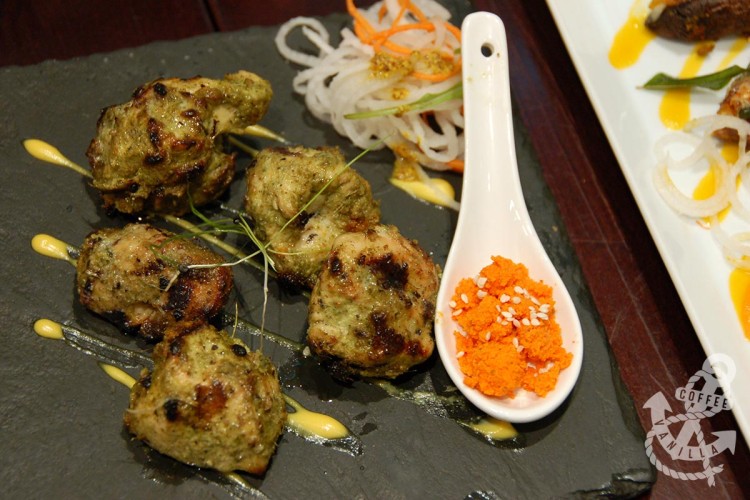 Wish I had taken picture of the main meal as it was very good: Murgh Makhanwala (£12.95) – escalopes of chicken breast grilled, then simmered in creamy butter & tomato sauce with ginger and crushed fenugreek leaves, served with pulao rice.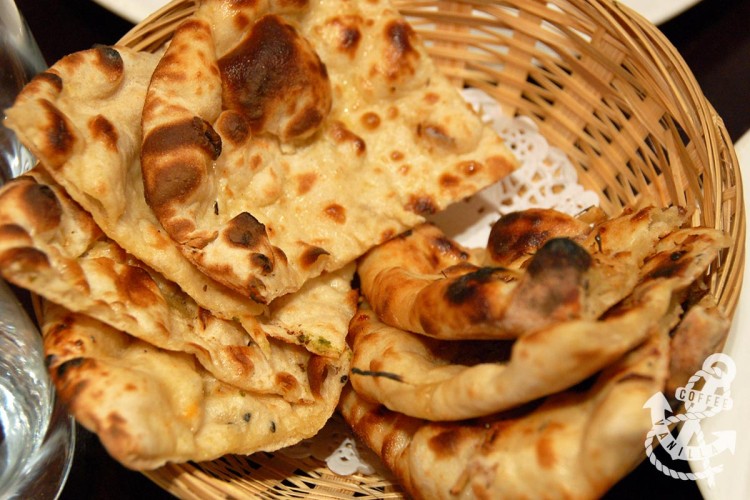 As a side we have tried selection of breads, plain Naan (£1.95), absolutely delicious, sweet Dates and Ginger Naan (£2.20), buttery Lachcha Paratha (£1.95) and filled with five lentil mix Dhall Panchratan (£3.50) – the last one along with the dates and ginger naan were my personal favourites.
Another sides worth recommendation include: Sesame Baby Aubergine with Mustard and Curry Leaf Sauce (£3.50) and Stir-fry Okra with Raw Mango (£3.50) – to be honest I have cooked okra several times at home but it has never been so gooood.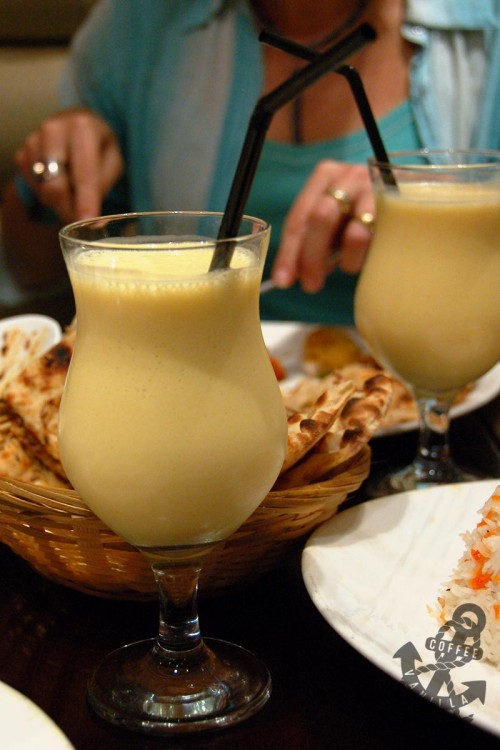 I could not visit Indian restaurant without trying proper, flavoursome Mango Lasi while my companion were enjoying more fancy drinks such as the one below.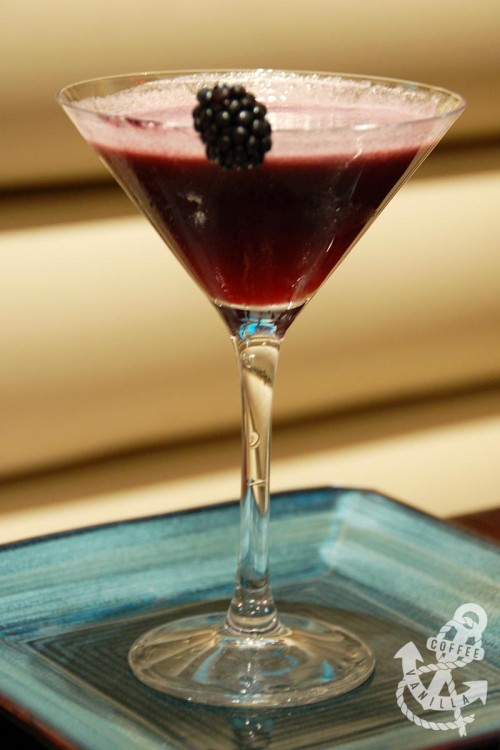 Having had so much different dishes, beer, Chai and lasi I could not find any more space for dessert which is probably good… Some of my colleagues commented that the desserts did not comply with the quality of the rest of the food. I left Namaaste Kitchen fully content, there was not a single dish I would not recommend.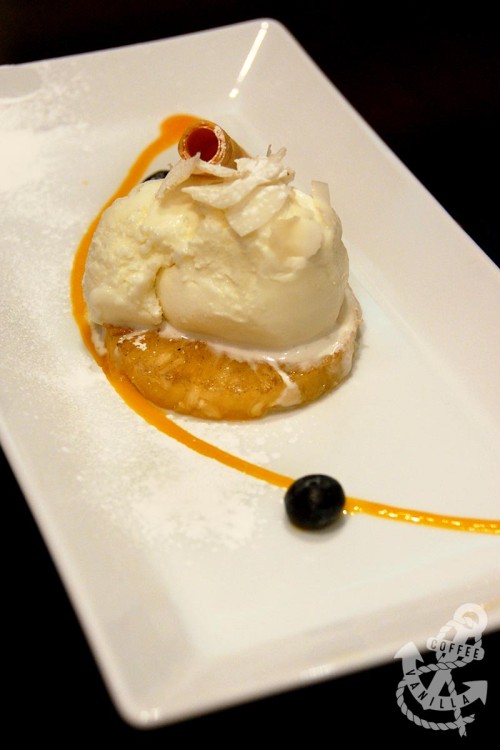 Above – Tandoori Pineapple with Coconut Sorbet (£4.50).
SUMMARY
FOOD: Best Indian dishes I tasted so far, generous portions and reasonable prices: 9/10
VENUE: Spacey, comfortable, modern: 9/10
SERVICE: Friendly, professional : 10/10
VERDICT: Recommended, would definitely visit again: 9/10
NAMAASTE KITCHEN
64 Parkway
Camden / Primrose Hill
LONDON, NW1 7A
phone: 02074855977
closest station: Camden Town

You can find this review between our other reviews on Google Local & Zomato (former Urbanspoon) websites.
NOTES
For alternative views on Namaaste Kitchen please read reviews of my dining companion: Jeanne of Cooksister, May of Eat Cook Explore, Michelle of Greedy Gourmet and Sarah of Maison Cupcake.
DISCLOSURE: I enjoyed this complementary meal on 5th of October 2013 as guests of Namaaste Kitchen.  All opinions are my own.