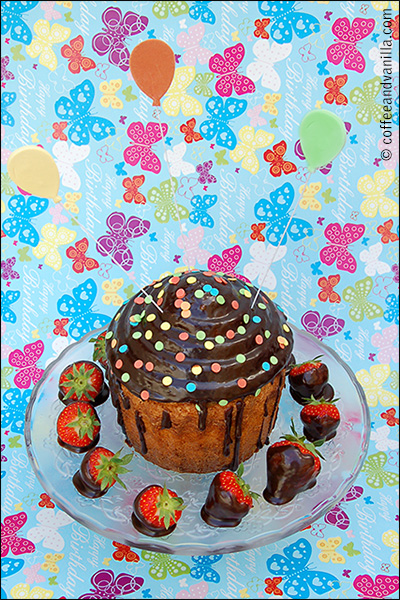 INGREDIENTS
2½ cups of plain flour
1½ cups caster sugar
250g unsalted butter (softened)
6 eggs (7-8 if small)
1 tbs home-made vanilla sugar
1 tbs baking powder
sugar confetti sprinkles – for decoration
about 200 g jam or chocolate spread – for the filling (I used strawberry conserve)
for the chocolate ganache
half a bar of unsalted butter (125g)
3 tbs unsweetened cocoa powder
5 tbs golden caster sugar
1 tbs or a little bit more milk or water
or semi-sweet chocolate bar (melted)
EQUIPMENT
mixer – optional
giant silicone muffin mould
whisk to beat the egg whites (I used manual one)
two mixing bowls, one for egg whites and one for the rest of the ingredients (mixer bowl)
wooden skewer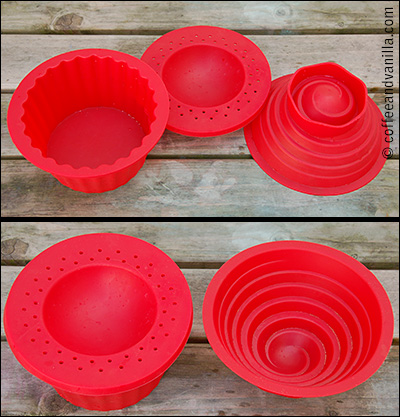 METHOD
Preheat the oven to 180°C (356°F).
Separate egg yolks from the whites.
In a mixing bowl combine sugar, egg yolks and butter and mix until well combined.
In meantime whisk the egg whites until stiff.
Gradually add also flour, vanilla sugar, egg whites and baking powder.
Transfer the mixture into two parts of the giant cupcake mould, cover the bottom part with lid so when the cake will grow it will create space for the filling.
Bake for about 50 minutes, check with the skewer if the cupcake is baked through and dry inside.
Remove from the oven, let it cool down before removing from the mould.
In meantime prepare the ganache, combining in the pot sugar, butter, cocoa powder and milk, leave aside to cool down.
Assemble the cake filling it with jam or spread and covering with the top part of the cupcake.
Gradually pour ganache over the cupcake, sprinkle with confetti immediately and place in the fridge to set.
Makes 10 – 15 pieces of cake.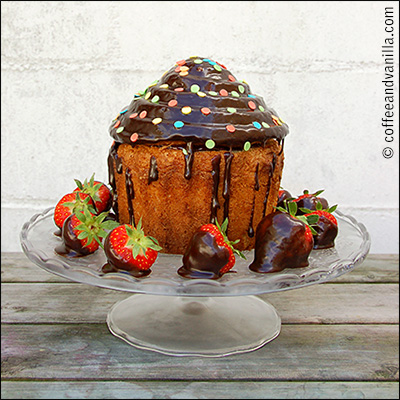 NOTES
Use leftover ganache for chocolate dipped salted fingers and strawberries.