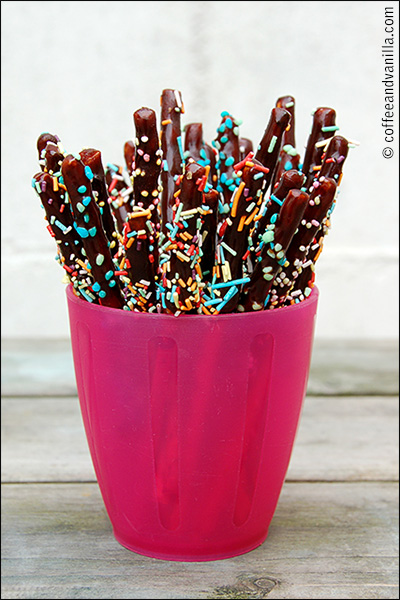 INGREDIENTS
large packet of salted fingers
2 plain chocolate bars (melted)
sprinkles
EQUIPMENT
big bowl filled with rice or other grains
small pot to melt the chocolate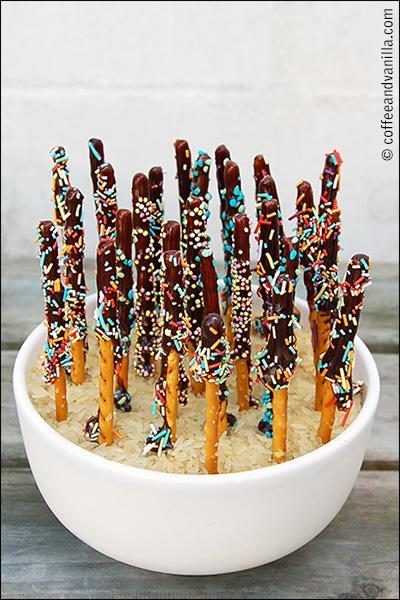 METHOD
Melt the chocolate in a small saucepan, add a bit of water not to burn it while melting or even better place broken into pieces chocolate in heat proof bowl and then suspend it over pot of boiling water.
Dip half of each finger in melted chocolate, then cover with sprinkles.
Leave to rest stuck into a bowl of dry rice.
Once chocolate is dry you can collect the fingers from the rice bowls (make sure there is no rice stick to the chocolate) and then place them in small cups to serve.
NOTES
Use orange & purple sprinkles for Halloween parties, pastel for Easter, green & red for Christmas etc.
Place bowl of rice with fingers in the fridge to set the chocolate faster.
If you manage to find popping candy sprinkles you may try to make those festive sparklers as well.
Use the same melted chocolate to make chocolate covered strawberries, dry on a plate covered in parchment paper, otherwise you may get hard time un-sticking them.