[recipe from Nadiya's Kitchen by Nadiya Hussain]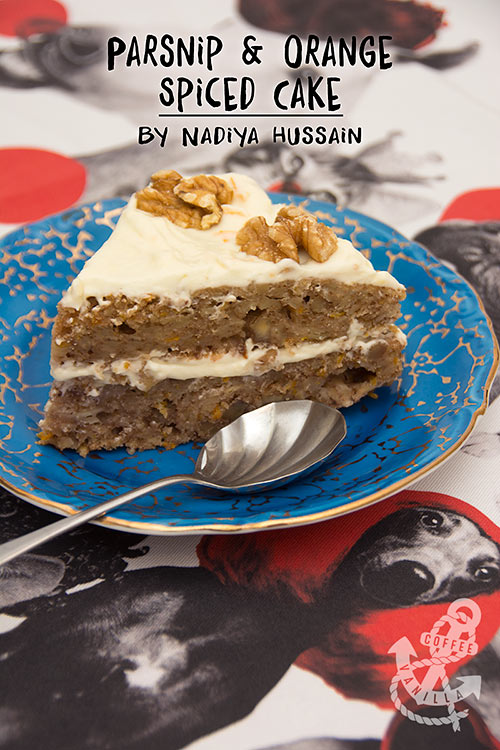 In the background Rankin's Comic Relief 2017 apron available at Homesense & TK Maxx stores. 
HomeSense has partnered with renowned fashion and portrait photographer Rankin to create exclusive products for Red Nose Day 2017 and help people living incredibly tough lives across Africa and here in the UK. The apron is part of a Red Nose Day 2017 range of products available in HomeSense stores nationwide.
The HomeSense Red Nose Day range features a selection of unique animal portraits including Rankin's own dog printed on adult and children's aprons encouraging the whole family to join in the bake sale action by getting creative in the kitchen. Further products in the collection include a tea towels, also designed by Rankin, as well as a leather journals and a colouring-in notebooks.
The Red Nose Day takes place on Friday the March 24th so hurry if you haven't got one yet.
Adult Aprons cost £12.99. At least £5 from the sale of the this apron will go to Comic Relief. The Red Nose Day is an initiative of Comic Relief, registered charity 326568 (England/Wales) SC039730 (Scotland). Percentage from sale of other items in the range will go the Comic Relief as well.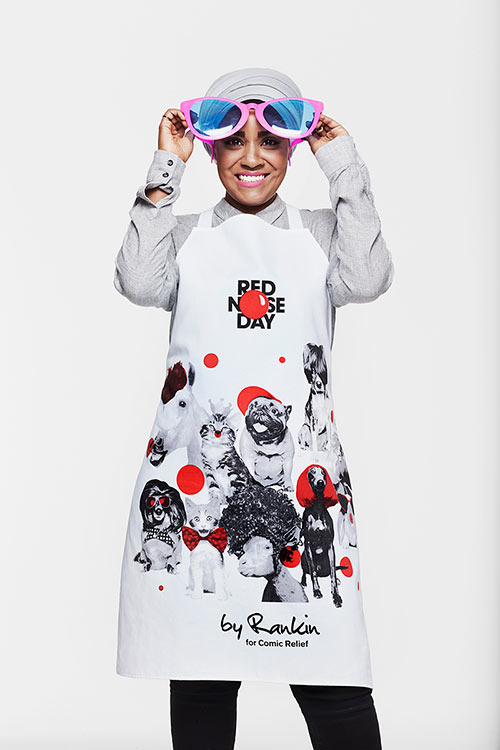 Nadiya Hussain wears Rankin's Comic Relief 2017 apron available at Homesense & TK Maxx stores. 
When we heard about possibility of baking something for the Comic Relief we could not be more than happy.
We went for Nadiya's cake for couple of reasons. First of all it is a great initiative and my girls always watch kids Junior Bake-off with Nadya on BBC. We also love carrot cake and idea of giving it a bit of a twist by swapping for parsnips seemed like a brilliant idea. And it truly was! The cake turned out to be delicious, moist and very moorish.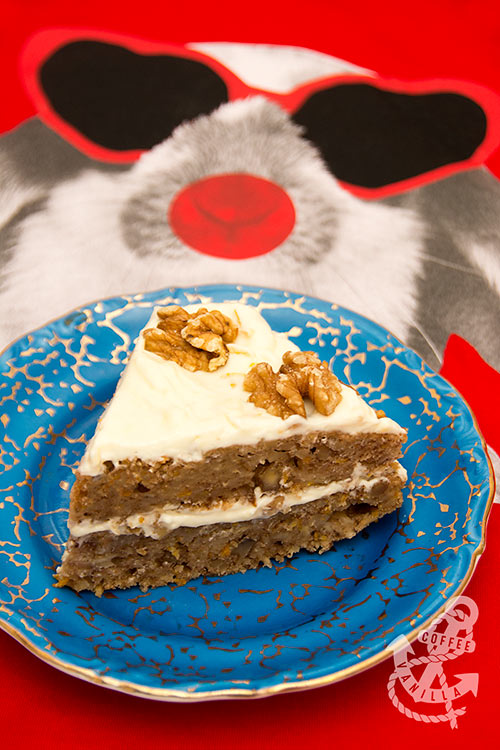 In the background Rankin's Comic Relief 2017 kids t-shirt available at Homesense & TK Maxx stores. 
INGREDIENTS
for the sponge
230 g / 11⁄3 cups of self-raising flour
1 teaspoon baking powder
1 teaspoon ground cinnamon
½ teaspoon ground nutmeg
2 teaspoons ground mixed spice
200 g / a bit less than 1 cup of caster sugar
100g walnuts, chopped, plus extra for topping
3 medium eggs
150 ml sunflower oil
500 g parsnips, peeled, ends trimmed and coarsely grated
zest of 2 oranges, plus extra for decoration
for the frosting
50g unsalted butter, softened
200 g full-fat cream cheese
150 g / 11⁄3 cups of icing sugar
zest of 1 orange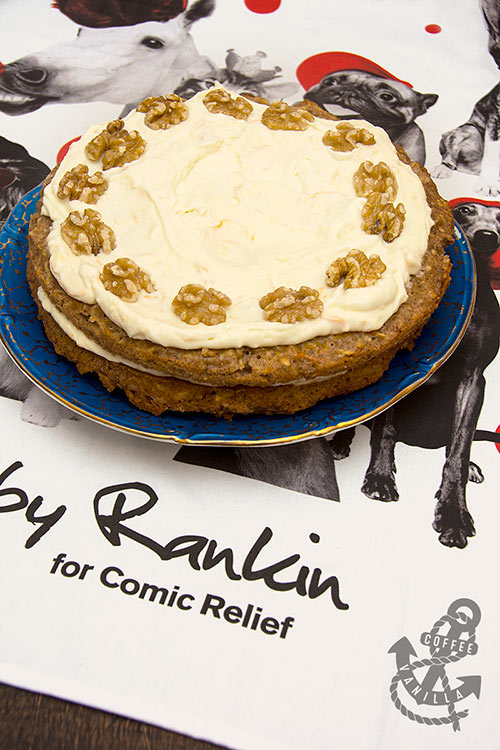 In the background Rankin's Comic Relief 2017 apron available at Homesense & TK Maxx stores. 
METHOD
To make the cake: Preheat the oven to 180°C (356°F) / fan 160°C (320°F). Grease and line the base of two 20.5 cm sandwich tins with baking paper.
In a large bowl sift together the flour, baking powder, cinnamon, nutmeg and mixed spice. Add the caster sugar and chopped walnuts, mix through with a wooden spoon, and set aside.
Put the eggs and sunflower oil in a different bowl, and beat for a few minutes.
Now mix all the dry ingredients into the egg and oil mixture, along with the grated parsnips and orange zest. Mix everything together until you have a thick batter; about 2 minutes.
Divide the mixture between the two cake tins, and level it off using a spatula.
Bake for 25 – 30 minutes. The cakes should be golden, and a skewer inserted into the centre should come out clean.
Leave the cakes in the tins for 10 minutes, then turn out onto a wire rack and peel off the baking paper. Leave to cool completely.
To make the frosting: In a bowl, beat the butter with a wooden spoon then add the cream cheese and icing sugar. Beat until it all comes together, but be careful not to overdo it, or the frosting will become runny.
Leave the frosting in the fridge until you need it, if your kitchen is really warm.
Take your cooled cakes and sandwich them together using the frosting. Top the cake with lashings of frosting and sprinkle with walnuts, and some extra orange zest.
Serves 10.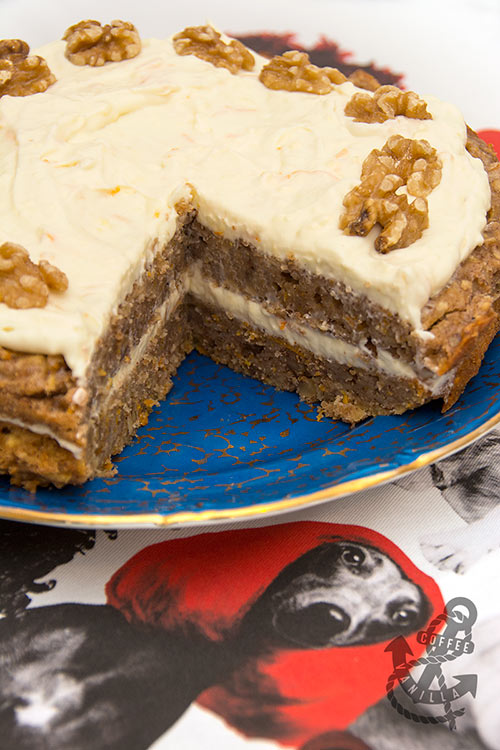 In the background Rankin's Comic Relief 2017 apron available at Homesense & TK Maxx stores.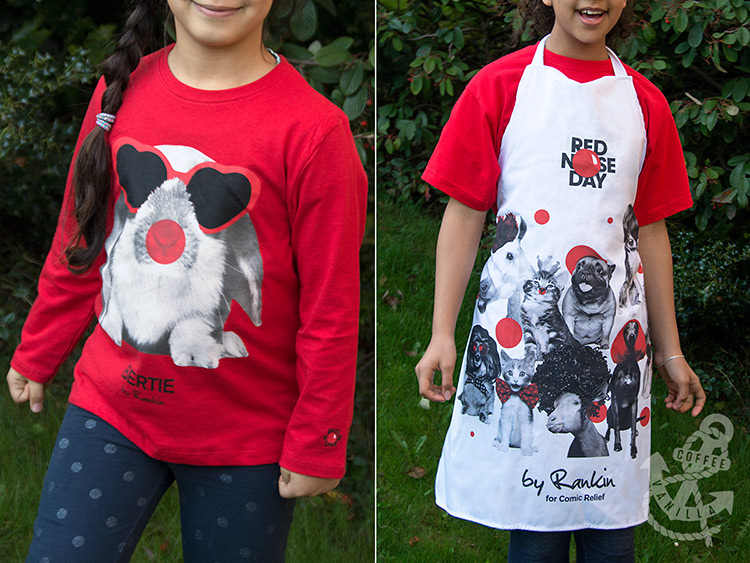 our girls wearing Rankin's Red Nose Day shirt and apron from Homesense 
TIPS
Sponges can be baked in advance and frozen.
If the frosting will turn too runny, do not panic! Use electric whisk to make if fluffy and then place in the fridge for a while to set.
NOTES
Our cake turned out a bit flatter than Nadiya's because we used wider tins.
DISCLOSURE: We were not financially compensated for this article but we were sent aprons and t-shirt for photography purposes.  All opinions expressed here are our own and we retained full editorial control. This post contains some affiliated links.
Nadiya Hussain wearing Comic Relief apron by Rankin – photo credit: Holly Pickering.