[Recipe is sponsored by Volkswagen.]
Since I was a child I always wanted to have an iconic VW camper van. Despite the fact I have never materialised my dream or even learned how to drive for that matter, I managed to pass this passion on my older daughter. Now she wants to get a camper van once she will get older…
It is needles to say that we have quite a few camper van themed goodies at home… mini VW camper vehicles (from Edinburgh Museum of Childhood), mugs, Lego set or even cookie cutters.
I don't know many people that do not like camper vans or at least the look of them, therefore they make great theme for all kinds of edible gifts.
We made simple, yet very scrummy vanilla shortbread cookies that are great for any occasion: birthdays, Father's Day, Christmas, bake sales or even as party bag favours. There is no need to be sugar craft expert to make those, as long as you have a cookie cutter and ready fondant icing, you are ready to start. Finished cookies can be either packed in cardboard boxes or directly into cellophane bags. We made our own boxes out of paper plates for this purpose.
For more car inspired recipes, take a look at Food Bloggers for Volkswagen Pinterest board.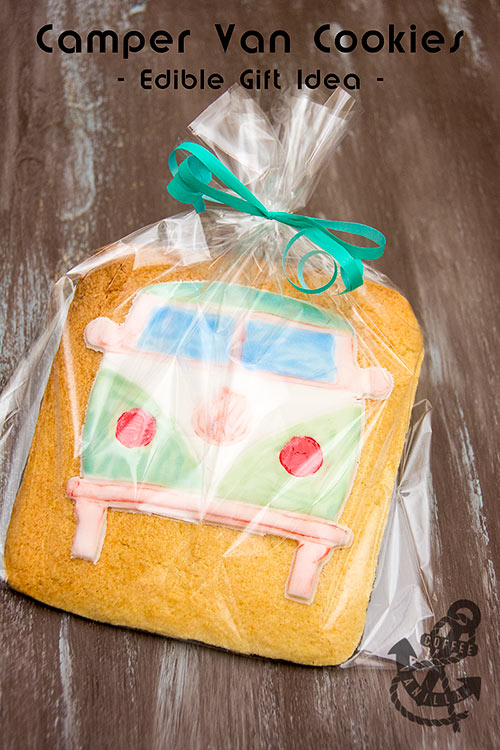 INGREDIENTS
for the cookies
3 cups of plain flour
250 g of unsalted butter (softened)
2 eggs
1 cup of golden caster sugar
1 tbs vanilla extract
for the decoration
ready white fondant icing
food colouring – we used gel food coloring diluted with water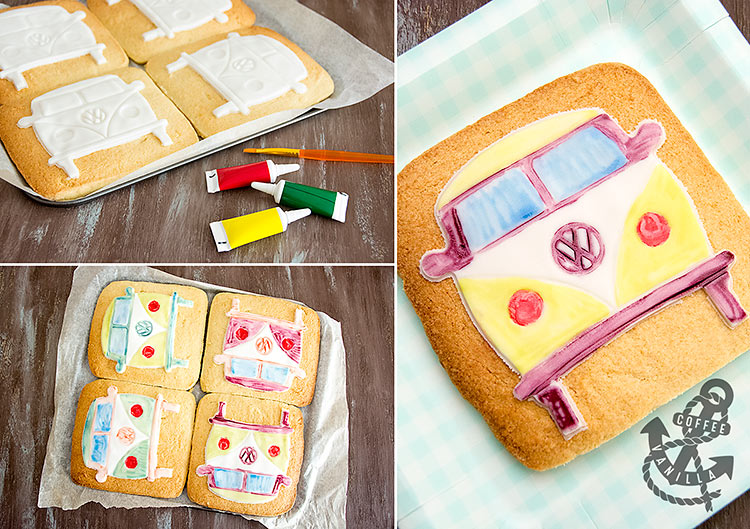 EQUIPMENT
camper van cookie cutter
rolling pin
large baking tray lined with parchment paper
small brush
cellophane bags, paper plates and ribbons for packing  – tutorial can be found here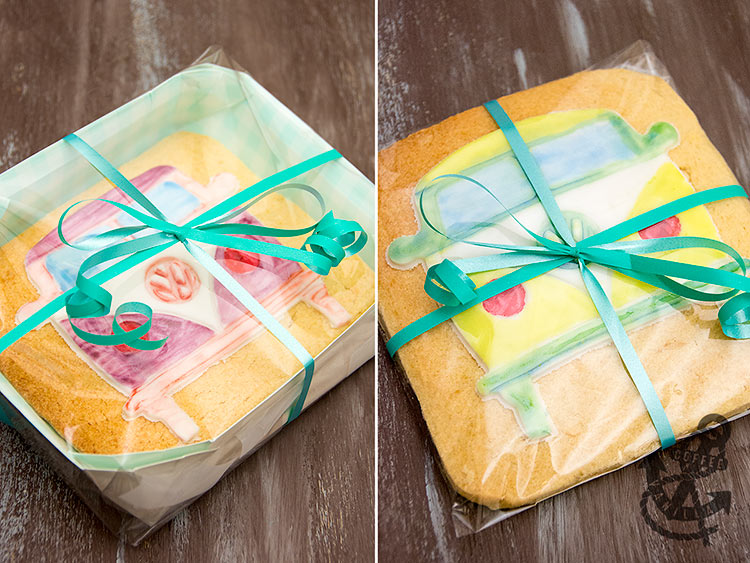 METHOD
Combine all ingredients for the cookies and knead dough until smooth.
Place the dough in the fridge for at least 30 minutes.
In meantime prepare the sugar decorations, roll the icing and then cut out the shapes.
Depending on the size of your cookie cutter for decorations, roll out the dough until about 1 cm thick and then cut into pieces that will be large enough.
Bake in the oven preheated to 180°C (356°F) until golden brown.
Place on the cooling rack, top with decorations while the cookies are still hot so the icing will stick to them.
Once cookies have cooled down, paint the icing with food colouring.
Leave aside to dry completely before packing them into boxes and cellophane bags.
Makes 4 giant 12 x 12 cm cookies or many more smaller ones.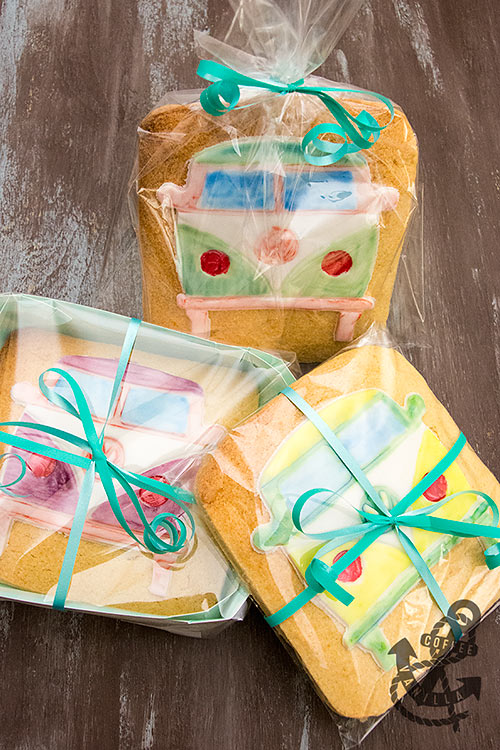 TIPS
Vanilla extract can be substituted with other extract of your choice, such as almond or orange.
NOTES
For more VW themed goodies try our Super Quick Puff Pastry Veggie Tarts.
DISCLOSURE: This post has been sponsored by Volkswagen. All opinions expressed here are our own and we retained full editorial control.