Our 5 year old daughter is a huge fan of Octonauts from the CBeebies, Shellington the sea otter to be precise, so we had no other choice but to make Octonauts cake for her birthday.
The Octonauts layer cake was a bit more tricky to make than Octonauts fish biscuits that we previously made but it came out quite good and the most important she loved it. What do you think?
We have made sugar decorations in advance, also baked sponge layers the night before and then on the day (when she was at school) only assembled the cake.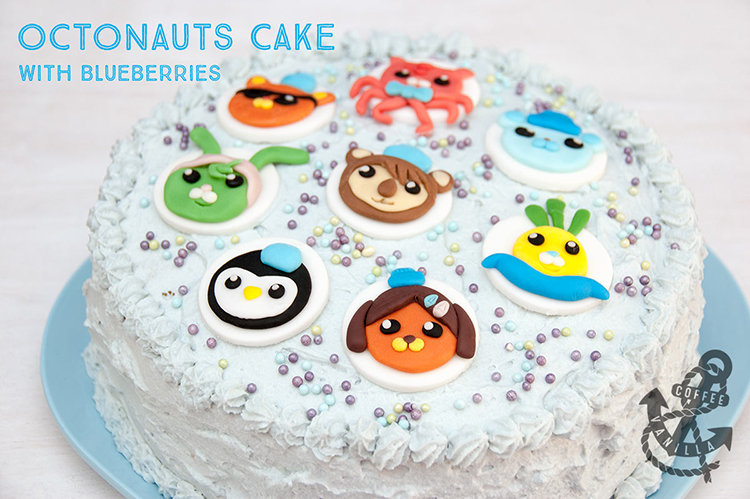 INGREDIENTS
for vanilla sponge cake
1 cup egg whites and ½ cup yolks, about 6 small eggs
1 cup golden caster sugar
1 cup plain flour
pinch of salt
1¼ tsp baking powder
1 tbs unsalted butter (softened)
seeds scraped from 1 vanilla pod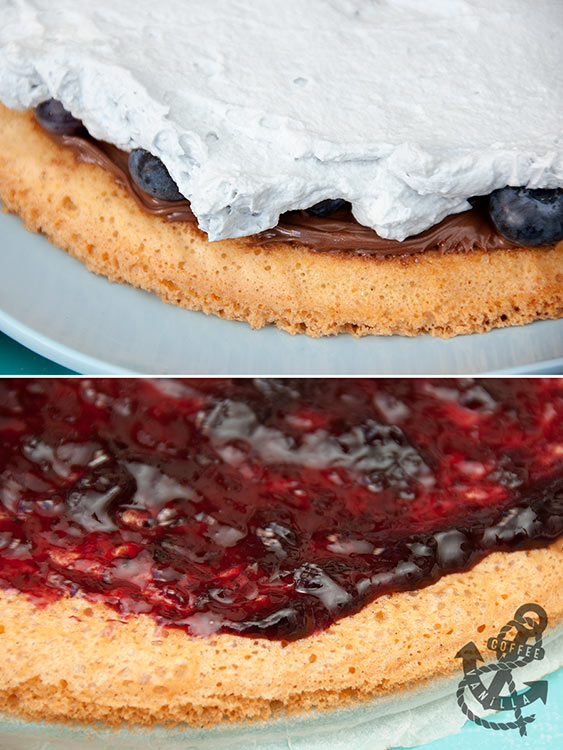 for chocolate – blueberry layers
300 g blueberries (washed, dried)
200 g quality blueberry jam or conserve
200 g chocolate spread
900 ml whipping cream
blue food colouring (we used the whole bottle of natural blue colouring)
1 cup fine white sugar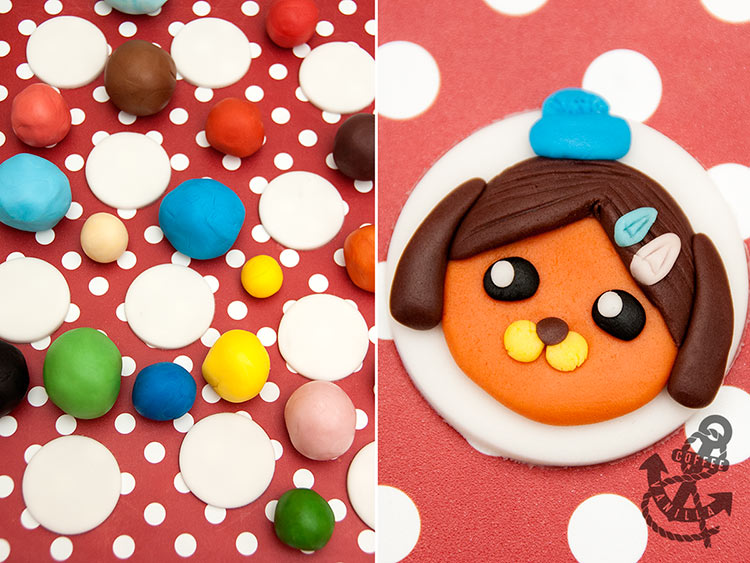 for decoration
icing sugar in prime colours: red, blue, yellow + white & black icing
sprinkles (we used "ocean pearls" mix)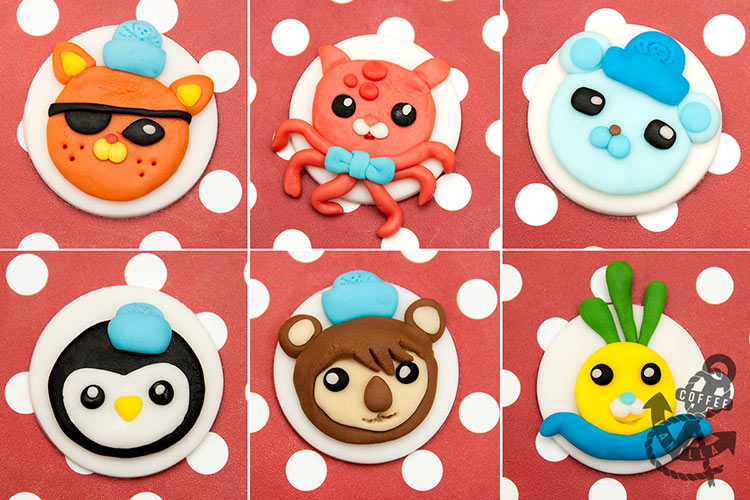 EQUIPMENT
9" (22,8 cm) round non stick cake tin with removable bottom or even better 3 of them
spatula
food processor to beat eggs and whip the cream
cake stand or disposable cake base
piping syringe or bag – optional 
round cookie cutter
sugar craft tools if you have on hand, we have used small knife and a skewer only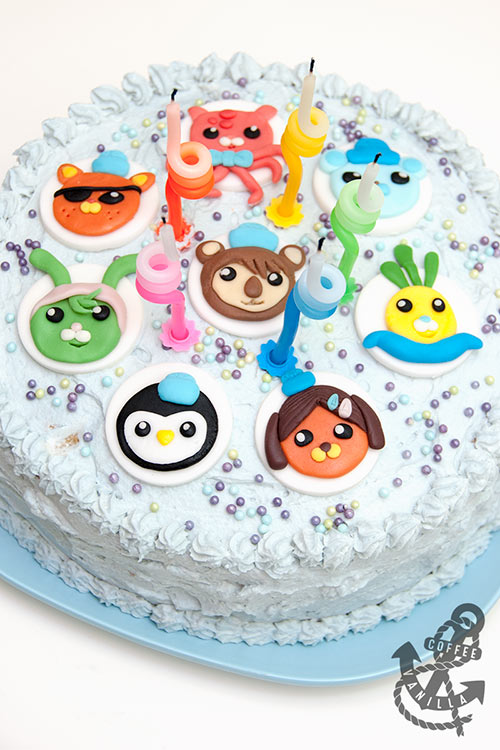 METHOD
Roll out and cut out circles out of white icing sugar. Place on some tray or other flat surface to dry out.
In meantime mix colours of the icing to get all of the colours you will need to make the Octonauts and assemble them on the top of white circles. Leave aside to dry out a bit. This can be done days in advance.
To prepare sponge cake beat in a food processor egg whites with salt until stiff, add sugar and beat some more.
Stir in also yolks and vanilla seeds.
In a small bowl combine baking powder and flour and gradually add it to the egg mixture only until well mixed.
Pour it into buttered cake tin (if you are using 3 tins make sure that you put even amount of cake dough in each of them) and bake in preheated oven to 180°C (356°F) for about 25 – 30 minutes, until golden.
Remove from the tin and let it cool down.
When sponge cake is cooled down completely, cut it into 3 layers if you used 1 tin, using very sharp knife. Again, this can be done in advance, day / night before or so. Just make sure to keep the sponge cake in air tight container, best wrapped in cling film so it would not dry out.
On the day, wash the blueberries and let them dry completely before proceeding.
To make whipped cream mix cream, food colouring and sugar, using food processor, until thick.
Assemble the cake with chocolate spread, blueberries, blueberry jam and some of the whipped cream in between sponge cake layers.
Spread  the rest of whipped cream all over the top and sides of the cake.
Use piping syringe to decorate edges of the cake.
Top with Octonauts sugar decorations decorations and sprinkles.
Place in a fridge and let it cool down for about 2 hours.
Make about 12 – 14 servings.
NOTES
Those Octonauts sugar decorations would also make perfect cupcake toppings.
If you are looking for more Octonauts recipe ideas check out  those Lightly Spiced Fish Biscuits for Fans of the Octonauts we previously made.
DISCLOSURE: This post contains some affiliated links.