My little one is a big fan of Octonauts, together with her big sister they even made their very own gups out of cardboard boxes, decorated them and spend hours inside. Shellington (the sea otter) is her favourite character, she even sometimes ask to call her that.
One of those days she asked me if we can make fish biscuits. I agreed without realizing that among about 100 cookie cutters in the house there is not a single one that resembles fish, even a bit. I walked all Brighton's stores in search for fish cookie cutters… without luck. Finally I got one on Amazon but it was not an easy task as well as  she was very picky about shape of the fish she needed (!)
Along the cookie cutter I ordered also little Octonauts memory game to make up for the fish cutter being not round enough.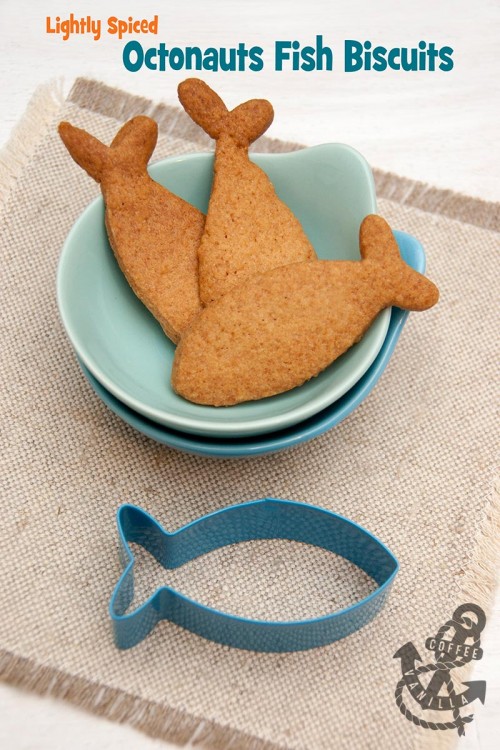 INGREDIENTS
2 cups of plain flour + some more for dusting
1 tsp baking powder
1 pinch of salt
150 g real butter, unsalted (softened)
½ cup golden caster sugar
½ tsp ready ginger bread spice mix or combination of cinnamon, nutmeg, ginger, cloves and all spice
1 egg
EQUIPMENT
mixing bowl
rolling pin
2 trays lined with baking paper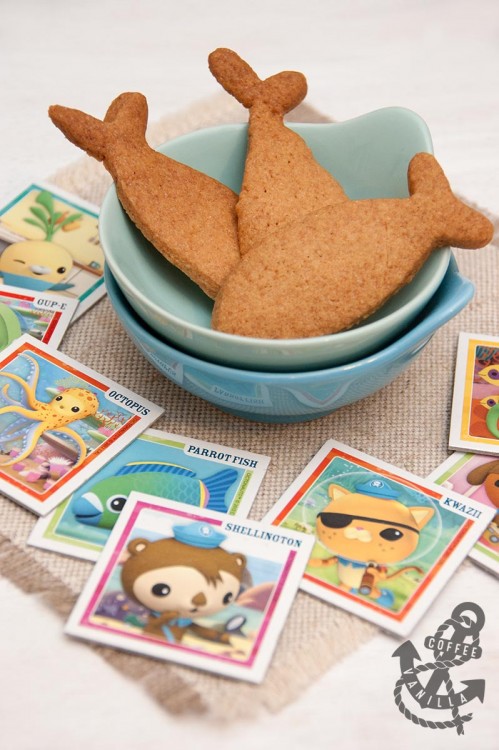 METHOD
In a mixing bowl combine all dry ingredients, then add softened butter and egg.
Knead the dough until well combined and place in the fridge for about half an hour so it will be easier to cut out the shapes when the dough is a bit harder.
Roll piece of the dough at the time on floured surface, cut out the biscuits with cutters.
Place them on baking trays and bake in the oven preheated to 160°C (320°F) until golden brown.
Leave aside to cool down completely before serving.
Makes about 40 small cookies.
NOTES
Those fish biscuits are not very sweet and would be perfect for picnics or even lunch boxes.
For a special treat top them with some chocolate spread or jam.
If you are looking for more edible Octonauts ideas, check out Octonauts Bento Lunch from Eats Amazing or Octonauts Layer Cake with Blueberries we made.
For cute kids' treats take a look at Jac's My Nieighbour Totoro Treats – Soot Sprite Truffles, Emily's Disney Planes 2 Inspired Lunch Snacks, Marble Chocolate & Vanilla Cupcakes, Miniature Flower Pot Cheesecakes or Gooey Marshmallow Ice Cream Cones That Won't Melt that we made.
Click here for more recipes and crafts for kids.
DISCLOSURE: This post contains some affiliated links.