This recipe would make prefect lunch or late breakfast and because it is packed with veggies it's a healthy meal, too.
INGREDIENTS
8 medium tortilla wraps
200 g grated cheese (I used mild Cheddar)
few white button mushrooms (chopped)
few spring onions (chopped)
sweet red bell pepper (cubed finely)
chilli sauce (I used sweet chilli sauce) – optional

some roasted turkey ham or leftover pieces of cooked turkey / chicken (chopped)
small tin of sweet corn or red kidney beans (drained)
1 – 2 tbs grape seed oil + silicon brush or olive spray
EQUIPMENT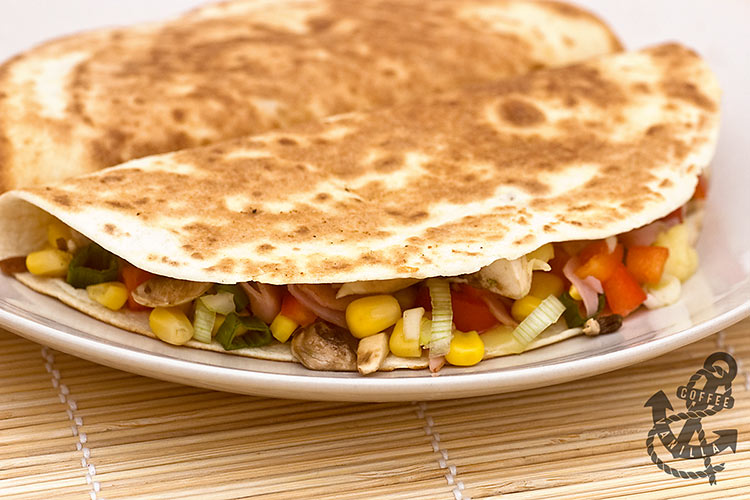 METHOD
Heat frying pan over high fire, then reduce it and brush frying pan with oil.
Place one of the tortillas on the pan, sprinkle with ⅛ of the cheese.
Then place ⅛ of any other ingredient on the top of the cheese, season with chilli sauce.
Using spatula fold tortilla in half. Serve to the plate.
You can also cut it into 3 triangle pieces before serving to the plates.
Repeat the same steps with other 7 tortillas.
Serve immediately.
Serves 4 people.
NOTES
You can also add some fresh coriander / cilantro.
Fry peppers, onions, mushrooms and other vegetables before placing them on tortillas if you don't like them half raw.
Place less ingredients than I did, it will be easier to fold the quesadillas.
Serve with guacamole and salsa on a side, instead of using chilli sauce.