This is idea rather than proper recipe, everyone knows how to make mint tea, right?
All you need to do is is to place couple of fresh mint stalks in the teacup, pour over some boiling hot water and let it infuse for a while, simple as that…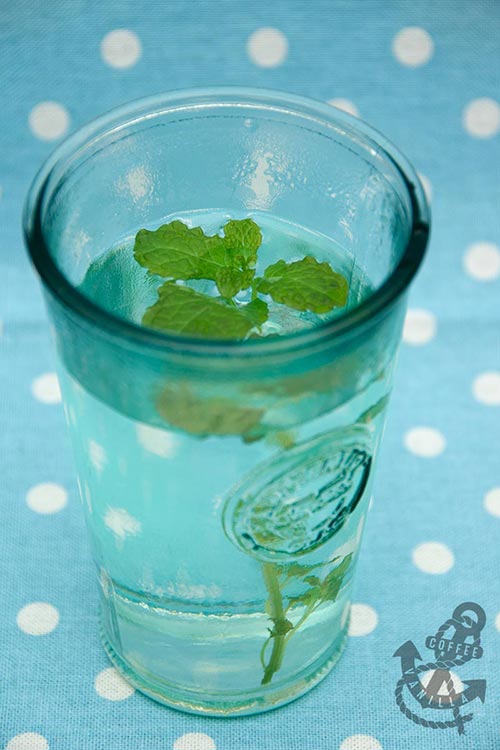 Having had skin problems and then being diagnosed with MI and formaldehyde allergy I started being much more aware of natural products, I started shopping for better ingredients, replaced tones of cosmetics I used to use with couple quality ones that contain no nasties.
But changing cosmetics and household products alone was not enough. I'm still getting flare ups from time to time so I started digging deeper…
We have moved from polluted London to Brighton, the fresher air definitely made the difference but not necessarily to my skin.
It turned out that synthetic clothes, bedding, pillows and finally food can be a trigger as well.
I started with things that I use the most often and during winter months I drink hectolitres of tea… mostly caffeine free red bush. But then it came to my attention that many teas are not that good for us, because of the teabags they are packed into. Once we pour hot water on them we are infusing it not only with goodness of tea but also with all those chemicals that the paper was soaked in during preparation which can be cancerous, toxic. etc. so I started looking for loose teas and fresh herbs to drink rather than bagged ones. Don't get me wrong, not all tea in the teabags is bad, just be aware that some (even well known brands) are so do the research before buying.
If you are using honey to sweeten your tea it is great but make sure to buy it from known source, I don't mean the store but that you know origin of the honey. Apparently there is toxic foreign honey on the market and some of the honeys stating "a blend of EC and non-EC honeys" can be contaminated.
Am I being paranoid of everything that use to be healthy seems to be poisoning us?
Do you know any other fresh herbs, except for the mint, that would be good for preparing this way? I would love to hear about them as I'm running out of options…
NOTES
And if you are looking for proper recipes calling for tea you may want to try Vanilla Buttercream & Lemon Cheese Triple Layer Cake Infused with Lemon Grass Tea I made long time ago, read about Hibiscus Tea that is very popular in Poland and Dominica, taste beautiful pink Hibiscus Cupcakes from Blue Kitchen Bakes or give a go healthy Rooibos fruit and muesli "pie" from Cooksister.