INGREDIENTS
for sponge cake infused with lemon grass tea

1 cup egg whites and ½ cup yolks, about 6 small eggs
1 cup golden caster sugar
1 cup plain flour
pinch of salt
1¼ tsp baking powder
1 tbs unsalted butter (softened)
2 bags of lemon grass tea
1 cup boiling water
for vanilla buttercream and lemon cheese layers

250 g bar unsalted butter (cubed)
2 tbs vanilla extract
3 tbs water or milk
2½ – 3 cups icing sugar
9 tbs lemon cheese / lemon curd or some sour jam
for icing and decoration
500 g white or other colour ready to roll icing to cover the cake or half portion more of vanilla
buttercream
250 – 500 g colourful  ready to roll icing for decoration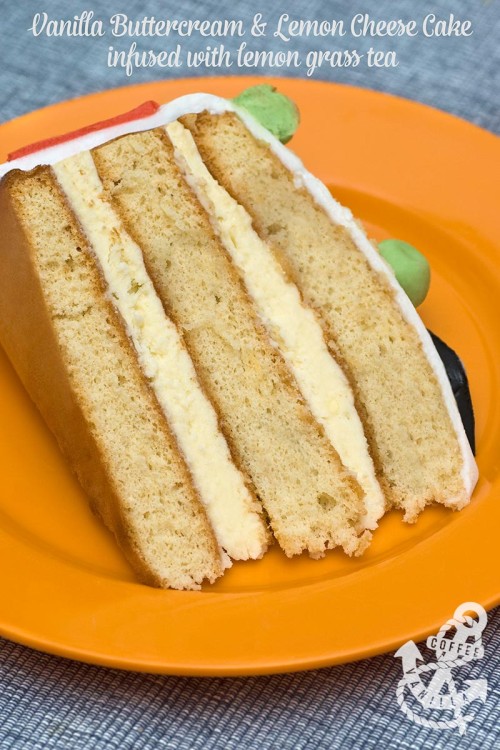 EQUIPMENT
9" (22,8 cm) round non stick cake tin with removable bottom or even better 3 of them
spatula
hand blender with whisk end or food processor to beat eggs
food processor to make the buttercream
cake stand or disposable cake base
cutters and tools to make icing decorations
silicone brush to brush decorations with water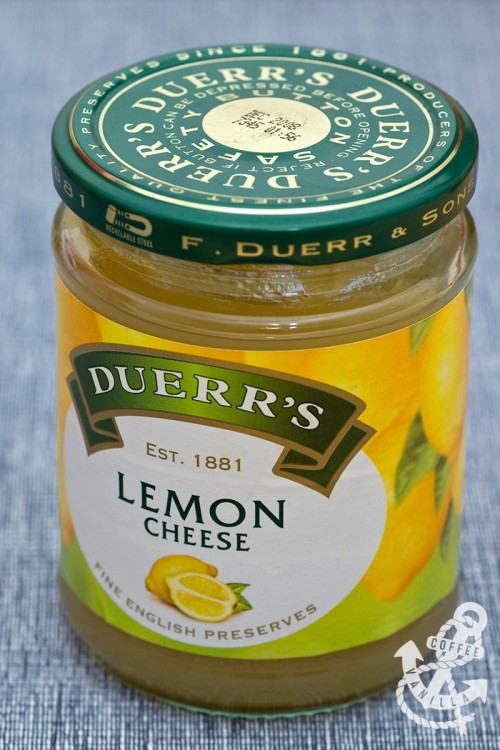 METHOD
To prepare sponge cake beat in a food processor egg whites with salt until stiff, add sugar and beat some more.
Stir in also yolks. In a small bowl combine baking powder and flour and gradually add it to the egg mixture only until well mixed.
Pour it into buttered cake tin (if you are using 3 tins make sure that you put even amount of cake dough in each of them) and bake in preheated oven to 180°C (356°F) for about 25 – 30 minutes, until golden.
Remove from the tin and let it cool down.
In meantime prepare buttercream mixing butter, water, vanilla extract and icing sugar, in a food processor, until smooth.
When sponge cake is cooled down completely, cut it into 3 layers if you used 1 tin, using very sharp knife.
Prepare strong tea from cup of water and 2 tea bags, leave aside.
Place first layer (upside down) on the cake stand or cake base, with a tea spoon soak it with ⅓ of the tea before spreading 3 tbs of lemon cheese on it, then half of the vanilla buttercream.
Place another layer of sponge cake on the top of it, again soak it with ⅓ of the tea, spread another 3 tbs of lemon cheese and the rest of the vanilla buttercream.
Cover with the last layer of sponge cake, soak with remaining tea, spread again 3 tbs of lemon cheese on it and cover with rolled our icing.
Cut off excess with very sharp knife, decorate with more icing, to stick decorations to the cake just brush them with water and they will stick.

You can also skip the icing, prepare half portion more of buttercream, divide it into 4, use ¼ on the top of each sponge cake layer, then remaining ¼ of the buttercream to cover the sides of the cake.

At the end just decorate with icing decorations and store r

efrigerated.
Makes about 10 – 12 servings.
NOTES
I made this cake for my step son's 14th birthday on his wish, but if it was for me I would skip the icing, and replace it with more buttercream as I suggested in recipe.
I would also reduce sugar icing decorations to the minimum as cake is very sweet.
Kids really enjoyed it, especially the icing, but I had to remove it before I could eat the cake.
You can replace some of the tea with alcohol such as rum.