We have never, ever, made any chutney so when we were sent Ball® Home Preserving Starter Kit (more about Ball® soon in October Tried & Tested) as a part of Inheritance Recipes challenge the first thing on our mind was mango chutney!
The proportions for the fruit / vinegar are taken from good, old preserving cookbook that my sister in law Mavia once gave me but the recipe itself is completely experimental and ours.
The chutney turned out delicious, tangy, spicy but not really very hot, just leaving this nice, warming up feeling inside… and tastes good on the top of cream cheese toasts.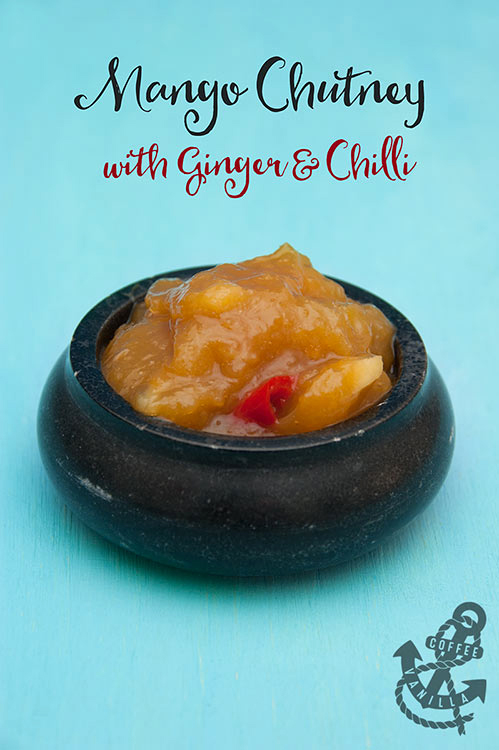 INGREDIENTS
3 large firm, unripe mangoes (peeled, cubed)
2,5 cm / 1 in long piece of ginger root (peeled, chopped finely)
1 lime (quartered)
1 red finger chilli or jalapeño pepper (split or sliced)
about 6 tbs soft brown sugar (we used muscovado)
½ tsp sea salt
150 ml / a bit more than ½ cup cider vinegar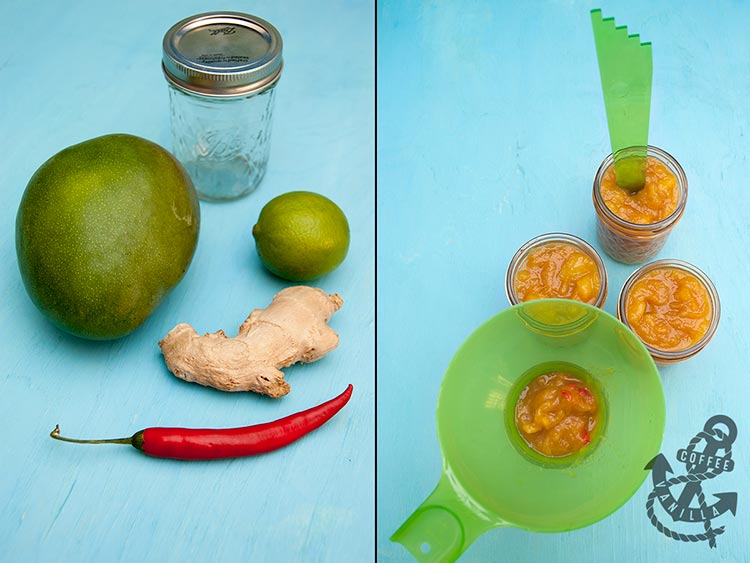 EQUIPMENT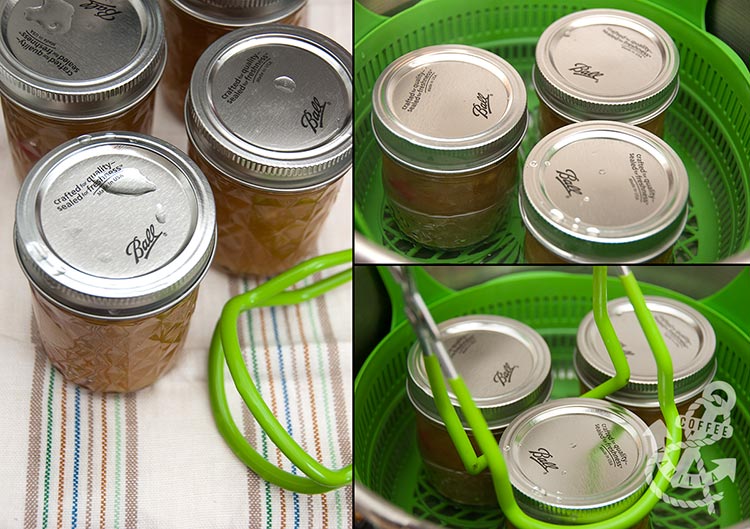 for water bath preserving
deep, lidded pot
jar tongs
preserving rack – optional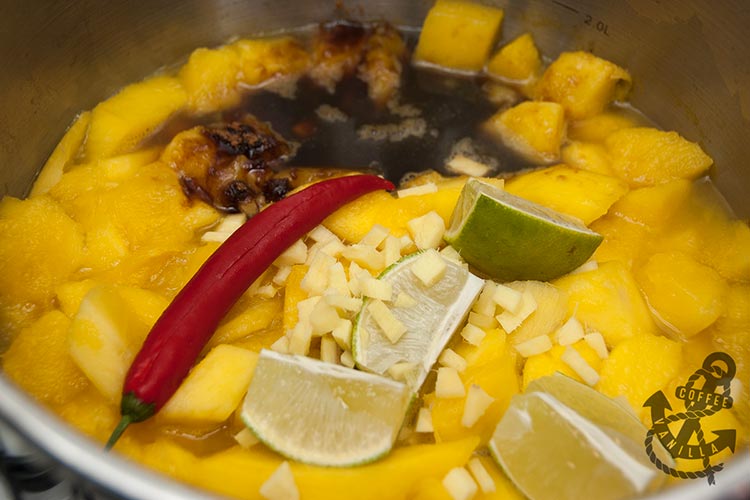 METHOD
In a saucepan place mangoes with vinegar, cover and cook on low fire for about 10 minutes.
Add rest of the ingredients and cook uncovered constantly stirring for about 30 minutes or until chutney has thick, purée like consistence.
In meantime, after about 15 minutes, remove lime peels and discard them.
If mango chunks are too big you can use potato masher to achieve desired consistence.
Transfer chutney into washed, warmed up jars.
If you are planning to preserve the chutney make sure to fill the jars leaving about 0.65 cm / ¼ head space. Use special tool or spoon to get rid of all air bubbles as they may affect successful sealing.
Wipe the rims, cover with lids, apply bands and tighten a bit, but not too much.
Place jars in preserving rack and then lower them into pot of simmering water, making sure the jars are coved in water at least 2,5 cm / 1 in deep.
Cover the pot and cook for about 10 minutes.
Turn off the fire, remove lid and let the jars sit in the water for another 5 minutes.
Then remove them from the jar using the rack and tongs.
After about 12 hours press the lids to see if they are sealed properly, any lids that make sound and flex up and down are not sealed properly and should be either resealed or placed in the fridge for use. Those that have successfully sealed can be stored in the pantry for up to a year and only refrigerated once opened.
If you are patient enough, allow flavours to develop for at least couple of days / 1 week before opening the first jar.
Makes 4 cups of chutney.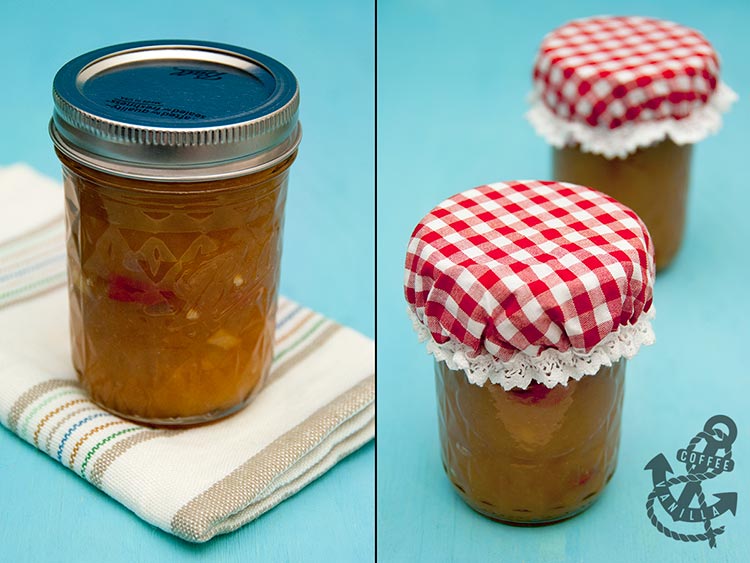 NOTES
The mangoes don't have to be completely green but still firm, sour and tart… not ready to be eaten raw.
Add less / more sugar to taste, depending on sweetness of the mangoes.
If you are looking for more interesting chutney recipes check out this Green Tomato Chutney from Pebble Soup, Kavey's Apple, Date & Ginger Chutney or Green Tomato & Raisin Chutney from Kavey Eats, Rhubarb Chutney from Recipes from a Pantry.
For more preserving ideas take a look at this Apple Butter from Feeding Boys.
DISCLOSURE: This post contains some affiliated links.