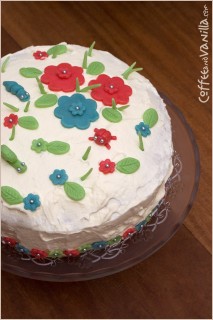 INGREDIENTS
for sponge cake
1 cup egg whites and ½ cup yolks, about 6 small eggs
1 cup golden caster sugar
1 cup plain flour
pinch of salt
1¼ tsp baking powder
1 tbs unsalted butter (softened)
for layers
700g ripe mangoes – 2 medium ones (peeled and sliced)
350g Nutella
600 ml whipping cream
¾ cup fine white sugar
150g marzipan
food colouring (I used green, pink and blue)
silver sugar balls
EQUIPMENT
9" (22,8 cm) round non stick cake tin with removable bottom or even better 3 of them
spatula
food processor to beat eggs and whip the cream
cake stand or disposable cake base
small cookie / vegetable cutters
METHOD
First make marzipan decorations, even the day before.
Combine marzipan with food colouring and knead until colur is even. Then using cutters, knife and hands create desired decorations. Place on the plate or tray and leave aside until cake is ready.
To prepare sponge cake beat in a food processor egg whites with salt until stiff, add sugar and beat some more. Stir in also yolks. In a small bowl combine baking powder and flour and gradually add it to the egg mixture only until well mixed. Pour it into buttered cake tin (if you are using 3 tins make sure that you put even amount of cake dough in each of them) and bake in preheated oven to 180°C (356°F) for about 25-30 minutes, until golden. Remove from the tin and let it cool down.
Peel and slice mangoes, leave aside.
To make whipped cream mix cream and sugar, using food processor, until thick.
When sponge cake is cooled down completely, cut it into 3 layers if you used 1 tin, using very sharp knife.
Place first layer (top one) upside down on the cake stand or cake base. Spread half of Nutella on it with spatula, arrange half of sliced mangoes on the top and cover with ¼ of the whipped cream.
Place another layer of sponge cake (middle one) on the top of it, spread the rest of Nutella, arrange the rest of sliced mangoes and top with ¼ of the whipped cream. Cover with the last layer (bottom one) of sponge cake, turn it upside down so the hard part is on the top. Spread left whipped cream on the top and sides of the cake. Now decorate cake with prepared previously marzipan decorations.
Place in a fridge and let it cool down for about 2 hours.
Make about 8-10 servings.
I made this cake today for my daughter 3rd birthday.