Lunchbox # 77 (for 4½ year old girl)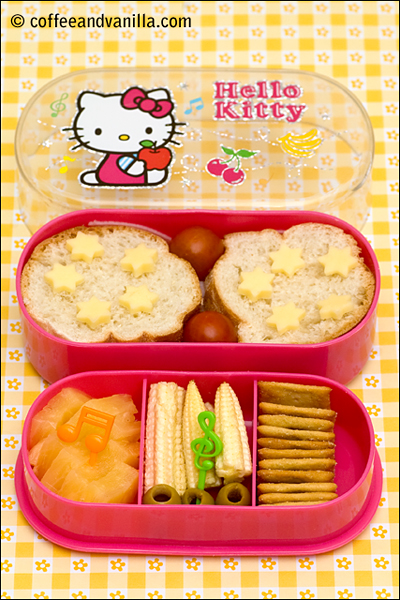 sandwiches made of submarine bread roll, butter and ham, topped with Edam cheese stars
cherry tomatoes
mini crackers
raw baby corn and green olives with music key food pick
tinned pineapple chunks with music note food picks
strawberry yogurt in a tube – Frubes
strawberry flavoured water with a straw
antibacterial gel to wash hands before lunch
wipe wrapped in aluminum foil with sticker, to use after lunch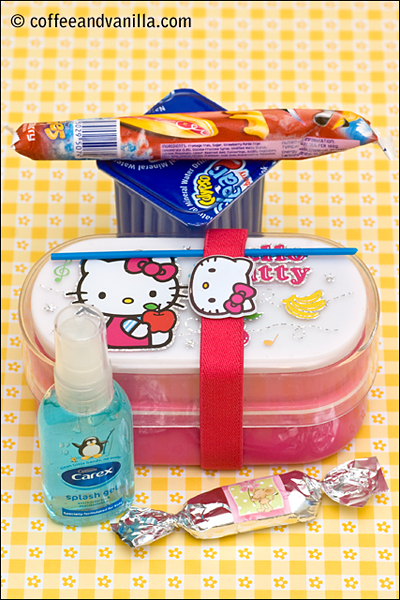 Everything closed in a lunchbox with a strap and placed together with large ice pack inside insulated Easy LunchBag.
Update:
Green olives were not such a great idea. My daughter loves black olives, but green olives came back half eaten (too sour).
More lunchbox ideas can be found here: Lunchbox Food.
And here you can read about Packing Children Lunches.
Some of the lunchbox accessories can be found in my Amazon aStore.
---
This is my entry for my own event: "Wholesome Lunchbox". If you want to participate, please send link to your entry before 15th of each month.