Lunchbox # 78 (for 4½ year old girl)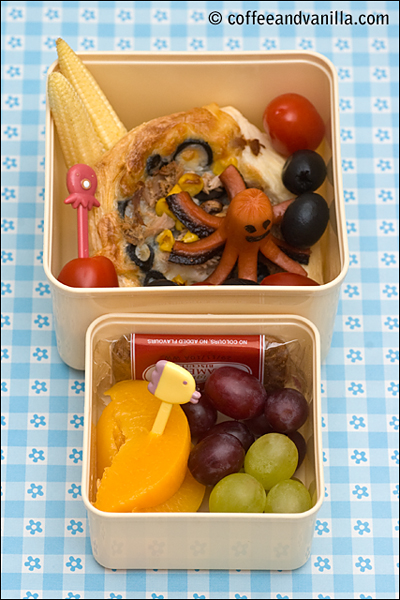 leftover mini Puff Pastry with Tuna, Corn, Mushrooms & Zucchini
raw baby corn
baby plum tomatoes with octopus food pick
pitted black olives
octopus made of Frankfurter/Wiener sausage with seaweed face
tinned peach slices, red and white grapes with fish food picks
mini malted biscuit
raspberry fromage frais in a tube – Choobs
rice milk with a straw
antibacterial gel to wash hands before lunch (not pictured)
wipe wrapped in aluminum foil with star fish sticker, to use after lunch
To make octopus I made 4 cuts in the sausage what gave me 8 octopus legs. Then I placed it, pushing it down and spreading octopus legs on greased frying pan, fried until browned. Once it cooled down octopus legs stayed in shape.
Then I did stick with a little bit of water eyes and smile made of seaweed sushi wrap / nori.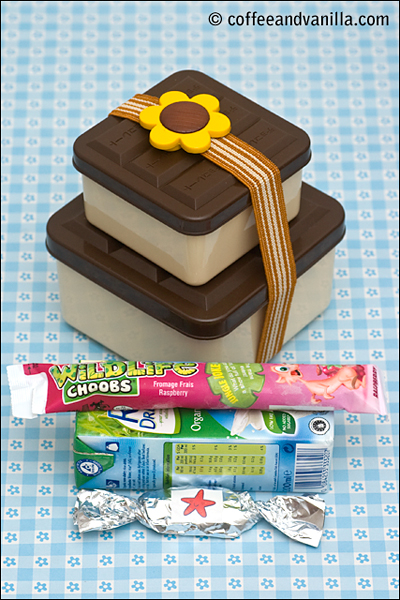 Everything closed in a lunchbox with a strap and placed together with large ice pack inside insulated Easy LunchBag.
More lunchbox ideas can be found here: Lunchbox Food.
And here you can read about Packing Children Lunches.
Some of the lunchbox accessories can be found in my Amazon aStore.
---
This is my entry for my own event: "Wholesome Lunchbox". If you want to participate, please send link to your entry before 15th of each month.