Lunchbox # 48 (for 4 year old girl)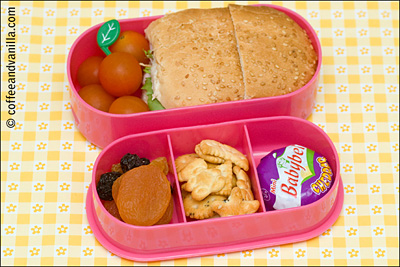 sandwich made of sesame bread roll, ham and mixed lettuce leaves (cut in half)
cherry tomatoes with leaf food pick
mixed dried fruits: apricots, sultanas, raisins
mini crackers
Babybel cheese
cranberry & pomegranate fruit tea in a bottle (not pictured)
large paper napkin (not pictured)
wipe wrapped in aluminum foil with Hello Kitty sticker (not pictured)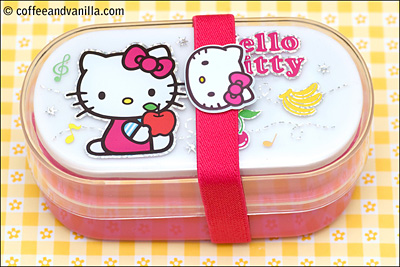 Everything closed in a lunchbox with a strap, placed together with large ice pack in drawstring bag.

This is one of 3 lunchboxes I prepared this morning, the other two was made for big men that don't like their lunches looking cute so there were not worth being photographed…

More lunchbox ideas can be found here: Lunchbox Food.

And here you can read about Packing Children Lunches.

Some of the lunchbox accessories can be found in my Amazon aStore.