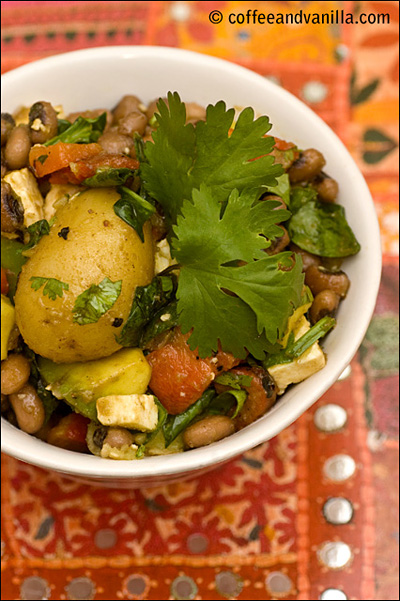 INGREDIENTS
750g salad potatoes
250g dried black eyed beans
enough water to cover the beans
1 tbs garlic powder
sea salt (I used Maldon sea salt flakes)
2 medium avocados – about 350g (ripe, peeled and cubed, I used haas / hass avocados)
2-3 red bell peppers (roasted, cubed)
25g butter or some olive oil
100g package of baby spinach (chopped)
200g feta or salad cheese (cubed)
half a bunch – abut 30-40g of fresh coriander / cilantro (chopped)
black peppercorns
EQUIPMENT
tongs
container with lid, plastic bag or bowl and a plate
two pots with the lids
gas cooker
METHOD
In a large pot place beans in about 2 cups of cold water and cook rapidly for at least 10 minutes from the time water is boiling, then cover and cook couple minutes more until soft but not mushy. Once they are ready season to taste with salt, garlic powder, stir in butter or olive oil and remove from fire.
In another pot cook potatoes in salted water until soft, leave whole, cut into halves or quarters depending from side and add to the pot with beans.
Add also spinach, feta and avocado.
In meantime, burn peppers over gas until each side is black. Place in container, cover with lid, let them steam for about 10-15 minutes. Rub of with your hands some burned skin, but not all. Deseed, cube, add to the pot with salad.
Mix well, season with freshly chopped coriander, cracked pepper, sea salt and some more olive if necessary.
Serve immediately while still warm.
Serve 3-4 people.
I usually cook the whole 500g package of beans and leave half for next day to make some other salad with them or just re-fry them with some butter and spices.