Lunchbox # 32 (for 4 year old girl)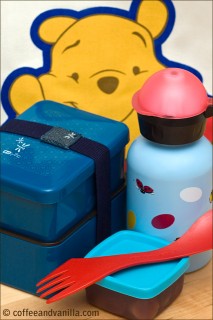 sandwich made of wholemeal granary bread roll, extra mature Cheddar cheese with butter, mixed lettuce leaves and shredded beetroot salad
pieces of kabanos (polish dry sausage) with bone food pick
3 cherry tomatoes with leaf shaped food pick
carrots and green beans stir-fried on a little bit of olive oil (from previous day) with rabbit soy sauce container
mini elephant shaped biscuit
250 ml mango & papaya fruit tea in a bottle
small container of homemade grape jelly (recipe here)
single green apple wipe (not pictured)
mini Lonely Tunes tissue package (not pictured)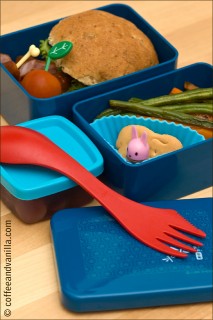 Everything closed in a lunchbox with a strap, placed together with large ice pack in a plastic zip bag and Winnie The Pooh tote bag.
Update:
Everything disappeared except one piece of carrot ;)
More lunchbox ideas can be found here: Lunchbox Food.
And here you can read about Packing Children Lunches.