Lunchbox # 31 (for 4 year old girl)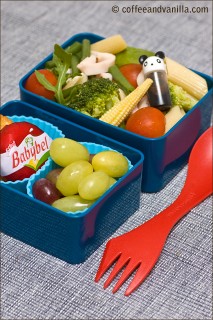 salad made of  pasta, seasonal mixed baby leaves, cherry tomatoes (halved), turkey breast slices (chopped), steamed baby corn, green beans and broccoli with a little bit of olive oil and reduced salt soy sauce in mini panda container
mixed grapes in silicone muffin case
Babybel cheese and mini crackers in silicone muffin case
250 ml plum & pomegranate fruit tea in a bottle (not pictured)
single green apple wipe (not pictured)
mini tissue package (not pictured)
Everything closed in a lunchbox with a strap, placed together with fruit shaped food chillers in a plastic zip bag.
I used leftover pasta from previous day. I steamed veggies in a small covered pot with few table spoons of water until soft but still crunchy, then added a little bit of olive oil, stirred and placed veggies in a container that was stored overnight in the fridge. In the morning I just added pasta, leaves, cherry tomatoes and turkey breast.
My daughter chosen ingredients for her lunchbox salad herself in the shop yesterday, this way I'm sure she will eat it. But we bought too much for one lunchbox so I made few similar portions of veggies and placed them in the freezer so next time I just need to steam them the night before.
More lunchbox ideas can be found here: Lunchbox Food.
And here you can read about Packing Children Lunches.