Lunchbox # 30 (for 4 year old girl)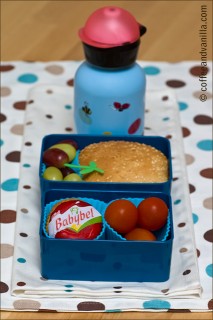 round, sesame roll with turkey ham, butter and seasonal mixed baby leaves
mixed grapes with flower stem shaped pick
cherry tomatoes in silicone muffin case
Babybel cheese and mini crackers in silicone muffin case
250 ml plum & pomegranate fruit tea in a bottle
single green apple wipe (not pictured)
mini tissue package (not pictured)
Everything closed in a lunchbox with a strap, placed together with fruit shaped food chillers in a plastic zip bag.
Update:
Again all food disappeared… only crumbs left. Tomorrow I will try to pack a little bit more, maybe it was not enough?
More lunchbox ideas can be found here: Lunchbox Food.
And here you can read about Packing Children Lunches.