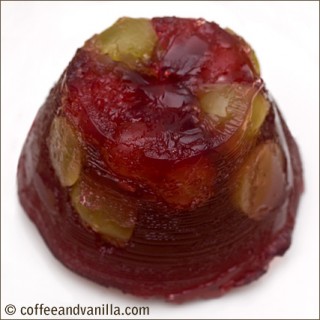 INGREDIENTS
about 400g white and red grapes (washed, halved)
1 litre natural purple grape juice (clear)
2 x 12g sachets of gelatin or Vege-Gel
METHOD
Place grapes in jelly moulds or any other containers, small plastic cups are good too.
If using Vege-Gel, dissolve it in cold juice, then heat but not not boil, pour over the fruits.
If using gelatin, heat the juice but do not boil, remove from fire, dissolve gelatin in it, pour over the fruits.
Leave in cold place to settle, keep refrigerated.
Make half of the amount from the recipe if your child is not big jelly eater like my girl… because grapes are raw and can't stay in the fridge for too many days.
Jelly like this in small container is very good lunchbox item.
If you are planning to use those jellies for lunchboxes I recommend using twice more gelatin, 4 x 12g sachets, they will be able to last longer without the fridge not melting.