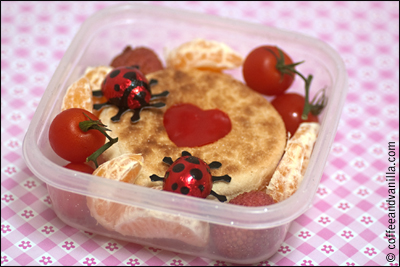 Lunchbox # 116 (for 6 year old girl)
toasted English muffin (type of bread roll) with mature Cheddar cheese and heart made out of sweet red pointed pepper – instructions below
vine cherry tomatoes
pieces of clementine
chocolate love bugs
lychees
bottle of water (not pictured)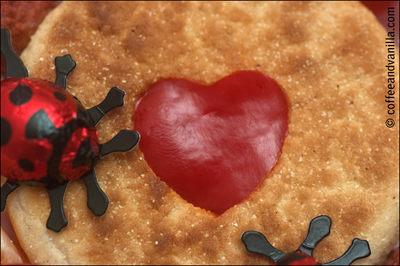 Everything placed in glittery EZ-Freeze lunchbox with a freezable lid and placed inside insulated Charlie & Lola lunch bag.
To make bread roll with a heart centre:
cut English muffin in half, toast it if necessary,
in the top part cut out heart shape with a cookie cutter,
using the same cutter make heart out of sweet pointed pepper or cheese,
place heart in the hole on the bread.
More lunchbox ideas can be found here: Lunchbox Food.
And here you can read about Packing Children Lunches.
Some of the lunchbox accessories can be found in my Amazon aStore.
NOTES
This is my entry for my own event: "Wholesome Lunchbox". If you want to participate, please submit your entry through Flickr group before 15th of each month.