Oreo cookies are my daughter favourite so when we were asked to prepare something for the school bake sale, Oreos were the obvious choice. And the result was pretty good. Our Oreos were very tasty and also relatively easy to assemble. During the bake sale someone from the school even compared our cookies to Oreo ice cream (!)
Follow us on Pinterest for other Bake Sale Ideas and more…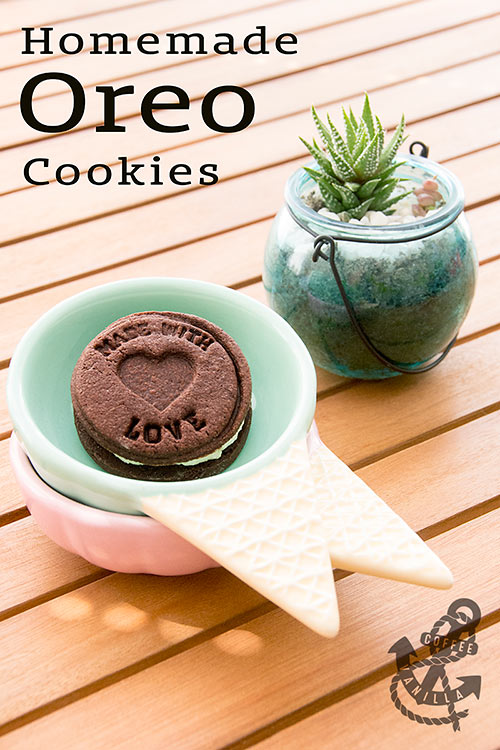 INGREDIENTS
for the cookies
2 cups of plain flour (sifted)
1¹⁄3 cups of quality cocoa powder
2 cups of golden caster sugar
bar or unsalted butter / 250 g
3 medium eggs
½ tsp salt
½ tbs vanilla extract
for the vanilla buttercream filling
½ bar or unsalted butter / 125 g
½ bar vegetable shortening / 125 g
3½ cups of icing sugar
½ tbs vanilla extract
EQUIPMENT
two mixing bowls (smaller and bigger one)
large baking trays lined with baking paper
mixer to whip the filling
rolling pin
round cookie cutter (our was 5,5 cm / a bit over 2 inches in diameter)
cookie stamp – optional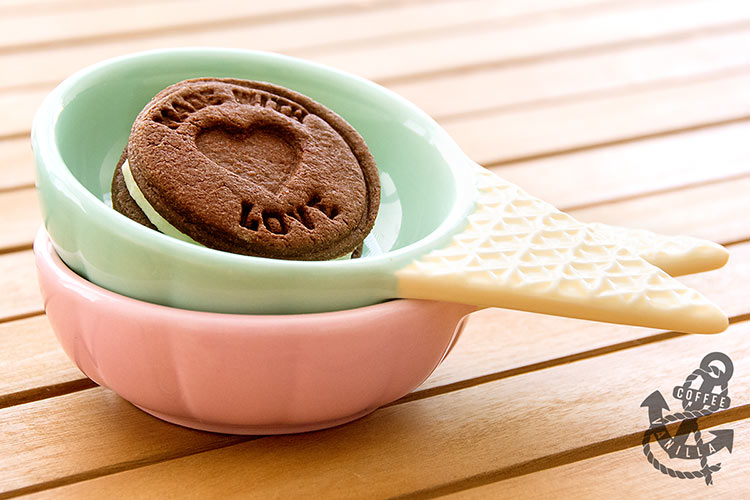 METHOD
To make the cookie dough in a small mixing bowl combine cocoa powder with flour.
In a large mixing bowl cream together butter with sugar, until smooth, add also eggs and dry ingredients.
Knead to create uniform cookie dough, if it is too soft place for a while in the fridge before starting to cut out the shapes.
On floured surface roll out piece of dough at the time until about 4 mm thick. Use round cookie cutter to cut out the shapes. If you are using stamp first stamp the dough and then cut out the shapes.
Transfer them to the baking trays and bake in 180°C (356°F) for about 15 minutes.
Leave aside to cool down.
In meantime whisk all of the ingredients for the buttercream, place in the fridge.
To assemble the cookies take about 1 heaped tbs of the cream, roll in hands or use cake pops scoop and place in between two cookies, press firmly.
Best enjoy while still fresh.
Makes about 40 cookies.
TIPS
Store in air tight container in the fridge for up to 2 days.
Some cocoa powders are darker than others. Our first bath of the cookies, trial version came out much darker than the second one as we used different brand of the cocoa.
NOTES
If you are after other copycat recipes, take a look at Emma's Millie's Cookies Giant Iced Cookie Cake, Camilla's Hazelnut Chocolate Banana Delight with Meringue (Angel Delight), Choclette's Bourbon Biscuits or Helen's Hamantaschen sandwich biscuits – jammy dodger-taschen.
I'm sending this recipe to Tea Time Treats hosted by Karen from Lavender and Lovage and (for the last time) Jane fromThe Hedgecombers. This month link-up theme is Your Best Ever Recipe!!! and I think my Oreos are just perfect for this :)