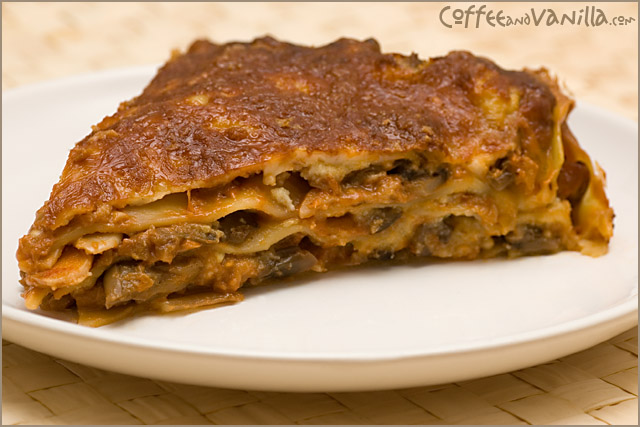 INGREDIENTS
for vegetable mixture
700g white mushrooms (sliced)
3 onions (chopped)
2 large eggplants (cut in cubes)
250g lasagne sheets (about 15)
handful of dried garlic flakes
300g tin of tomato puree
1 cup of water
3 vegetable cubes (10g each)
1 tsp oregano
salt
½ cup (200g) soured cream
oil
for white sauce
4 cups of milk
8 tbs corn flour (corn meal)
10 tbs of water
salt
black pepper
other ingredients
unsalted butter to butter the tin
300-400g grated cheese (I used mild cheddar)
METHOD
Fry separate onions, eggplants and mushrooms on a little bit of oil.
Then mix them plus the rest of the vegetable mixture except soured cream on a large frying pan and simmer for a while till all ingredients blend. Put aside for a while, then stir in soured cream.
Prepare white sauce, boil milk and add gradually corn meal mixed with water, season with salt and pepper.
In a large pot boil water, place lasagne sheets in the water, but not all of them at the same time.
Cook only for a few minutes, they should be soft but not totally cooked, remove from water.
Place them in buttered baking dish. Each layer of pasta cover with vegetables and then white sauce.
Repeat the same step with the rest of the sheets. Top the last layer with grated cheese.
Bake for about 45 minutes in 180°C (356°F).
Serves 5 people.