[recipe adapted from "Mainly Vegetables" by Colin Spencer]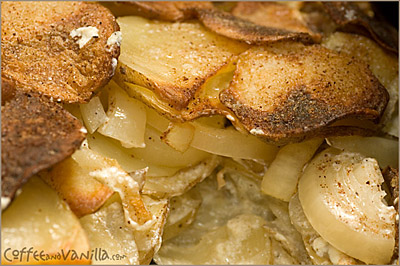 INGREDIENTS
1.5 kg new potatoes (washed and finely sliced)
900 ml single cream
40g unsalted butter – optional
2 large onions (chopped)
2 tsp ground nutmeg
2 tsp sea salt
rainbow peppercorns or black peppercorns
EQUIPMENT
large non-stick baking dish or even better oven proof glass dish such as Pyrex ( I used rectangular 23x27cm, 4 l Pyrex)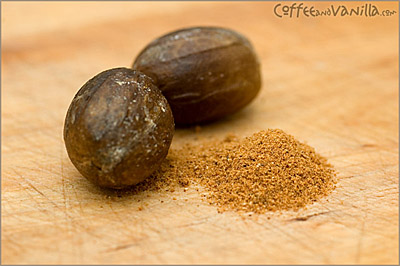 METHOD
In baking dish place ⅓ of sliced potatoes and ½ of chopped onions, sprinkle with ⅓ nutmeg, ⅓ salt and some freshly ground pepper. Top with another ⅓ of the potatoes, rest of onions, ⅓ of nutmeg, ⅓ of salt and freshly ground pepper, top with the rest of the potatoes. Pour over cream, sprinkle with the rest of salt, nutmeg and ground pepper.
Optionally also sprinkle with pieces of butter.
Bake in 180°C (356°F) for about an hour until potatoes are soft, cream thick and top of the dauphinoise is getting golden brown.
Serves 6 people as a side dish.