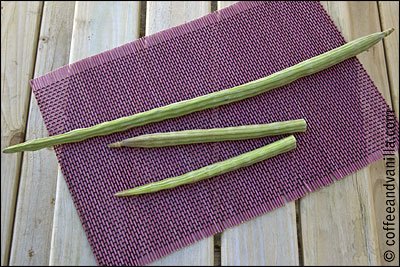 This long green vegetable is called Drumstick or Moringa, Sanjana, West Indian Ben. It comes from Drumstick Tree, also known as Benzolive Tree, Horseradish Tree, Clarifier Tree, Moringa Oleifera Tree that is very common in Pakistan, India but also Sri Lanka, Bangladesh, Africa, Central and South America, East Africa, Malaysia, The Philippines and some Caribbean countries.
The drumstick pods I got were quite long (about 45 cm / 18 inches) – longer than regular size place mat but I have seen longer ones as well on the market.
Moringa Oleifera is called sometimes a Miracle Tree as almost every part of the tree is useful: it's leaves, fruits/pods , roots, flowers, seeds and even bark can be used in various culinary and medical ways.
CULINARY USES
Both pods, flowers and leaves has many uses in Asian cuisine and they are treated as vegetable.
Moringa flowers are edible as well when cooked and they taste a little bit like mushrooms.
The seeds are used either as peas / nuts or to extract an oil called Ben Oil.
Drumstick tree roots taste and are used in similar way that horseradish, hence one of the names: Horseradish Tree. Be aware that drumstick's roots contain nerve paralysing alkaloid which can be potentially fatal so use in moderation.
Moringa pods when fresh can be chopped and cooked in many ways, their taste resemble green beans, asparagus and okra. When they older the seeds inside them grown bigger and can be used like peas or nuts.
The leaves are cooked like spinach or dried and powdered to be used in soups and sauces.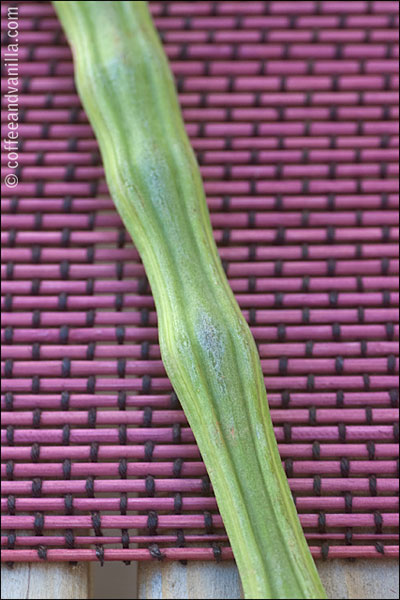 PROPERTIES
Drumstick pods and leaves are good source of carotene, iron, calcium and vitamin C, valuable for pregnant women and breastfeeding mothers.
Soup made out of leaves is helpful in treatment of asthma, bronchitis and tuberculosis.
Fresh leaf juice clarifies skin from pimples and adds glow to the face.
Leaf juice strengthens bones, especially those of infants and growing children.
Leaf juice helps also in urinary disorders and is used during treatment of cholera, dysentery and jaundice.
Juice made of leaves acts as well as great blood purifier, it removes harmful toxins.
Soup made with leaves, flowers and pods prevents all kinds of infections, especially those of skin, throat and chest, because it has antibacterial properties.
The powder made of drumstick tree bark is used to treat impotency.
In Jamaica drumstick tree sap is used as a blue dye.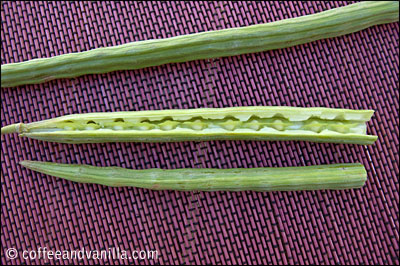 TIPS
When buying drumsticks it is important to buy fresh green looking ones, with smaller bumps / seeds… they are younger and more crunchy, unless you want to remove the seeds to use them without the pods.
Partially peel or scrape the pods before cooking if they seem to be hard.
Couple of recipes calling for drumstick vegetables:
Drumstick Curry (Munaga Kaaya Pulusu) by Indira from Mahanandi
Drumstick Theyal (Drumstick Vegetables with Tamarind and Coconut) from Good Food Channel
Mixed Vegetable Curry (Drumstick, Potato & Brinjal Gravy) from ifood
Drumstick Potato Curry from Chai Pakora
Some information source Wikipedia.
This is not April's Fool post… Drumstick Vegetable is real :)