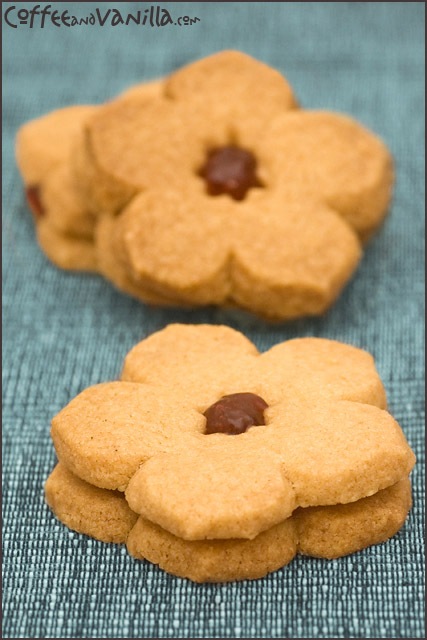 INGREDIENTS
250g unsalted butter / 1 bar (softened)
2⅔ cups plain flour
½ cup golden caster sugar
2 tbs vanilla sugar
jam – I used strawberry conserve
EQUIPMENT
double (vol-au-vent) cookie cutters (like on the picture) or one bigger and one smaller cutter to cut out hole for jam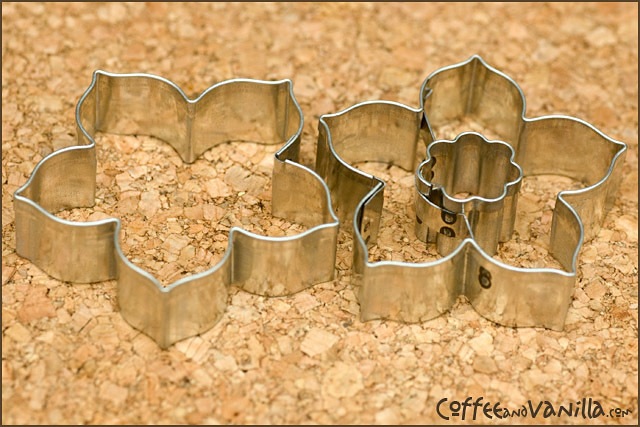 METHOD
Combine butter, flour, sugars and knead with your hands till dough is smooth and sticky.
Divide it into 2-3 portions and place in the fridge for about an hour.
Preheat oven to 175°C (350°F).
Take out from the fridge one portion of the dough, cut into 5mm slices and cut out cookies.
If dough is sticky, pass knife under the cookie with cutter before removing it.
Place on baking tray lined with teflon sheets.
Bake for 15-20 minutes till golden. Leave aside to cool down.
Repeat the same with the rest of the dough, making sure to cut out even amount of cookies with and without the hole in the middle.
When cookies are cooled down completely, place a little bit of jam on each cookie without the hole.
Then stick to them cookies with the holes and press a little bit for jam to come out on the top.
This recipe make about 30 double cookies, 4 cm / 1,5 inches wide.