This is my entry for "Eat Christmas Cookies" event organized by Susan from Food Blogga.
Deadline is December 17th so you still have few days to visit her page and send your entry.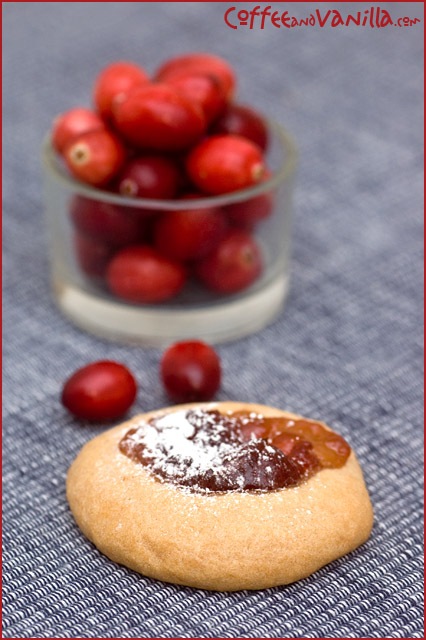 Cranberry Jam Cookies
INGREDIENTS
2 cups plain flour
125g (half bar) unsalted butter (softened)
¾ cup golden caster sugar
2 tbs vanilla sugar
2-3 eggs
150g cranberry jam / conserve
icing sugar to sprinkle over the cookies
METHOD
Combine flour, butter, sugar, vanilla sugar, eggs and knead till smooth.
Divide dough into 30 pieces. From each piece create a ball and flatten it in your hands to about 8 mm thick.
Place on baking tray, press cookie in the middle with your finger or some tool to create about 1 cm wide space for jam.
Place a little bit of jam in the hole, but not too much because it will come out during baking.
Repeat the same with other dough pieces.
Bake in preheated oven to 150°C (302°F) till golden, for about 40 minutes.
Sprinkle cookies with icing sugar and leave to cool down before serving.
This recipe makes 30 small round cookies (5 cm wide).