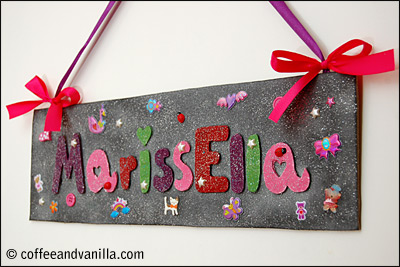 MATERIALS
cardboard (I used black for the base, and natural one for the letters)
acrylic paints (I used pink, purple, red and green)
acrylic varnish in spray (I used matt finish)
transparent nail polish – not necessary if you are using glossy varnish
glitter
all purpose clear glue (UHU, GSD or Boostic for instance)
buttons, plastic stickers, beads, little wooden decorations etc.
ribbons
nail or board peg to hang the sigh on the door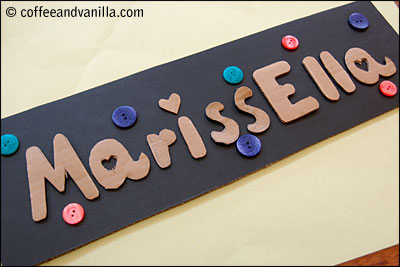 EQUIPMENT
scissors
sharp cutter knife
paint brush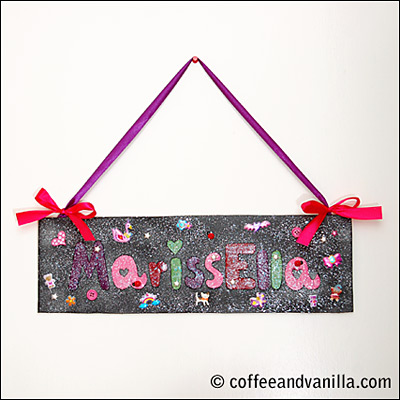 METHOD
First cut out from cardboard piece large enough for the base of the sign and the letters.
Paint them if necessary with acrylic pain, leave aside for couple of minutes to dry.
Once the paint is dry varnish and sprinkle with glitter both letters and the board. I used matt acrylic spray and glitter powder for the base and transparent nail polish with glitter for the letters as I did not have glossy varnish at hand. Set aside to dry for couple of minutes again.
Stick the letters to the board with a glue.
Connect piece of ribbon on the back of the board, I did stick it with glue but tape will work fine as well.
Tie bows  to the ribbon, on both sides of the board to make it even more girly.
Add little bits and pieces of your child favourite things, buttons, stickers etc. You can leave it to your children as I did, just help them sticking it with all purpose glue. You will probably need to use glue on the stickers as well as they won't stick properly to the glittery surface.
NOTES
It took me two episodes of The Killing to paint and stick everything together. Later in the morning Marissa & Ella added some more stickers to it.