INGREDIENTS
for the topping
small fruits such as strawberries, blueberries, raspberries, grapes or even melon balls (I used half of large
strawberry and 3 blueberries for each tartlet)
fresh mint leaves to decorate – optional
1 kg ready custard or you can make your own using recipe for cream from Napoleonka / Kremówka – Polish Custard Cream Pie
for sweet short crust pastry
3¾ cup plain white flour
300 g unsalted butter (cold, chopped)
¾ cup golden caster sugar
3 – 4 egg yolks (I used 3 large yolks)
4½ tbs natural yogurt or soured cream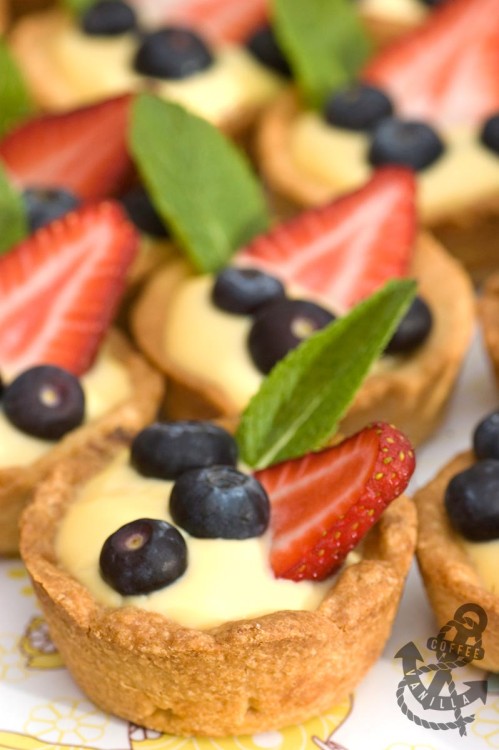 EQUIPMENT
36 mini tart tins (5 cm wide) or 3 muffin trays (12 slots each)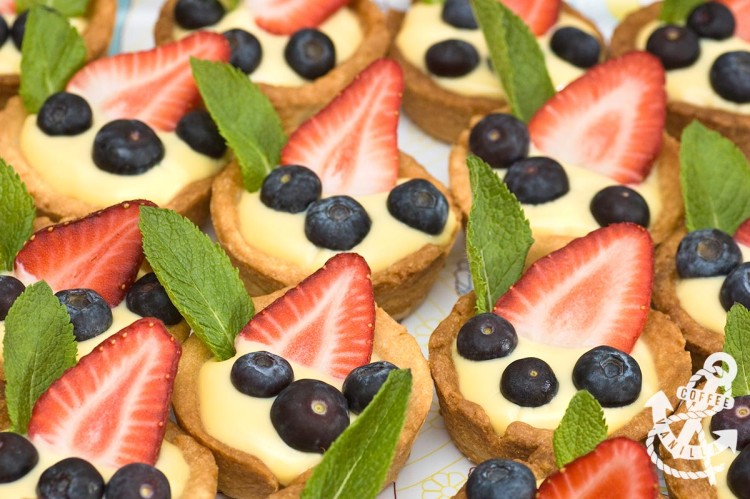 METHOD
To prepare short crust pastry in a mixing bowl combine flour, butter, sugar yolks and some of the yogurt.
Knead the dough with your hands till it creates smooth dough and is not falling apart any more.
Add rest of the yogurt if necessary. Place in the fridge for about an hour.
In meantime prepare fruits and mint leaves, wash them, drain and leave aside to dry.
Take out pastry from the fridge, divide into 36 pieces, fill each tin (bottom and sides) with the pastry.
Prick bottom of each tartlet with fork and place it in preheated oven to 170°C (338°F) until golden brown.
Take them out from the oven and let cool down completely, then remove from the tins.
Fill each tartlet with custard, top with fruits.
Chill in the fridge for some time before serving.
In the last moment optionally decorate with mint leaf.
Makes 36 tartlets.
NOTES
Instead of baking all 36 tartlets you can bake them gradually.
Prepared pastry can wait in the fridge for a day or two, until you are ready to use it.
Shortcrust pastry can also be friezed but I have never tried it yet myself.