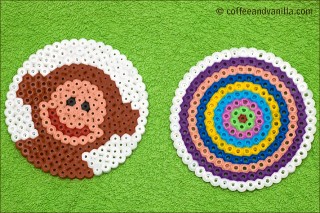 Recently my  four year old daughter loves to make things from beads, previously she made fridge magnets on square bead board. This time she used round board to create her own coasters that she proudly use now every day :)
They are very easy to make and all you need to have is:
midi Hama beads or Ikea beads
round bead board
ironing paper
iron
Once you created design on peg board, cover with ironing paper and iron until beads are well connected, flip over to remove peg board, cover with paper again and iron other side of the coaster. Cover with some heavy book until coaster is cooled down. Remove book, remove ironing paper and coaster is ready to use.
Those coasters are quite durable and can be washed easily.