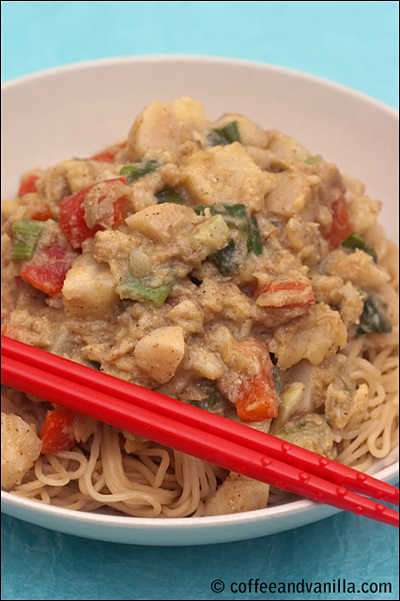 INGREDIENTS
3 shallots or 1 onion (chopped finely)
3 tbs oil (I used rice oil)
500-600g fresh or frozen white fish fillets
3 cups of boiling water
100g (half bar) creamed coconut
1 tbs five spice seasoning
1 tsp curcuma / turmeric (for colour)
1 tsp chilli flakes (optional)
sea salt – to taste
1 red bell pepper (cubed)
4 spring onions (chopped)
1 x 400g tin of pineapple (drained and cubed) – optional
1 x 200g tin of water chestnuts (drained, quartered)
METHOD
Fry onions on oil until browned, add fish, water, coconut, five spice, chilli flakes and curcuma and cook covered until fish is cooked, soft and falling apart. You can even break it even more with a spoon.
Season to taste with salt.
Add pepper, spring onions, pineapple and water chestnuts and cook only a while longer, until peppers are witted.
Serve curry over previously cooked egg noodles or rice with some prawn crackers, sweet chilli sauce and soy sauce on the side.
Serve 4 people.