This is rather simple but delicious recipe that can be prepared within minutes and popped into oven.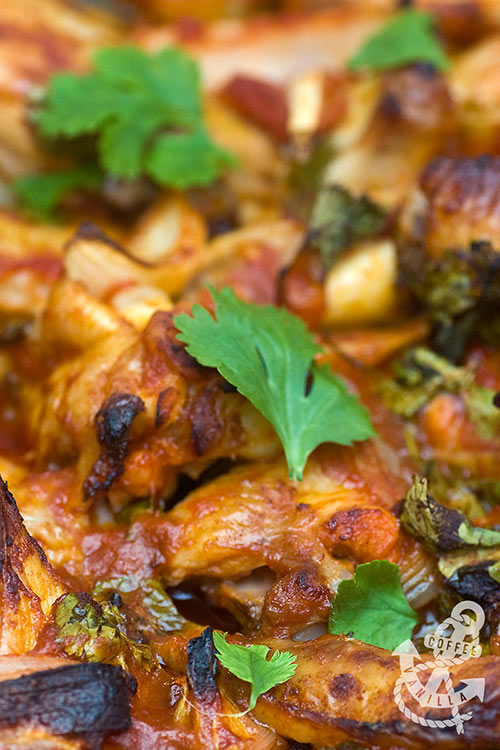 INGREDIENTS
1200 g chicken wings (cut in 3) or other chicken pieces for 4 people
400 g tin of chopped tomatoes
2 onions (cut into slim wedges or coarsely chopped)
1 cup of fresh coriander leaves (stems discarded)

1 tbs smoked paprika powder

2 tsp sea salt

1 tsp chilli flakes

1 tsp garlic granules or couple of garlic cloves (sliced)

½ cup chopped coriander for garnish

– optional
EQUIPMENT
oven proof dish – I used rectangular 23 × 27 cm, 4 l Pyrex
METHOD
Place all ingredients in baking dish, except for coriander that will be used for garnish.
Bake in the oven preheated to 200°C (392°F) for about 50 minutes or until very soft and browned.
Stir 2 – 3 times in meantime.
When ready share to the plates with some egg pasta or rice on a side, optionally sprinkle with chopped coriander.
Serves 4 – 5 people.
TIPS
Wings will taste even better if placed in the marinade in advance, even overnight, and placed in the fridge for flavours to develop.
NOTES
More BBQ recipes: Simple but delicious sticky BBQ chicken from Greedy Gourmet, Whole leg of lamb on the braai & rosa di Parma by Jeanne of Cook Sister or our Classic BBQ Honey Chicken Skewers.