[adapted from Arancini recipe by Isabella from Coriander Queen]
I didn't know Isabella personally but I always admired her recipes and photos. She was a part of our blogging family and often commented on my blog. Once I remember she called my Polish cheese buns "food hugs" and I liked that a lot: "I love Polish recipes, so many are like big food hugs!(…)".
Sadly Isabella has passed away last month at the age of 29. As a tribute to her we are re-creating delicious recipes from her blog: Coriander Queen and sharing them with our readers today.
This is super clever recipe using up all kinds of leftover risotto or even plain rice and dry bread. Despite the fact my arancini did not come out as pretty as Isabella's own, my girls loved it so much they have gobbled them up within seconds. We will be definitely making them again, but next time I need to remember to have enough oil…
Arancini are Italian deep fried rice snacks, street food that originates in Sicily. The most popular type of arancini are "arancini al ragù" with tomato sauce and mozzarella. It was also favourite dish of commissario Montalbano from the TV series (based on books by Andrea Camilleri) that we like to watch with my husband over and over again.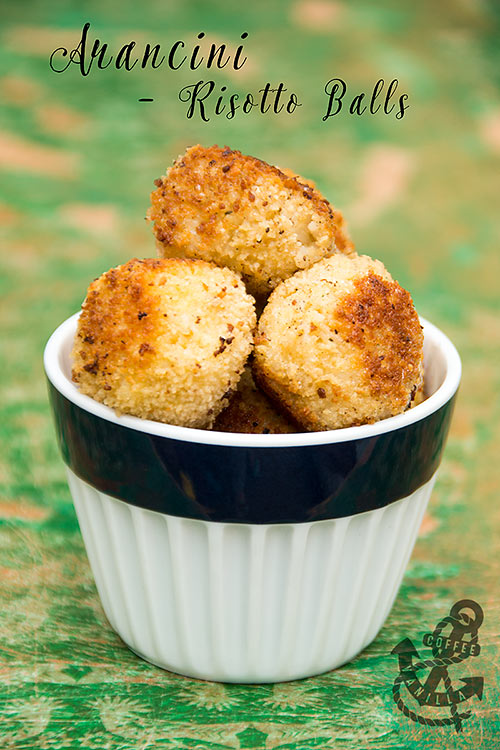 INGREDIENTS
2 cups leftover risotto or rice
½ cup breadcrumbs (best homemade, from leftover bread)
1 egg (whisked)
oil for deep frying (we used rapeseed oil)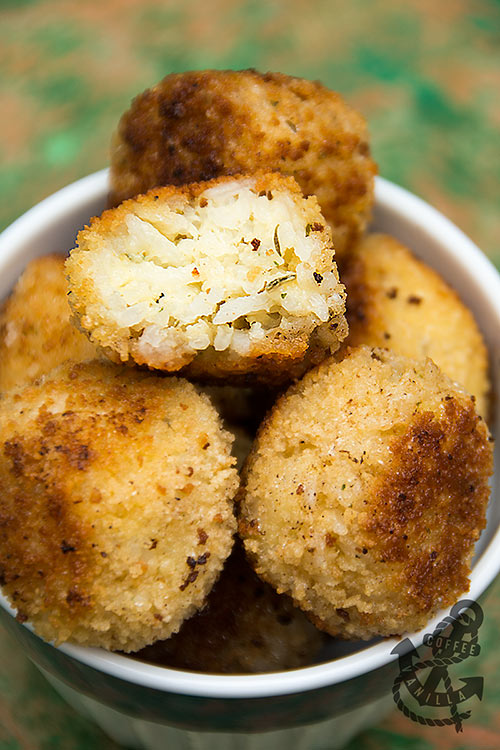 METHOD
Divide risotto into same size portions, shape them into balls either using your hands or cake pops baller, if you have one on hand.
Prepare two bowls: one with whisked egg and the second one with breadcrumbs.
In a pot heat the oil.
Dip each of the balls in the egg and then coat in breadcrumbs.
Fry until golden brown.
Using slotted spoon transfer arancini onto a plate lined with paper towels to drain excess oil.
Serve while still hot.
Makes around 12 risotto balls.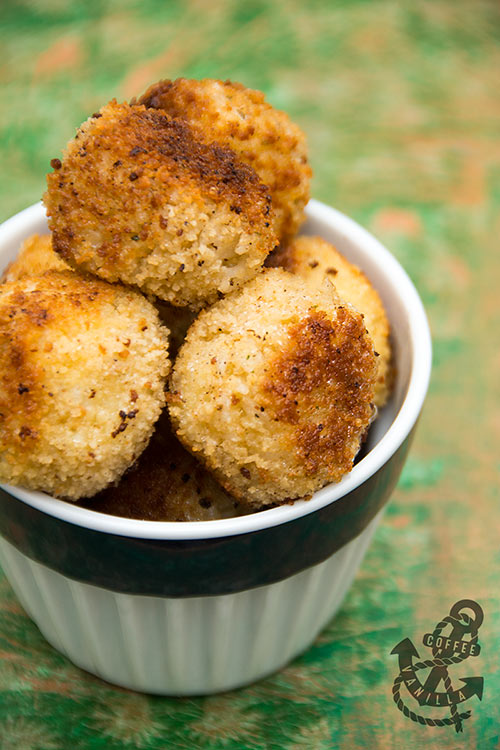 TIPS
If you are using plain rice rather than risotto, season it to taste with herbs, salt, pepper, add some grated cheese and heat for a while to allow rice grains stick together. Cool down before shaping the balls.
NOTES
More tributes to Isabella from other blogs:
Easy 5 Ingredient Pesto Tomato Tart on Amuse Your Bouche (vegetarian)
Globe Artichoke with Balsamic Dip on Natural Kitchen Adventures (vegan)
Cider, Apple and Sausage Casserole on Farmersgirl Kitchen
Chocolate Orange Oat Bars on Veggie Desserts (vegan)
Peanut Butter Chocolate Chip Cookies on Tin and Thyme (vegetarian)
Rich Coffee Cupcakes on BakingQueen74 (vegetarian)
Gingerbread Cupcakes with Orange Buttercream on The Veg Space (vegan)
Marmalade and Ginger Loaf Cake on The Crafty Larder (vegetarian)
Ginger and Oat Cookies on Kavey Eats (vegetarian)
Amatriciana Pasta on Kitchen Sanctuary
Treacle Tart on Patisserie Makes Perfect (vegetarian)
Crispy Fried Halloumi on Supper In The Suburbs (vegetarian)
Chocolate Fridge Cake on Jo's Kitchen (vegetarian)
Chocolate Almond Butter Cookies on Rough Measures (vegetarian)
Eggless Chocolate Chip Cookies on Simply Sensational Food (vegetarian)
Boozy Decadent Hot Chocolate on Fab Food 4 All (vegetarian)
Easy No Bake Blackberry Cheesecakes on Casa Costello (vegetarian)
Best Coriander / Cilantro Recipes on Fuss Free Flavours (some vegetarian)
Easy Gingerbread Popcorn Snack on Celery & Cupcakes (vegetarian)
Elderflower and Vodka Cocktail Slush on The Hedgecombers (vegetarian)
Fruit Flapjacks on The Petite Cook (vegan)
Tomato & Garlic Prawn Spaghetti on Hungry Healthy Happy
Lemon Drizzle Loaf Cake on Penne For Your Thoughts (vegetarian)
Chicken Ramen on It's Not Easy Being Greedy
Stuffed Nutella Cookies on Munchies And Munchkins (vegetarian)
Easy Berry Compote on Eats Amazing (vegetarian)
Caipirinha on Lovely Appetite (vegetarian)
If you would like to donate to help fight cancer, Izzie's family and friends are running the Race for Life to raise funds for Cancer Research.