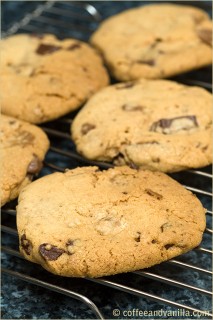 INGREDIENTS
250g (1 bar/ 2 sticks) of unsalted butter (softened)
1 cup golden caster sugar
2½ cup plain flour
2 tsp baking powder
2 pinches of salt
1 tbs vanilla extract
2 tbs orange extract
150g bar white chocolate (chopped coarsely)
150g bar milk chocolate (chopped coarsely)
150g bar dark chocolate (chopped coarsely)
EQUIPMENT
round wooden mallet or spoon
mixing bowl
3 baking trays lined with non stick Teflon sheets or baking paper
METHOD
Cream butter and sugar together until fluffy with wooden spoon or even better round wooden mallet . Then stir in salt, vanilla extract, coffee, baking powder and gradually flower. Continue stirring with wooden spoon or hands until mixture is well combined. Divide into 24 or 48 pieces, turn each piece into a ball and flatten in your hands to create thick cookie. Arrange about 8 (16) of them on each baking tray, making sure there is enough room in between them as they will double their size. Bake in the oven preheated to 150°C (302°F) for about 30 minutes.
When biscuits are ready, remove them from the trays and let them cool down and get crunchy on a rack or baking paper, then place them in air tight container and store up to few days.
Make about 24 large thick cookies or 48 smaller ones.