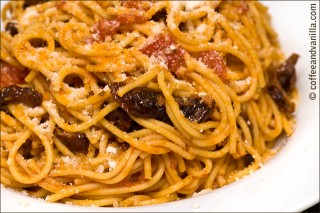 INGREDIENTS
500g spaghetti (the best egg spaghetti)
olive oil or Carotino
garlic granules or fresh chopped garlic to taste
sea salt, Vegeta, Adobo or liquid Maggi seasoning to taste
dried basil or/and oregano or even better some fresh one
black or rainbow peppercorns or few pinches of Cayenne pepper
400g tin chopped tomatoes or some freshly roasted tomato wedges – optional
grated Parmesan to sprinkle – optional
handful of dry sundried tomatoes (re-hydrated and chopped) – optional
METHOD
Cook pasta in water, drain and place back in the pot. Stir in oil, garlic, salt, herbs, tomatoes and season with freshly ground pepper. Share to the plates, optionally sprinkle with Parmesan.
Serve 4 as a side dish or snack / lunch.
To re-hydrate sundried tomatoes just place them in hot water for couple of hours before or soak them overnight.
To roast tomatoes cut them into wedges and place in the oven, with the grill on, until soft.
We make this pasta whenever there is no time to go to the shop and those ingredients are always in our cupboard.
I'm sending this dish to Ruth of Once Upon a Feast for Presto Pasta Nights.