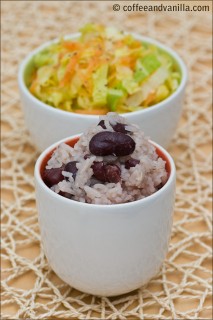 INGREDIENTS
1 large onion (chopped finely)
2-3 tsp extra virgin olive oil
two 420g tins of red kidney beans (drained) or a little bit more than 2 cups of previously cooked red kidney beans
1 tbs died thyme or some fresh or dried springs of Jamaican thyme, stems can be discarded later
2 tsp Adobo seasoning or 1 tsp sea salt
1½ cups long grain or basmati rice
3 cups of water
EQUIPMENT
non-stick pot with cover to cook rice
METHOD
On the bottom of the pot fry onions on oil until golden, add also peas, seasonings, water and rice. Cook covered until rice is ready.
Serve as a side dish to any West Indian chicken, meat or fish and some salad on a side.
Serve 4-5 people.
Different version of "Rice & Peas" can be found here: Rice & Peas.