Only a bit over a month has left to Christmas. Stores are selling festive gift sets since even before the Halloween, Amazon Black Friday deals are long time in place and streets and squares are all decorated for Christmas as well.
For this reason we have combined our October and November Tried & Tested into once Christmas gift guide containing gadgets, fun toys, pampering goodies, edible gifts and stocking fillers that we came across and liked enough to recommend. Below you can read short reviews of some of the items we were sent for review purposes, many of them can be found in full versions on Amazon website but only those that we gave 4 or 5 stars are included here.
We hope that you will find our guide at least a bit handy while deciding on gifts for your family and friends.
TOYS & GAMES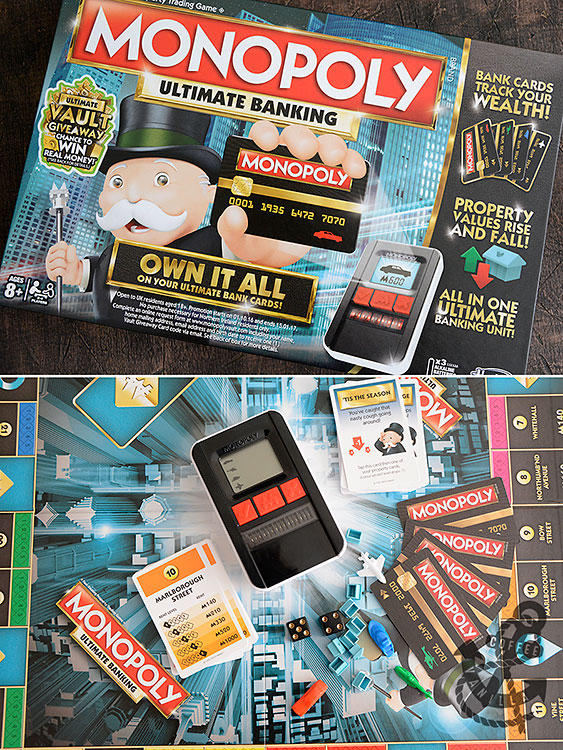 The new Monopoly – Ultimate Banking game (£21.80) is a really nice upgrade to this classic game and we can't imagine going back to the old version now.
It uses  card reader rather than notes and coins. This makes the game more exciting, takes less time and reduces the hassle of packing away all that cash.
Bananagrams Zip-It (£13.75) is another great educational game from the Bananagrams family.
The game consist of 24 cubes with letters. It has also clever system where points are measured by zipping the zips on both sides of the pouch.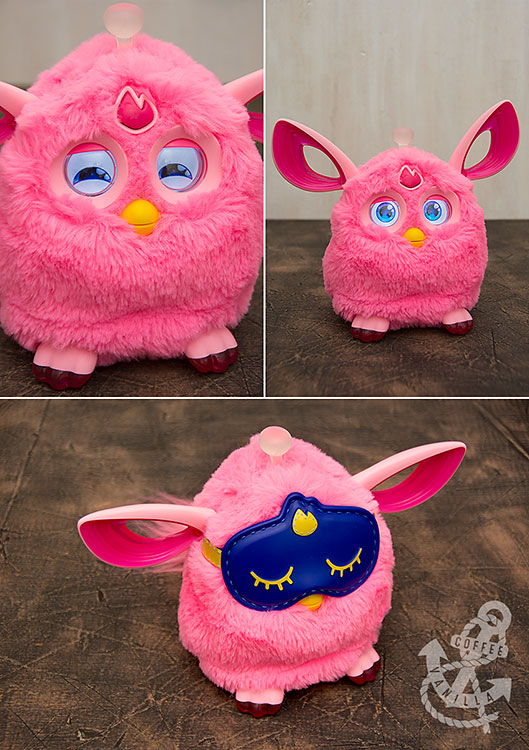 Furby Connect (£64.90) is a brilliant toy, it talks, it's soft and cuddly, t's cute and funny… Everyone loves it, from small our 6 year old to her granny.
It can be interacted with as it is or by an app on the phone or tablet, via the Bluetooth.  It speaks Furbish that is quite intuitive to understand. Furby comes with special sleeping eye mask that once connected turns him off when you want some peace and quiet to yourself.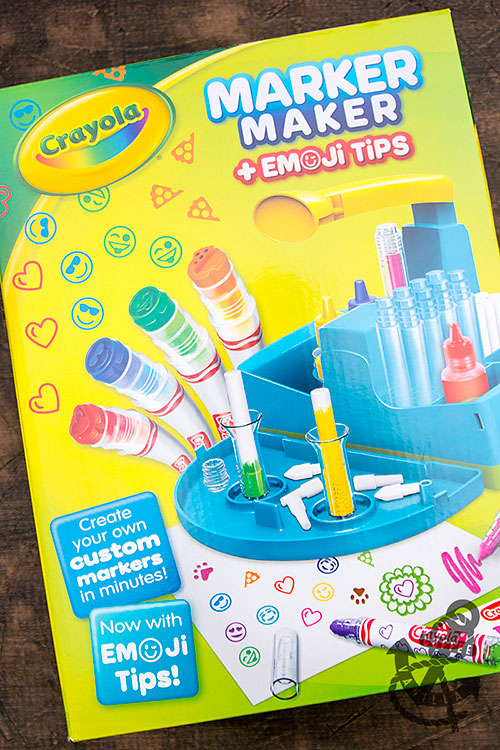 Crayola Marker Maker with Emoji Tips (£17.98) just like the previous version, without the emoji tips, makes superb toy for smaller and bigger kids.
It's fun, it's educational (mixing colours skill) and useful. Another good thing is the fact that refills can be purchased separately to create even more makers.
EDIBLE GIFTS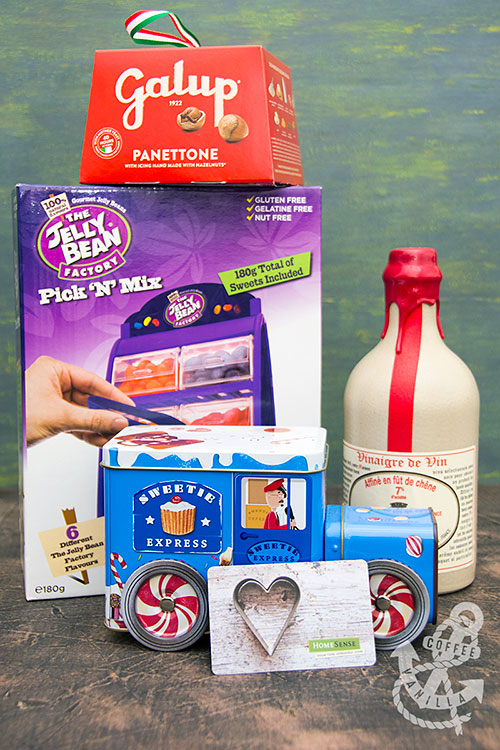 Edible gifts from HomeSense range from single tins and boxes to themed gift sets and hampers. The choice was so big we did not know what to get, but finally we decided on Jelly Bean Pick 'N' Mix Factory (£8.99), Jelly Bean Sweetie Express tin (£5.99), Vinaigre de Vin (£3.99) and Galup Panettone bread (£2.49) to try.
If you are unsure what to buy there are always gift cards available, they make great stocking fillers.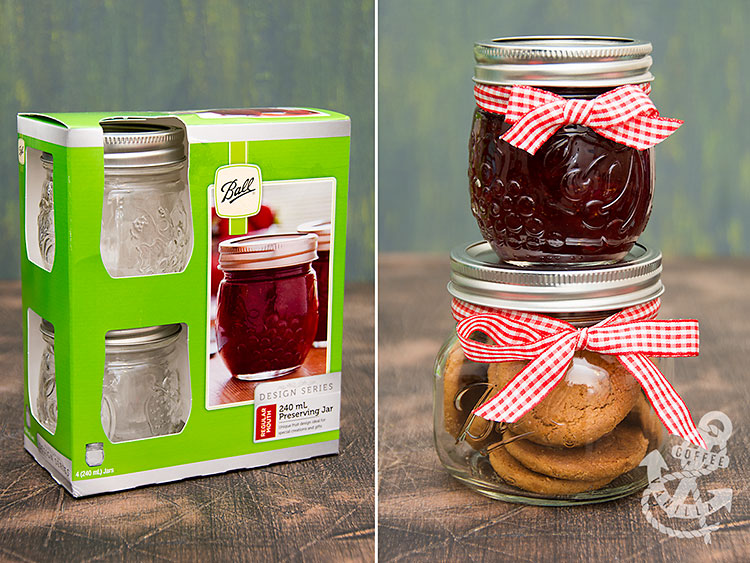 If you are planning on gifting any homemade preserves, chutneys, homemade cookies those pretty jars from Ball are what you need.
We used here 240 ml jars (£7.99 / pack of 4) with pretty fruit pattern for homemade jams and larger 490 ml wide mouth jars (£9.99 / pack of 4) for the cookies.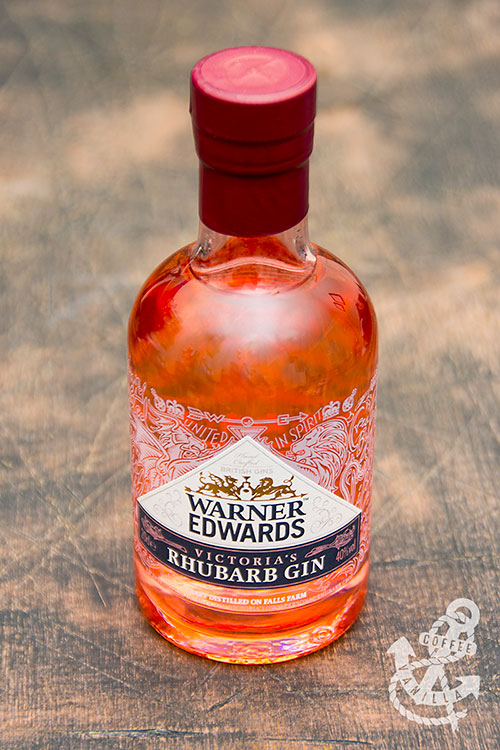 Warner Edwards Victoria's Rhubarb Gin (£14.95 / 20 cl) is a very British gin with subtle hints of vanilla and nutmeg, juniper and citrus flavours and dominating rhubarb taste. It would make lovely stocking filler for all gin lovers.
It comes from Falls Farm in the village of Harrington in Northamptonshire. The gin is distilled in small batches, using natural spring water, grain spirit, home-grown ingredients and a crop of rhubarb that was originally grown in the kitchen gardens of Buckingham Palace during the reign of Queen Victoria.
FASHION & ACCESSORIES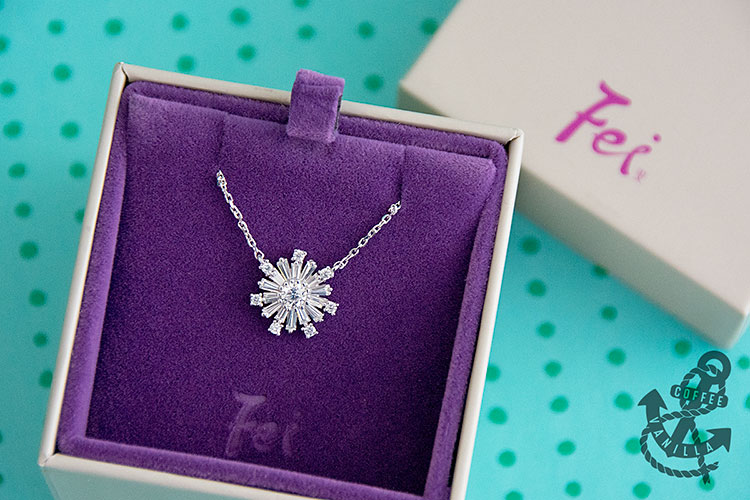 Fei Liu Fine Jewellery snowflake pendant (£80.00) is very delicate, classy and of very good quality, made with genuine sterling silver and cubic zirconium stones in Italy.
It would make great addition to Christmas party outfits.
BEAUTY PRODUCTS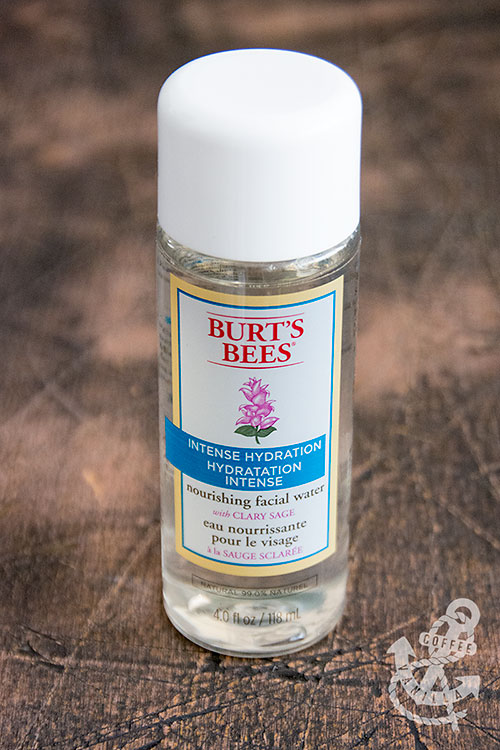 Burt's Bees Intense Hydration Nourishing Facial Water (£14.95 / 118 ml) along other cosmetics from the same range are  brilliant for people with allergies thanks to natural ingredients. Despite being allergic to virtually almost anything I have been using their lip balms, creams and now toner for the last couple of years without any reaction. They also smell lovely unlike many other "healthy" cosmetics.
This particular product reminds me a bit of baby powder, but the perfume is more delicate and sophisticated.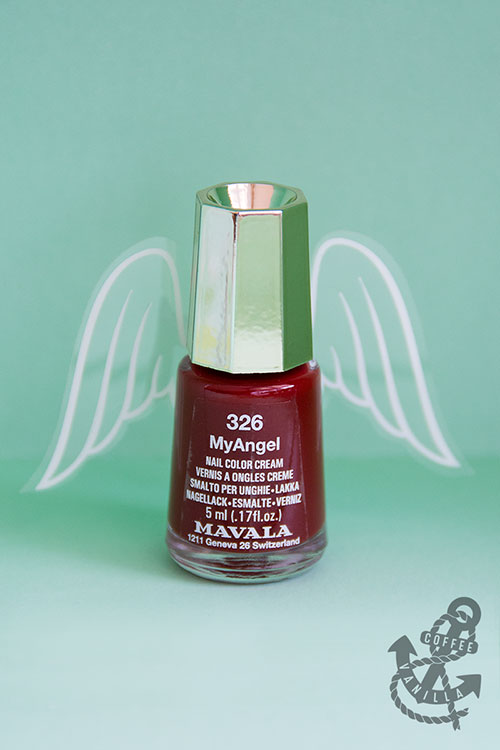 Mavala My Angel (£6.90 / 5 ml) is red wine coloured nail varnish with pair of cute transparent plastic wings stuck to the bottle, terrific addition to any Christmas gift.
To make things even better Mavala nail polishes are 5 free and do not contain harmful chemicals such as: formaldehyde, formaldehyde resin, camphor, toluene or DBP.
GADGETS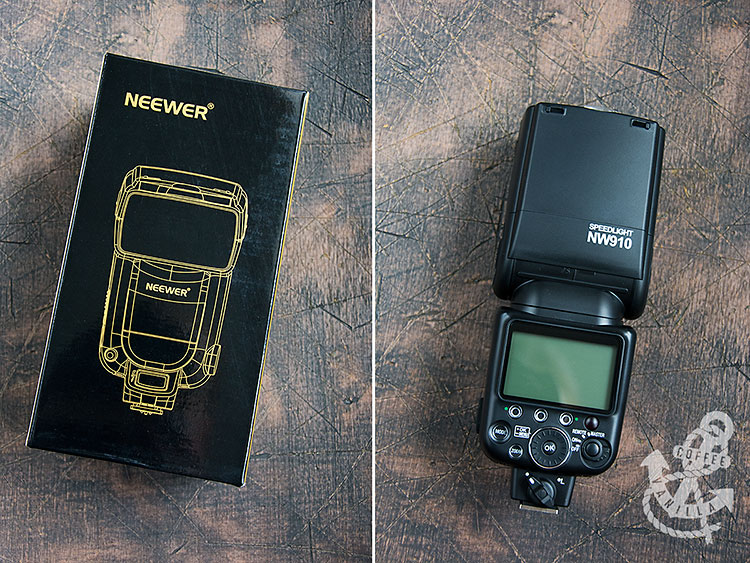 Neewer NW910 speedlight for Nikon DSLR camera kit (£84.99) comes with double sided silver / gold reflector, soft and hard diffusers, gel filters, flash case and cleaning cloth included. It works with most Nikon models, there are also versions for other cameras available.
We got this Neewer to replace our very old Nikon flash that has died recently and it is hard to express how happy I'm with this purchase. Considering the low price, value of included accessories, quality of the flash and how smooth it works I can't recommend it enough.  I would be definitely very happy to get second one for Christmas (to use on tripods with umbrellas).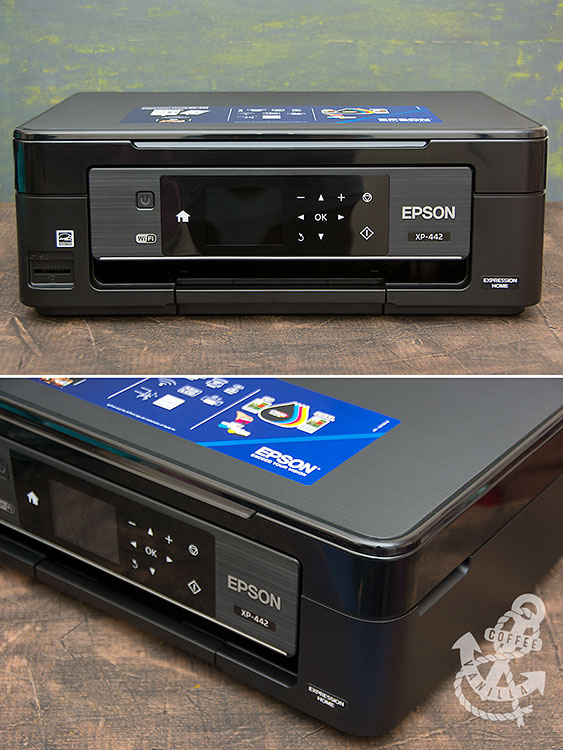 Epson Expression Home (£54.99) – inkjet Wi-Fi printer, scanner and copier in one is really all you need for family or even home office needs.
Thanks to Wi-Fi it can be used to print from practically any device in the house: desktop computers, laptops, netbooks, tablets, phones. Scanning can be done without use of the computer and files can be saved directly to the SD card. Also printing can be done directly from the SD card that can be inserted into the Epson. It was the best possible gift for our girls who need to scan and print they artsy creations.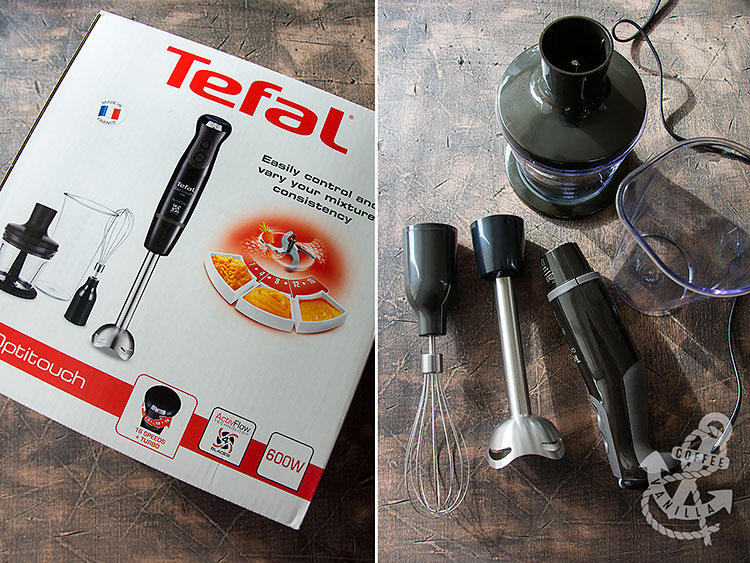 Tefal Optitouch hand blender (£34.99) is pretty simple in use, parts connect easily and are quite effortless in wash, even the chopper.
I'm very pleased with it and will definitely get plenty of use not only during festive preparations but also the whole years around to make hummus,  soups and smoothies. Another plus is the fact that it comes with the whisk (for eggs whites, whipping cream etc.) and handy chopper as well.
STATIONERY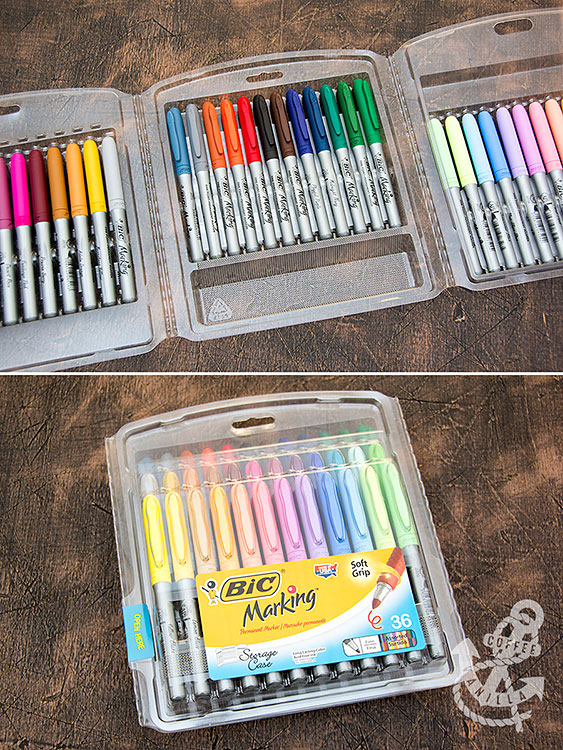 BIC Marking permanent markers (£15.00 / pack of 36) are brilliant permanent markers that come in handy storage case that opens and closes easily and have comfy, soft grip.
The colours are beautiful, come in good assortment of 36 shades and are permanent. There are 12 standard colours, 12 pastels and 12 retro shades.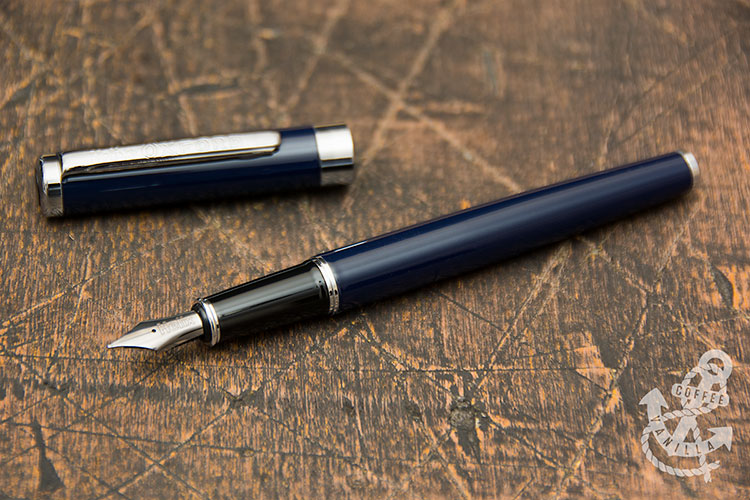 Helix Oxford fountain pen (£5.99) is of outstanding quality, solid, sturdy but it is also more than this… Despite budget price it does feel quite luxurious and it is heavy, in a good way.
It writes super smoothly, the nib glides on the paper in a way that none of my 3 other fountain pens does. It would certainly make good stocking filler for anyone in need of reliable fountain pen.
NOTES
Since September Tried & Tested we have posted November Inheritance Recipes, Christmas Gift Ideas from UncommonGoods and Getting into the Holiday Spirit with HomeSense among other articles, check them out as well.
The next Tried & Tested will be published in the first days of January, stay tuned.
DISCLOSURE: This post contains some affiliated links. We have received Ball jars and Warner Edwards gin for review purposes. Monopoly, BIC markers, Burt's Bees facial water, Tefal blender, Mavala nail varnish, Bananagrams game, Epson printer, Crayola marker maker, Fei Liu pendant, Furby and Helix fountain pen as a part of Amazon Vine™ Programme and you can find part of this reviews on Amazon website as well. We were sent HomeSense gift card to purchase goodies in their store. We bought Neewer flash ourselves. We were not financially compensated for this post. All opinions expressed here are our own and we retained full editorial control.