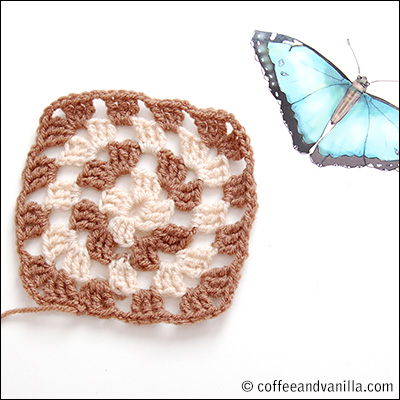 MATERIALS
EQUIPMENT
crochet hook (I used 4.00 mm one)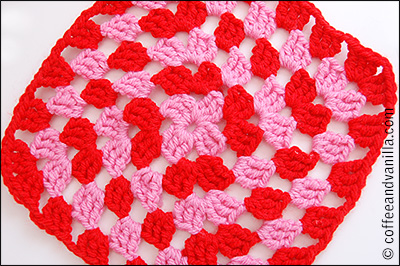 METHOD
stitches used: chain (ch), double crochet (dc), slip stitch (sl)

FOUNDATION CHAIN
Start with 6 ch, connect ends of the chain with sl to create a circle.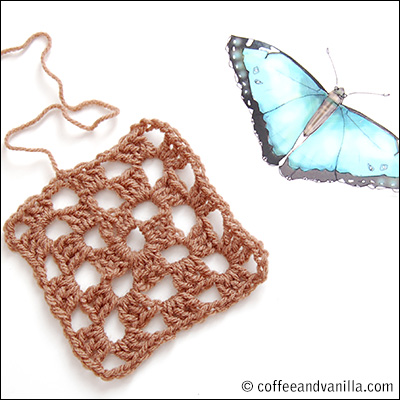 ROUND 1 (FOUNDATION ROUND)
Work 3 ch as 1 dc and then work 2 more dc into the ring to create 3 double crochet stitches.
Work 2 ch skipping the foundation, it will create the drop shaped corner.
Work again 3 dc into the foundation ring.
And again work 2 ch skipping the foundation to create second corner.
 Once you have 4 sets of 3 dc create last corner with 2 ch.
Connect into the third chain of the first stitch with sl to close the round, cut off the yarn.
ROUND 2
To start the new round tie yarn onto the hook and work again 3 ch as 1 dc and 2 more dc into one of the corners, 2 ch and again 3 dc into the same corner.
Make 1 extra ch in between and start again with 3 dc, 2 ch 3 dc into another corner.
ROUND 3+

In this round work the corners the same way like in the previous row.
On the sides of the square make 1 ch spaces between sets of 3 dc.
Make as many rounds as you need to achieve required size of the square.
NOTES
I used this granny square pattern to make Easter basket liner.