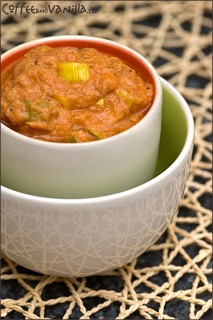 INGREDIENTS
3 tins of tuna in brine (drained)
2 tins of chopped tomatoes (400g each)
1 small tin of tomato puree (150g)
1 large onion (chopped)
3 tbs olive oil
black peppercorns
1 tbs garlic granules
2 tsp oregano
150 ml soured cream
1 small leek (cut lengthwise, washed and sliced)
METHOD
In a large frying pan or wok fry onions on oil, until golden brown, reduce fire. Add tuna, tomatoes, tomato puree, garlic granules, oregano and heat over low fire until bubbling. Stir in chopped leek and fry only a while longer. Remove from fire, season with greshly ground peppercorns and soured cream.
Serve over your favourite pasta.
Make enough sauce for about 750g pasta (weight before cooking).