One of those days we were drawing family tree for my daughter's school assignment and we discovered that our family's roots are much more complicated than we though. In a straight line our daughters have ancestors born in more than 10 different counties… we have most of the continents covered… except for Australia.
My husband came from beautiful island of Dominica in the Caribbean and has African, Carib Indian and Chinese roots, but more about his part of the family some other day along Dominican recipe in more suitable time… Dominica got hit badly by hurricane Erika recently and needs help to recover. If you feel like donating you can do it via this GoFundMe page.
On my side of the family, except for those born in Poland, I have ancestors born in Baku, Azerbaijan; Perm, Russia; Vitebsk, Belarus and what I discovered not so long time ago – one great great grandmother who was Tatar, I don't know much about her except that her maiden surname was Naranowicz.
Together with my daughters we have decided to explore ancestral cultures thought series of recipes dedicated to their heritage which I will be submitting to the Inheritance Recipes challenge monthly, this is one of them, enjoy!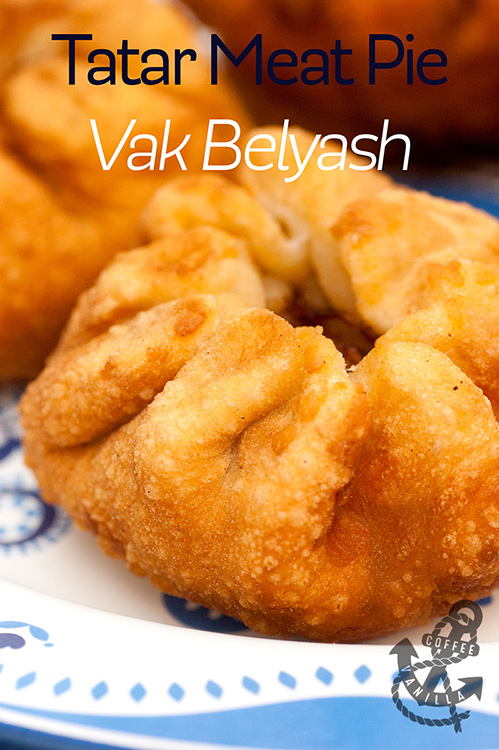 Tatar meat pies – vak belyashi (alternative names: paramach, peremech, balish, belishi, belyashi, beliash, vak-belyash, vak beliash, wack-belyashi, wak-belyashi) are fried or baked meat pies with onions and sometimes also potatoes. Vegetarian versions with potatoes and herbs alone are also known.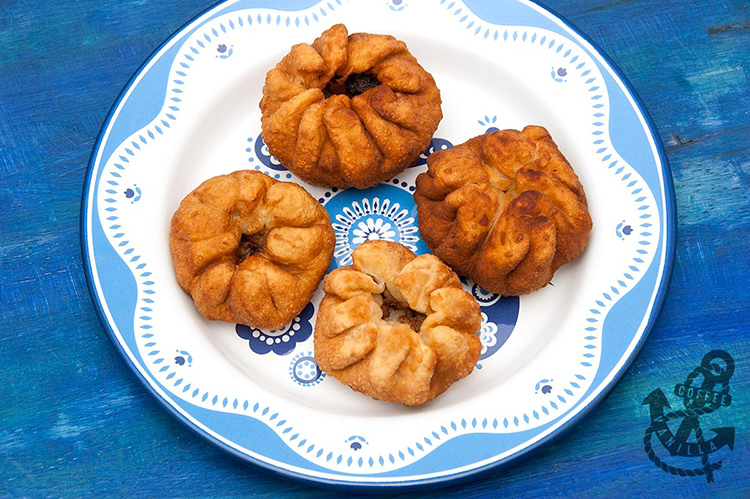 INGREDIENTS
for the dough
3 whole eggs eggs (lightly beaten)
3¾ cups of plain flour + some more for rolling
1 cup / 250 ml soured cream or crème fraîche
pinch of salt
for the filling
500 g mince meat (we used turkey mince)
1 egg
3 – 4 potatoes (peeled, diced finely) / about 2 cups
2 onions (chopped)
2 garlic cloves (crushed) or ½ tsp garlic powder
½ tbs sea salt
herbs – to taste (fresh parsley will work here well)
vegetable oil for frying (we used rapeseed oil)
EQUIPMENT
deep frying pan
rolling pin
paper towels for draining
cling film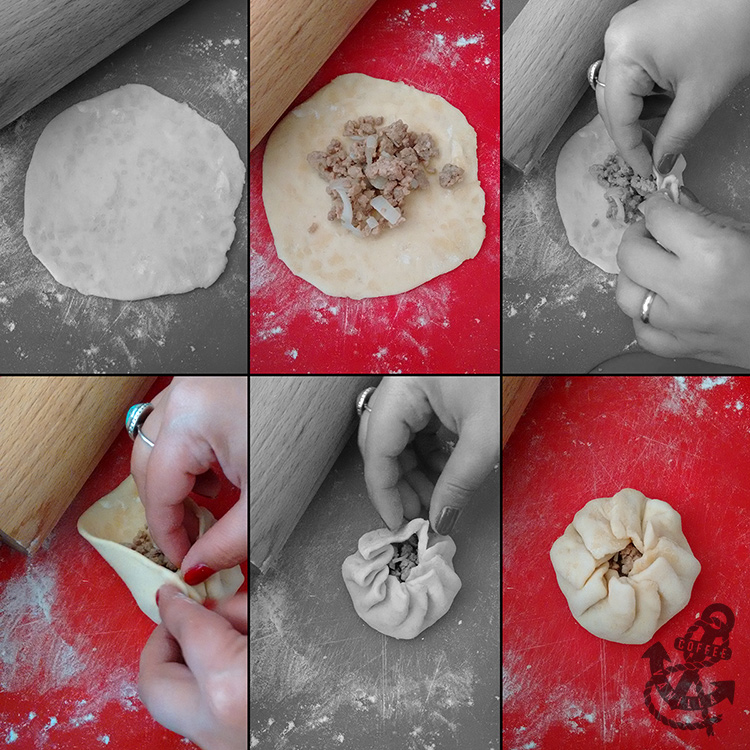 METHOD
To prepare the dough (this should be done in advance) combine beaten eggs with sour cream, salt and flour.
Knead until smooth, cover the bowl with cling film and place in the fridge to chill overnight or at least for couple of hours.
On the day of making the pies, combine ingredients for the filling, share the dough into about 30 balls.
On floured surface roll out couple of balls at the time (enough to go into the frying pan), top with about 1 tbs of the filling in the middle and then bring the edges together leaving hole in the middle.
In the frying pan heat enough oil to cover the pies at least half way, place the pies inside – upside down.
Fry until golden brown and then turn around and fry some more.
Drain on a tray lined with paper towels.
Repeat the same with the rest of the dough and filling.
Serve alone with some sour milk on a side or topped with home-made tomato sauce.
Makes about 30 vak belyashi pies (allow 3 – 4 per serving).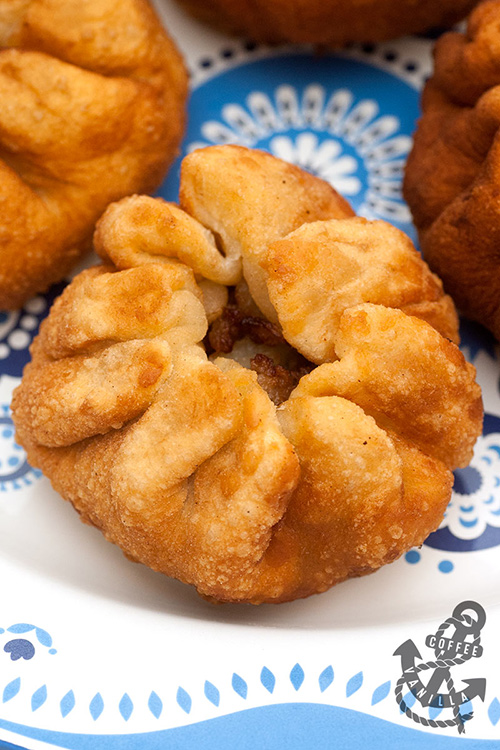 NOTES
Those pies can be easily converted into vegetarian dish by using more potatoes and herbs. We have tried also feeling leftover pastry with cheese and they turned out delicious as well.
On the step by step photos I have used precooked meat and onion alone as it was our first time trying the recipe and we wanted to make sure the mince is cooked through because of the children… but we had nothing to worry, cooking in deep oil would be more than enough. More photos will follow as I misplaced some of the files and had to use preparation photos taken with the phone instead.
I'm adding this recipe to the Inheritance Recipes challenge that we have started together with Solange of Pebble Soup. This month theme is Back to School – those pies are perfect to place in lunch boxes and they would make great after school snack as well. If you haven't done it yet, please come and join us, share your inherited recipes with us!