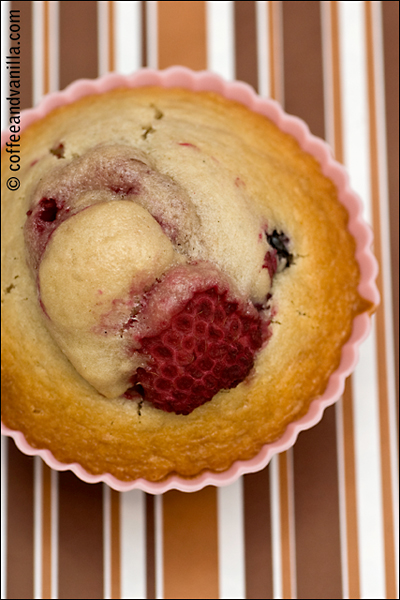 INGREDIENTS
2 cups plain flour
2 tsp baking powder
1 cup golden caster sugar
1 egg
1⅓ cup milk
75 ml / 5 tbs olive oil (not extra virgin, yellow one)
300g frozen summer fruits such as blackberries, raspberries, red currants and black currants
2 tbs vanilla sugar
EQUIPMENT
12-14 paper or silicon muffin cases
muffin tray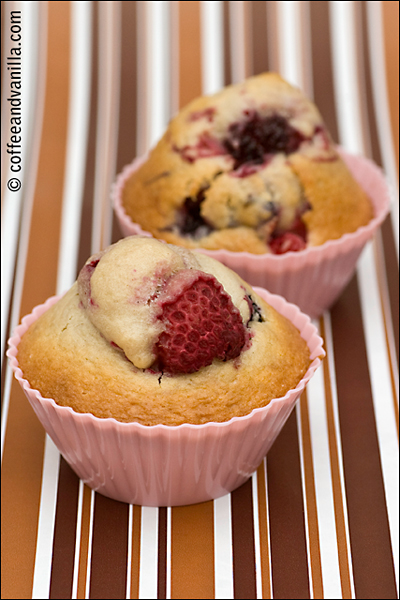 METHOD
In a bowl mix all dry ingredients together: flour, baking powder, caster and vanilla sugars.
In another bowl combine milk, olive oil and egg. Then add to the bowl with dry ingredients. Stir in fruits, but leave 12-14 berries aside.
Fill muffin tray with muffin cases, then fill each muffin case with the dough. Top each muffin with a berry.
Bake in preheated oven to 180°C (356°F) for about 25-30 minutes till golden brown. You may need reduce temperature towards the end if muffins are getting too brown.
Enjoy cooled down or still hot.
This recipe makes 12-14 muffins.